On Three Kings Day, January 6, a cake of the Three Kings should be baked. If you don't dare to, doesn't matter, you can bake a marble cake instead. The French claim that France is the cradle of this cake, and that it was the Three Kings who laid the baked cake on one of their turbans and this gave the typical form to the marble cake. You can read more about it in my article (the recipe attached): Galette des Rois – The Cake of Three Kings
I have tried several recipes for a marble cake already. Today, I chose a cake with raspberries from my baking attempts. (I used a small baking form).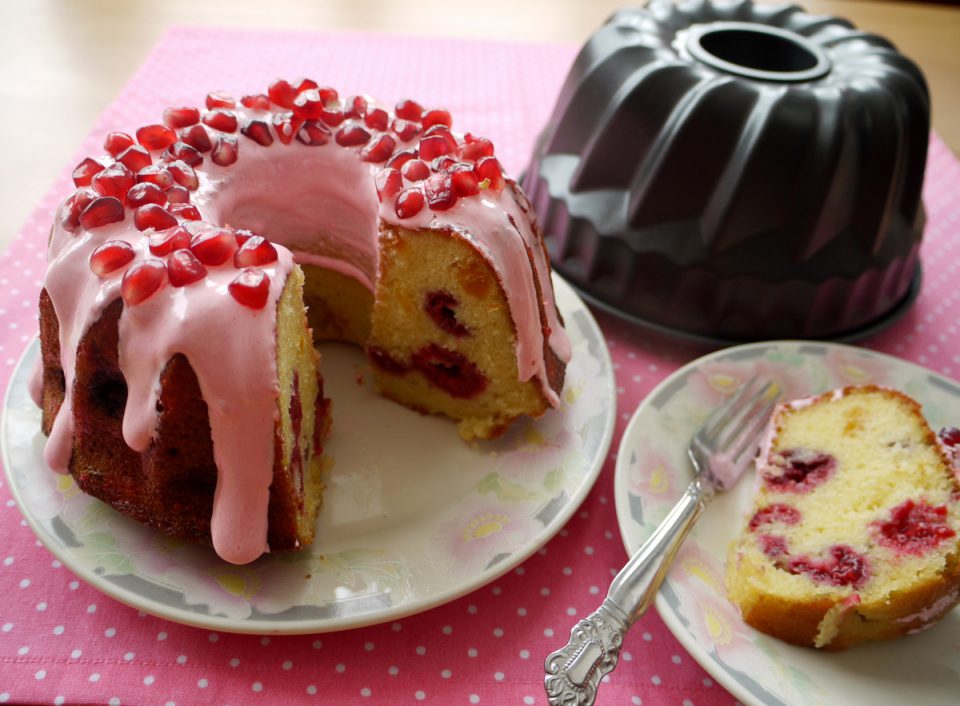 Marble Cake with Raspberries
We need:
125 g softened butter
100 g sugar
2 eggs
1 yolk
1 teaspoon of grated lemon peel
30 g dried apricots, cut into tiny pieces
150 g flour
1 tbsp corn starch (maizena)
1 teaspoon of baking powder
juice from half a lemon
125 g fresh or frozen raspberries
For icing:
3 – 4 tbsp red jelly powder
1 egg white
150 g powdered sugar
Method:
Mix butter in a bowl, slowly add sugar, eggs and yolk, then add the lemon peel and cut apricots. Mix the flour with maizena and baking powder, sieve, add lemon juice and mix into the butter mixture. Grease the baking form and sprinkle with flour or breadcrumbs. Pour a little dough into the form, add few raspberries, pour the dough again and add more raspberries. The last layer must be dough. Bake in a preheated oven at 180°C for about 45 minutes. After baking, leave in the form for 10 minutes, then take out and allow to cool. Mix the jelly powder with a little warm water and spread it over the cake. Mix white and sugar to make the glaze if you want to colour it with a food colour.
According to the French, the marble cake was born in Alsace. No wonder, therefore, that when I was in Strasbourg, which is located in the historic region of Alsace, at Christmas time, the marble cakes "popped up" at every step. Beautiful colourful forms were sold on the Christmas markets or used to decorate the stalls, and I even found magnets or candlesticks in the shape of a cake.
Near the Alsatian Christmas Delicacies Market (Place du Marché aux Poissons), I also found a bakery workshop where there was a small group of children cutting out various Christmas pastries called bredele, while a baker was preparing another dough not only for marble cakes – Kougelhopf, but also other pastries typical for the region. Baked products were smelling so good…
This visit to the workshop inspired me for when I bake my next classic marble cake – I will also put almonds or nuts, whole or chopped ones, at the bottom of the form before baking. You can try it yourself, for example with our family recipe: Classical Marble Cake Worthy of Emperor
Text: © Copyright Ingrid, Travelpotpourri
Fotos: © Copyright Ingrid, Travelpotpourri