The hat belongs to the oldest fashion accessories, although the purpose of its use in the past used to be different. Did you know that hats have a holiday? The (Unofficial) Hat Day falls on January 15th. It's easy for you to celebrate – just by putting one of your favourite pieces on your head.
Schwedenplatz is one of the busier squares in Vienna. For a long time, I didn't know that there was a workshop in one of the houses there that produces hats which Madonna and Yoko Ono wear on their heads.
As is common in Austria, this is also a family business with a long tradition. In 1903, Julianna Mühlbauer opened a small workshop with a shop in the Vienna suburb of Floridsdorf. Today, the hats are made at Schwedenplatz and the company is led by Klaus Mühlbauer as the fourth generation of this hat family. They produce about 15,000 hats a year – by hand, exclusively from rabbit hair felt imported from Portugal and the Czech Republic. More than half of the production is exported, up to 40 % to Japan.
In this hat kingdom, there were not only wooden forms but also hats on the shelves, both classic and modern, of various shapes and colours. Others hung over our heads in endless rows. All hats had a small embellishment – the elongated letter M – a symbol of the family brand and high quality.
There was also a steam bell. A man put a piece of felt in the bell to steam it and then he stretched it onto a wooden mould and fixed it. After that, the still wet hat is placed in the oven to dry.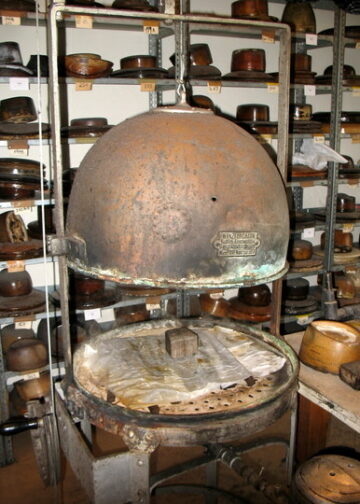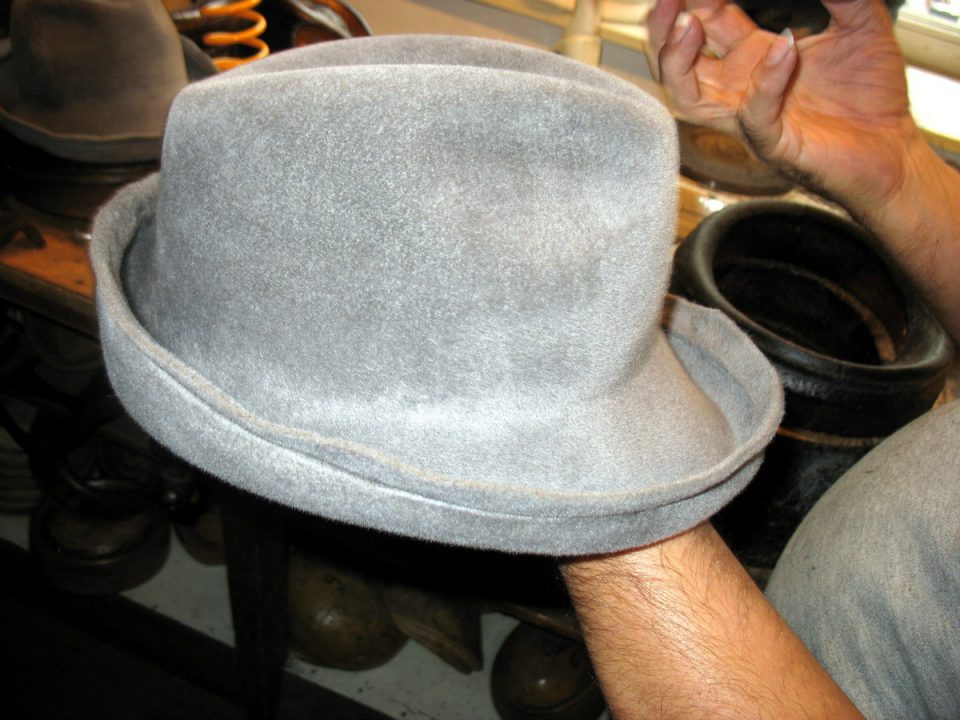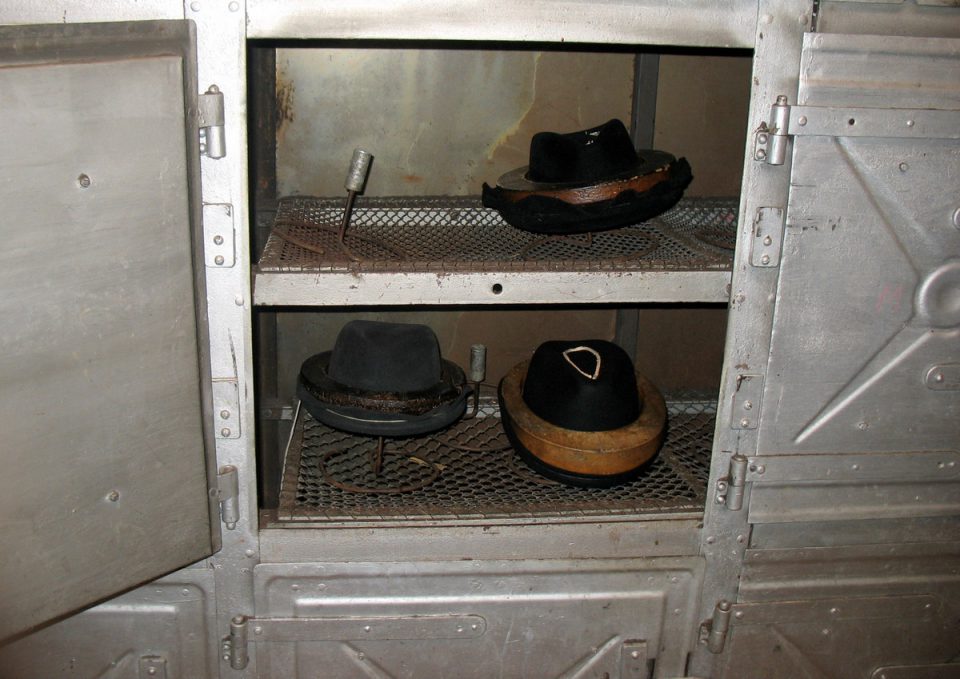 Then, the hat goes to a milliner who will decorate it with a coloured ribbon and the letter M. In the workshop, we could see boxes with hat ribbons of all the colours of the rainbow. Some hats are without ribbons, but others are wrapped with several ribbons or even all sorts of colourful creations.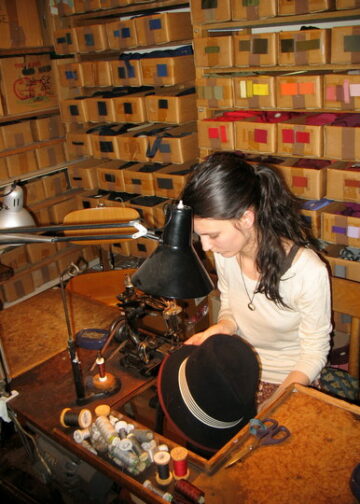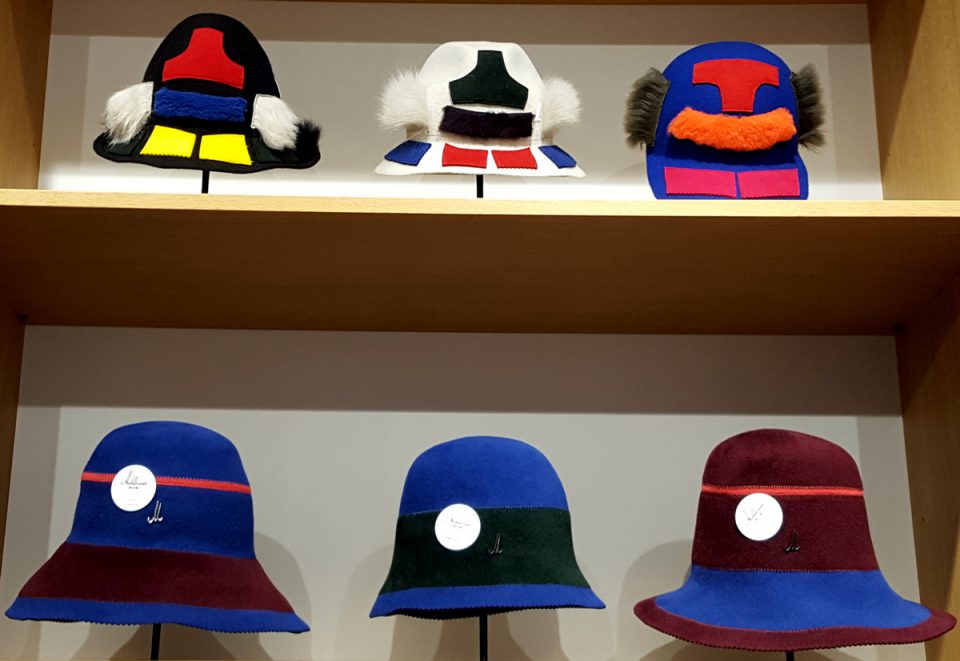 At the time of our visit, a big hit were hats made as follows: the beautifully finished hat is crumpled, pressed and as a flat pancake ironed over a piece of a damp cloth. Although it is unbent again after that, it still looks like the creased hat of a beggar. 🙂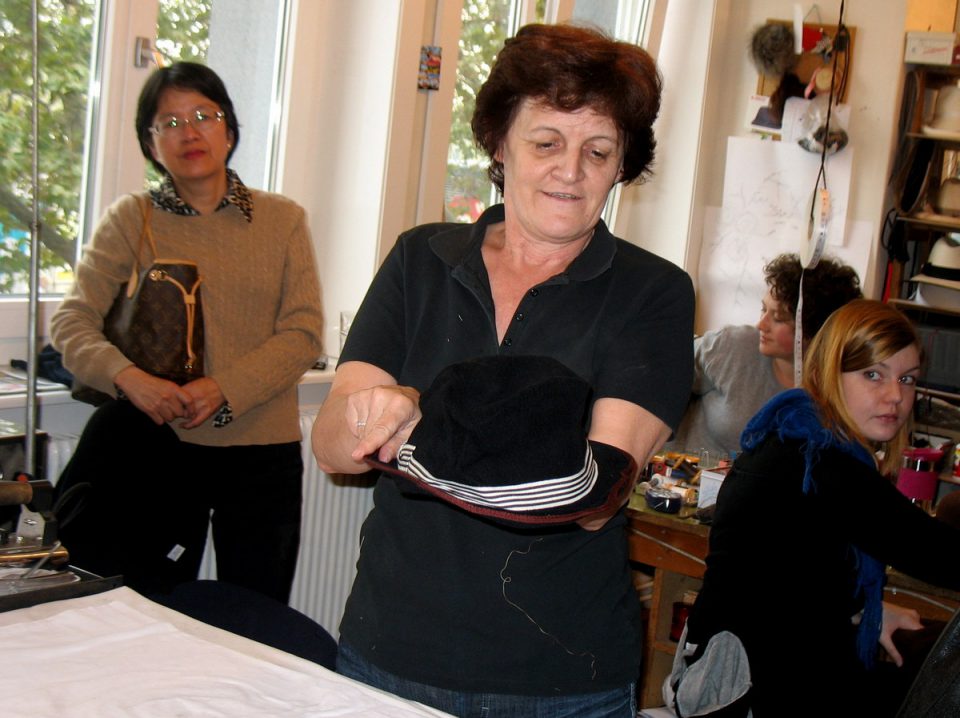 As I have learned, these hats are now classic products, ordered mainly by the Japanese and Americans.
So, the hat company Mühlbauer from Vienna is well known abroad and even Meryl Streep and Brad Pitt are among its famous clients. The next time you see a picture of a celebrity in a hat, look at the hat carefully, you might see the small letter M…
For several years, Mühlbauer has been a sponsor of the New Year's Eve Ball in Hofburg, Vienna. According to tradition, the ball is opened by debutant dance couples – girls have ornaments in their hair made in this traditional hat workshop. The company has two shops in Vienna, you will find them at these addresses: Neubaugasse 34 and Seilergasse 10. The view through the shop window is so cheerful, full of colours – the hats sit on their "perches" like chicken in a henhouse.
In addition to hats, you can also find interesting floor lamps named "Bubi" created in cooperation with the renowned Austrian architect Gregor Eichinger. The lamp consists of two conical shapes of felt or straw hats.
More information: www.muehlbauer.at
Take a look with us at some other family businesses in Vienna: Köchert

Text: © Copyright Ingrid, Travelpotpourri
Fotos: © Copyright Ingrid, Travelpotpourri