On the map of Austria, you can find Sillian, a small village with about 2,000 inhabitants, almost on the border with Italy. If you go there by car, you have to count good 5 hours from Vienna, although mostly on highways.
Although it was still early December, white snow stains increased with each kilometer. The village stretches along the main road and is dominated by two hills. On top of the one in the middle of the village, you can see a medieval castle, or rather a fortress, Heinfels which is in the process of an intensive renovation. The other hill – Thurntaler is 2,407 m above sea level. Many, not only local, skiing lovers know it very well. On the hill, there are slopes of the Hochpustertal ski resort with a total area of 110 hectares.
Paradise for Skiers
First, we had to visit the ski equipment rental, which is directly located at the lower cable car station. We loaded our data and demands into a computer, that then appeared on a printed slip according to which we received the equipment. I must say that I felt like in some luxury shoe shop, they were swarming around us patiently bringing other pairs of ski boots until the shoe fit and was not too tight. I even had the impression that my skis, boots and helmet had been chosen to match in colour as well. 🙂
There are two cable cars, two bar lifts, two 4-chairlifts and one 6-chairlift with heated seats and a weather shield.
In the beginning, I was a little bit worried to be lost among so many signs of the difficulty of the ski routes. Finally, I liked the fact that you could try several routes before finding the one that suited you best. Since I was standing on skis after an over 5-year-break, I was glad that there were mostly routes for intermediate skiers. Of course, the ambitious skiers of our group enjoyed the narrower and steeper slopes. Snowboarders could try a fun route with waves, jumps and obstacles. Families with children and pupils on the ski course used the easy routes. There was also the children's world Bobo with children's lifts. All slopes were in perfect condition. And best of all – there were just a few skiers, so there was no need to wait in line for the lifts, and you didn't have to worry that other skiers would constantly cross your route. It is true that we were here before the main season which starts around Christmas but I think these slopes are not overcrowded in any other period as well. East Tyrol and its ski resorts are not yet as known as other traditional Austrian ski regions.
Not only for this resort but for a total of 66 lifts and cable cars in East Tyrol and Carinthia, you can buy the special ski pass "ski)hit". Children up to 6 years of age ski for free, from 6 – 18 years they have a 50% discount. Current prices: here
If you decide to try this ski terrain, I wish you weather like in the cover or next photo. Since we did not have such a beautiful blue sky I had to borrow these two pictures from © www.schultz-ski.at.
From the Hill Straight to the Hotel
Although we had no weather like from postcards, respectively no "Kaiserwetter" ("imperial weather") as the Austrians say, the skiing was great. We returned the skiing equipment to the rental (beware, they have a lunch break) and waved at the other skiers who were getting in their cars in the parking lot directly at the cable car station.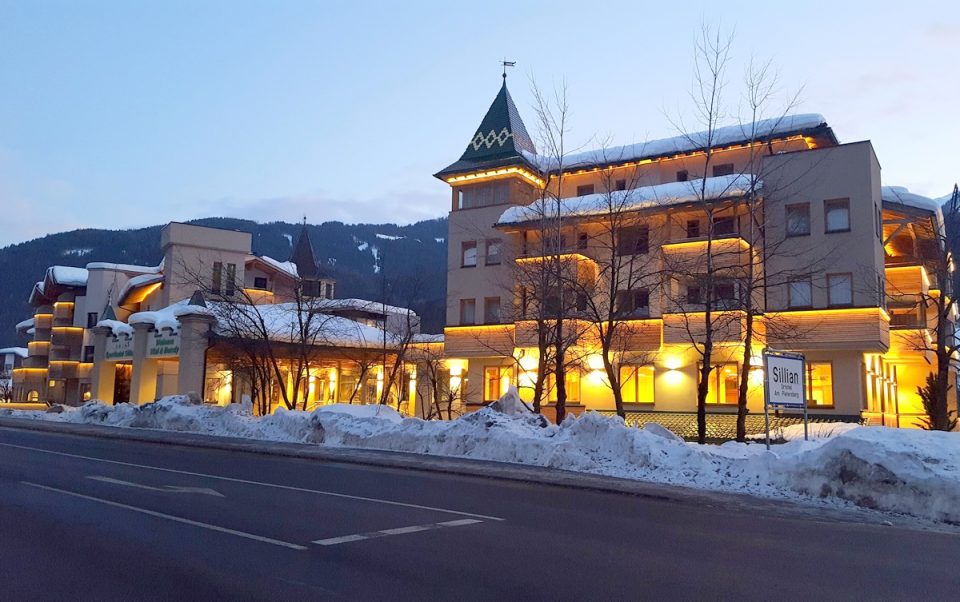 We only had to cross the road. Our hotel Dolomiten Residenz**** Sporthotel Sillian was so close that you could just throw a snowball… I had been here in early summer already, unfortunately, my stay had been troubled by the noise of a fairly busy road (even at night). This time, however, my room was perfect!
The windows that converged into a triangle created an atmosphere like in the attic of a family cottage, not like in a hotel room. This feeling was even enhanced by the natural materials and many lovely details: a bowl with apples on the table, a carafe of pure mountain water closed with a wooden ball, folded bathrobes on the bed and a hanging rucksack on a hanger for a winter walk…
What I liked most was that the rooms did not only have an outdoor terrace but also a niche with a beautiful view where one can relax during the day (and not just in bed).
If you get hungry while skiing, between 1 pm and 4 pm, you can just go to the hotel where there is a snack lunch – soups, salads, at least one typical East Tyrolean hot meal, fruit and cakes.
After skiing, you can enjoy the hotel's wellness center which offers several saunas (including a pinewood log sauna), a Tyrolean herb pool, ice fountain, swimming pool, a relaxation area, massages and relaxation treatments based on natural products.
And then the evening comes and you will be given a dinner that surely satisfies even the most demanding gourmets. The rich breakfast buffet offers freshly baked bread from a bakery in the village and milk, eggs and cheese from local farmers.
The spacious lobby also has its charm, especially when the decoration was reminiscent of the upcoming Christmas and invited to sit down with a glass of wine.
More information about the hotel: here
Extra tips:
1. A walk through the village – a picturesque church, a wooden bridge and typical Tyrolean houses
2. Loacker – an Italian company, founded in 1925, producing wafers filled with cream. A wide offer of products and good coffee. However, you should not be as unlucky as we were when it was closed all day for inventory. When we wanted to taste the famous wafers, we had to go to a supermarket near the hotel and buy them there.
3. Christmas markets – a special bonus of our pre-Christmas stay was a visit to the Christmas market in the nearby town of Lienz. The markets take place at the main square, they are much smaller than the ones in Vienna, and therefore more pleasant.
A group of children sang Christmas songs while adults were sitting in special wooden boxes, debating or standing around the metal bowls in which wood was burning, warming their hands over a flame or on a mug of mulled wine, punch or local specialty – hot apple juice with Alpine gin Roter Turm, named after a mountain in the nearby Dolomites. Each of the seven stalls with beverages had its own colour of mugs.
A larger group of people was crowded at a stall with baked potatoes with sour cream sauce, roasted onions and bacon. I preferred to taste something I hadn't eaten yet – dried, smoked meat (Henkele) of chamois and deer.
Other traditional products include the Lienzer Lebzelt, a Tyrolean gingerbread, which is still produced according to an original medieval recipe from the 17th century. It is filled with cranberry jam and its surface is decorated with a marzipan layer with an impressed pattern.
The square is dominated by the town hall Liebburg which looks like a smaller castle with four towers. Before Christmas, its windows turn into an Advent calendar – one window opens every day and shows a painting by a local artist. An exhibition of cribs was held inside the town hall. There were different native scenes made by members of the local creative association. Their works were indeed very nice and interesting. Some had a scenery of an exotic landscape but most of the cribs were with similar houses like the ones I saw walking through the Sillian village. Their small windows were lit, palm trees were replaced by twisted branches, peasants and craftsmen were added to the shepherds, even Joseph wore a typical apron, corn strips were dried on a terrace and Alpine peaks towered on the horizon. There was even a crib in the form of a cave with snow and icicles.
This trip was organized in cooperation with Österreich Werbung, thank you.
Text: © Copyright Ingrid, Travelpotpourri
Fotos: © Copyright Ingrid, Travelpotpourri + photos No. 1, 9 and 16: © www.schultz-ski.at