All over the territory of Kerala (southwest India), whether it is in the mountains, on the coast, in the middle of tea plantations or in the backwaters, there are resorts offering authentic Ayurvedic treatments. Many people think that Ayurveda is just some massage or wellness. However, it is all science! The name comes from two parts: ayus = life, veda = knowledge – so the term Ayurveda means knowledge of life.
The goal of this oldest system of health care, which originated in India 4,000 years ago, is to regain internal balance, to reveal the cause of health problems that may originate from improper nutrition, lifestyle habits, hereditary taint, negative thinking or emotional imbalance. Thus, Ayurveda focuses on restoring balance to the life forces, which are called doshas. I tried this treatment procedure at the Jeevess Ayurvedic Resort in Kerala's Wayanad region.
We travelled to the resort by car from the city of Cochin (230 km – in India you have to count for at least 6 hours). As our car was considerably delayed and the young driver took a long time to get us out of the big city, we didn't arrive at the Jeeves Resort until after midnight when it was lightly drizzling and everything was covered in thick darkness. So my surprise was even greater when I woke up in the morning and looked out the window: greenery, greenery, all greenery! If nothing else, just this view of the amazing nature could caress the soul. The resort is located in the middle of the mountains over which wisps of fog rolled every morning. As the fog lifted, endless tea plantations and strips of banana trees, coffee trees and coconut palms were revealed…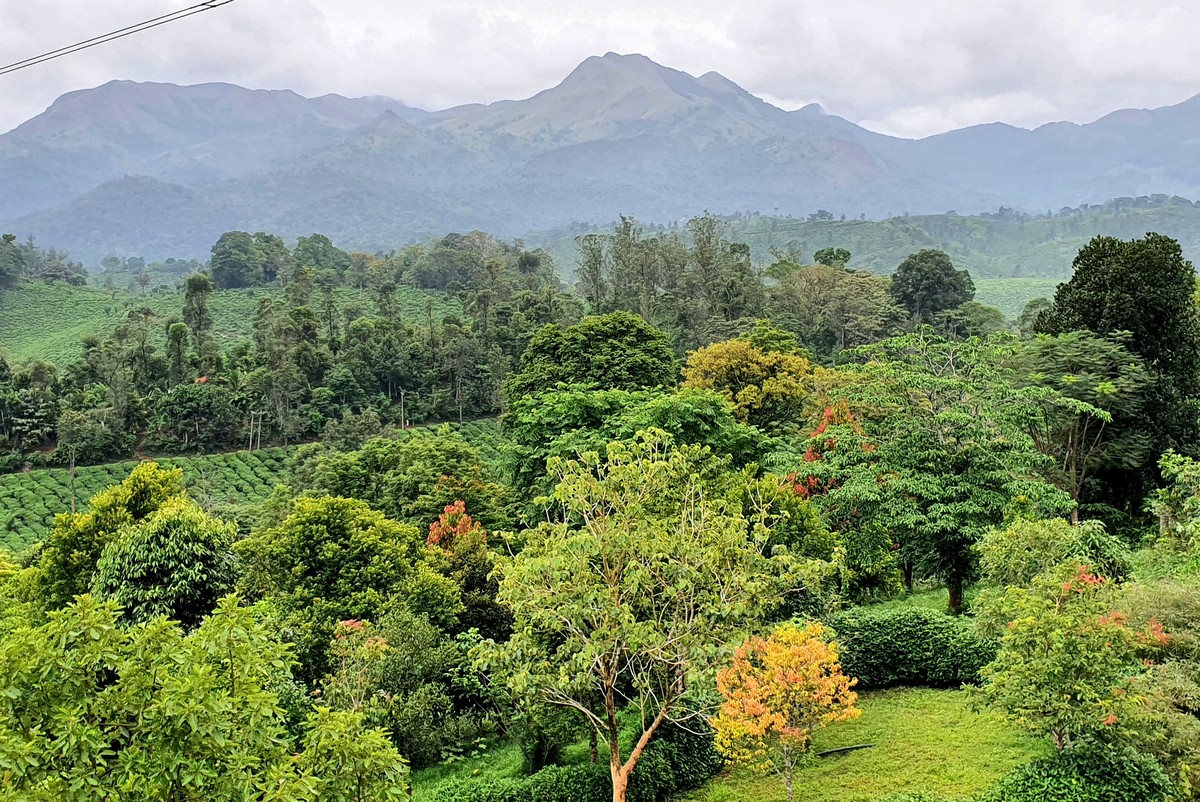 The resort consists of 16 cottages which are named after fruit trees, the corresponding tree grows in front of the entrance. My cottage was the Avocado. Top right in the photo.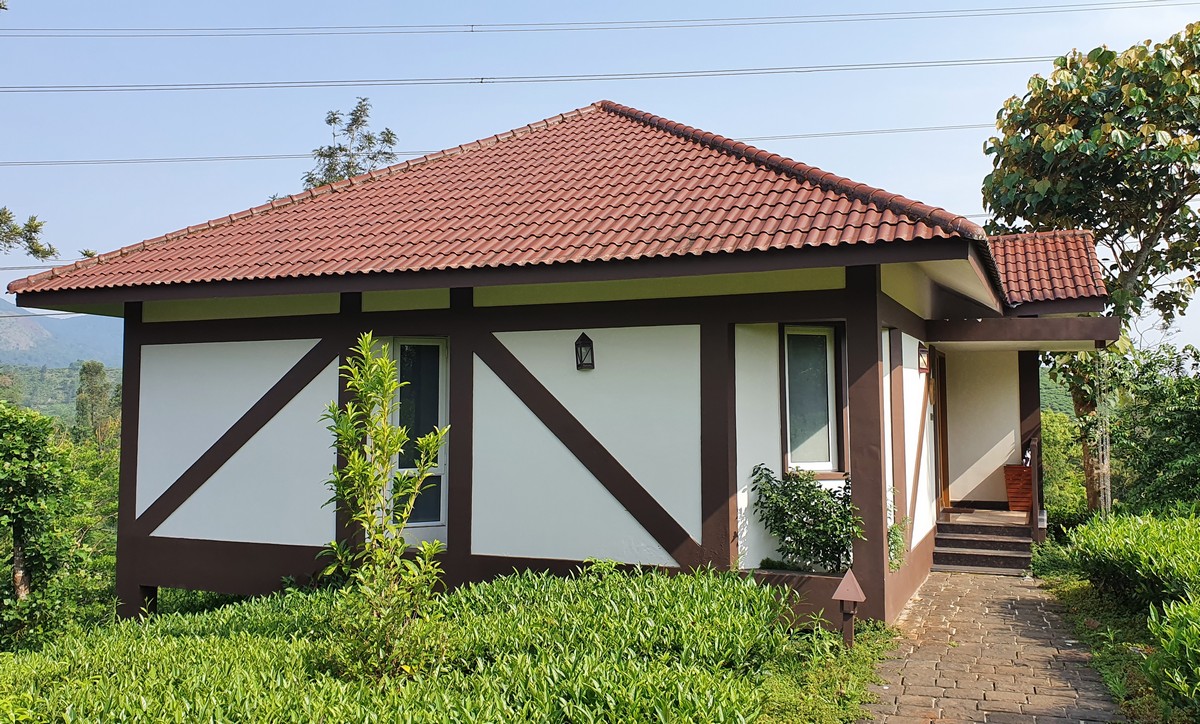 The cottages are located among lush bushes of green tea, but other trees and flowers also grow here, up to more than 150 species, especially those used for the production of Ayurvedic medicine.
Both flowers and trees are marked with nameplates. Brick walkways lead guests to the restaurant, a yoga and Kalari hall, and to the Ayurvedic center where healing therapies are provided. There is also a small amphitheatre for concerts, a pond for feeding fish or fishing and an observation tower.
A therapeutic stay in the Ayurvedic center begins with a consultation with a doctor. The doctor will measure your blood pressure and prescribe treatment procedures according to your body proportions and any health problems. At the Jeevess Resort, they also offer a special anti-ageing program, weight loss program, aphrodisiac therapy, infertility treatment, detoxification program, beauty care, stress management, post-covid treatment, etc.
The treatment regimen consists of diet, yoga and massages which use natural oils and substances produced directly at the resort.
1. DIET
I truly liked that the restaurant in the resort was not a closed room. Fresh air blew through the open sides, I could observe trees, flowers and butterflies, and one morning, even a monkey came to look at our breakfast, which the staff didn't like very much and so they chased the uninvited guest away.
On the first day of my stay, I still had normal food; my breakfast filled almost the entire table. The young waitress Saniya served us lunch on a banana leaf.
On the following days, I asked for a diet – the number of portions was smaller, but the quantity was sufficient and the food was also very tasty. All the meals served were vegetarian, the vegetables were almost always cooked, and a bowl of rice was served with each meal.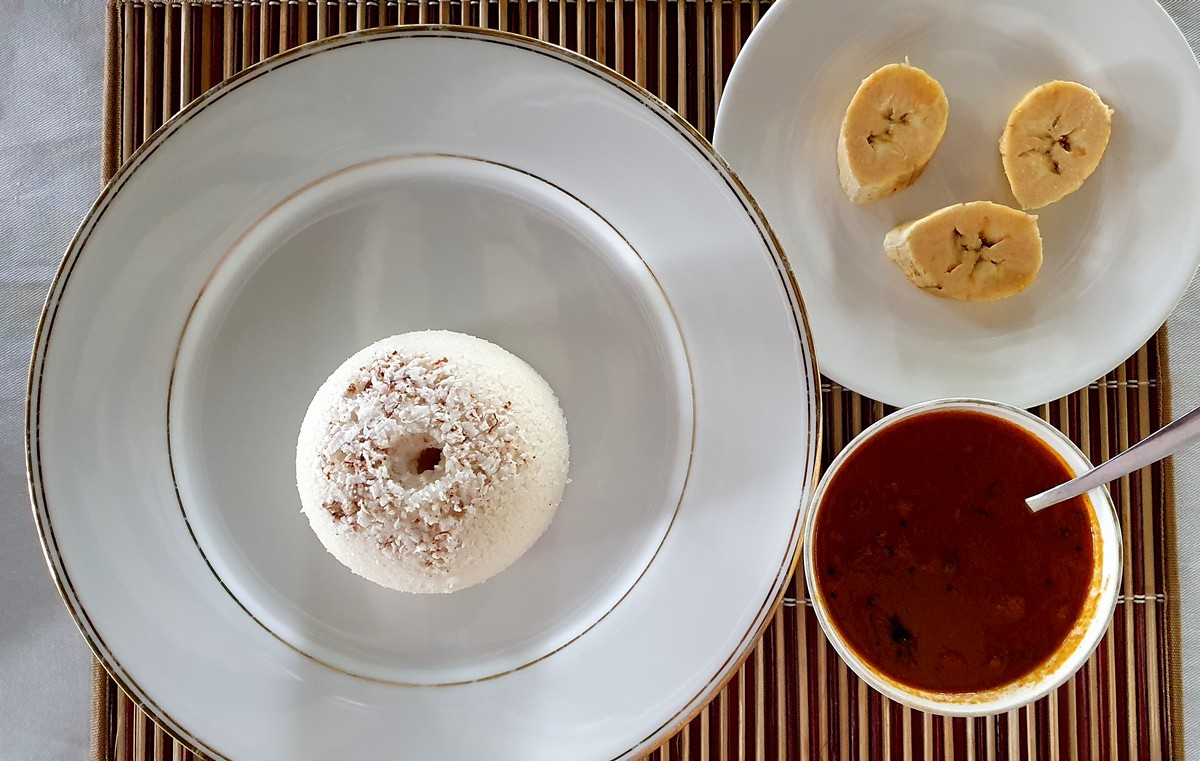 2. YOGA
Our day started early – with yoga – at 6.30 am. It was enjoyable to exercise in the fresh morning, although under the roof, but again in an open space, where we could listen to the birds or the sound of the morning rain during the exercise. Our trainer's name was Shobha. Yoga was intended for beginners, but also for advanced participants who practised various challenging poses.
After the morning yoga, we went for breakfast, followed by procedures at different time intervals. Lunch was between 12:00 and 15:00, after which we had time to rest or go for walks and afternoon procedures. At 17.00 another yoga training started, focused on meditation. It was followed by a Kalari lesson. It is an ancient teaching of martial arts and discipline. In addition to various hand movements and gestures, some weapons are also used – sword and shield, short and long sticks (but we participated in such training only as spectators).
After dinner, there was still time for friendly conversations. In the thickening darkness, the paths to our cottages were illuminated by ground lamps, but also by the stars in the sky and the flickering lights of fireflies.
3. MASSAGES
Each procedure began with a silent prayer by the therapists (I assume to the Ayurvedic god Dhanvantari, who is usually depicted with four hands, one of which carries amrita – the elixir of immortality) and a head massage, while the therapist rubbed a special paste into my hair.
Full Body Massage – Abhyanga
As if I were in an alchemy workshop: small and larger bowls filled with oils, something was being heated on the stove… I sat on the massage table with my legs outstretched, both therapists poured a handful of oil into their hands, each stood on one side, they dripped my body with that warm oil from their palms and then they spread it all over my body with synchronized massaging movements like a carpenter moving a plane over wood. One move from the tips of the feet to the tips of the fingers and one move back again. The oil was not used sparingly, after a while I felt like a sardine pickled in oil. The oil had a strange smell and it took me a while to get used to it. Later, I lay down on my back, then switched to one side, the other side and to my stomach, while both therapists constantly repeated gentle moves and long uninterrupted massage movements. The final massage was again in a sitting position.
These are the therapists who took turns during my procedures: Semina, Remya and Jithisha. I was fascinated by the energy and strength these tiny girls had in their hands and how quietly they talked to each other. Quieter than a whisper. When someone had to leave to get something, she opened the door with only three fingers and squeezed out like a mouse through a small crack, just so that no one in the corridor would see me on the massage table.
After each procedure, I showered in the adjacent bathroom, where natural soap and white and green powder for washing my body and hair had been prepared. Then, I returned to the massage room, sat down on the prepared chair and Jithisha handed me a glass of warm water on a tray. This was the hardest moment for me; both girls started to giggle softly when they noticed how difficult it was for me to swallow the warm water.
Ayurvedic full body massage focuses on stimulating reflex zones, improves blood circulation and soothes the whole body.
Massage with the Foot – Chavitti Uzhichil
This massage is provided in another room which, at first glance, resembled a torture chamber – two ropes were hanging from the ceiling and swords with a shield were hung on the wall. At least, scattered flowers and a burning candle softened the decoration.
After the initial head massage, I lay down on my stomach, Semina started massaging my lower back with circular movements of her foot while holding on to the rope. Then she massaged my whole body with her foot in different ways, varying the pressure of her feet from gentle to intense. I liked the technique of trembling with the foot the most. I turned on my back and the massage continued like this on my stomach.
And again a glass of warm water at the end…
Massage with Leaves in Herbal Oils – Elakizhi
One afternoon, bags filled with leaves and herbs appeared in the massage room, as well as a third therapist. The girl heated the bags in hot oil and handed them to her two colleagues. They first thumped the bags twice on the massage table, then on their hands to see if the bags were still too hot, and then knock, knock, knock… they tapped the bags with warm filling all over my body. First I was sitting and they patted me from the front, then I lay on one side, on the other side and then again on my stomach and finally again in a sitting position from behind.
This type of massage relieves muscle stiffness and joint pain.
Facial Skin Therapy – Mukhalepam
Although the mash in the bowl resembled ketchup, it was mashed fresh papaya.
This procedure was very pleasant indeed – facial massage, peeling, steaming, nourishing papaya pulp mask… pampering at the highest level!
This therapy improves blood circulation, tones the skin and gives it softness and shine.
Shirodhara
Shirodhara belongs to the oldest Ayurvedic procedures. It is practised on a special table with a container hung above from which warm Ayurvedic oil slowly flows onto the forehead.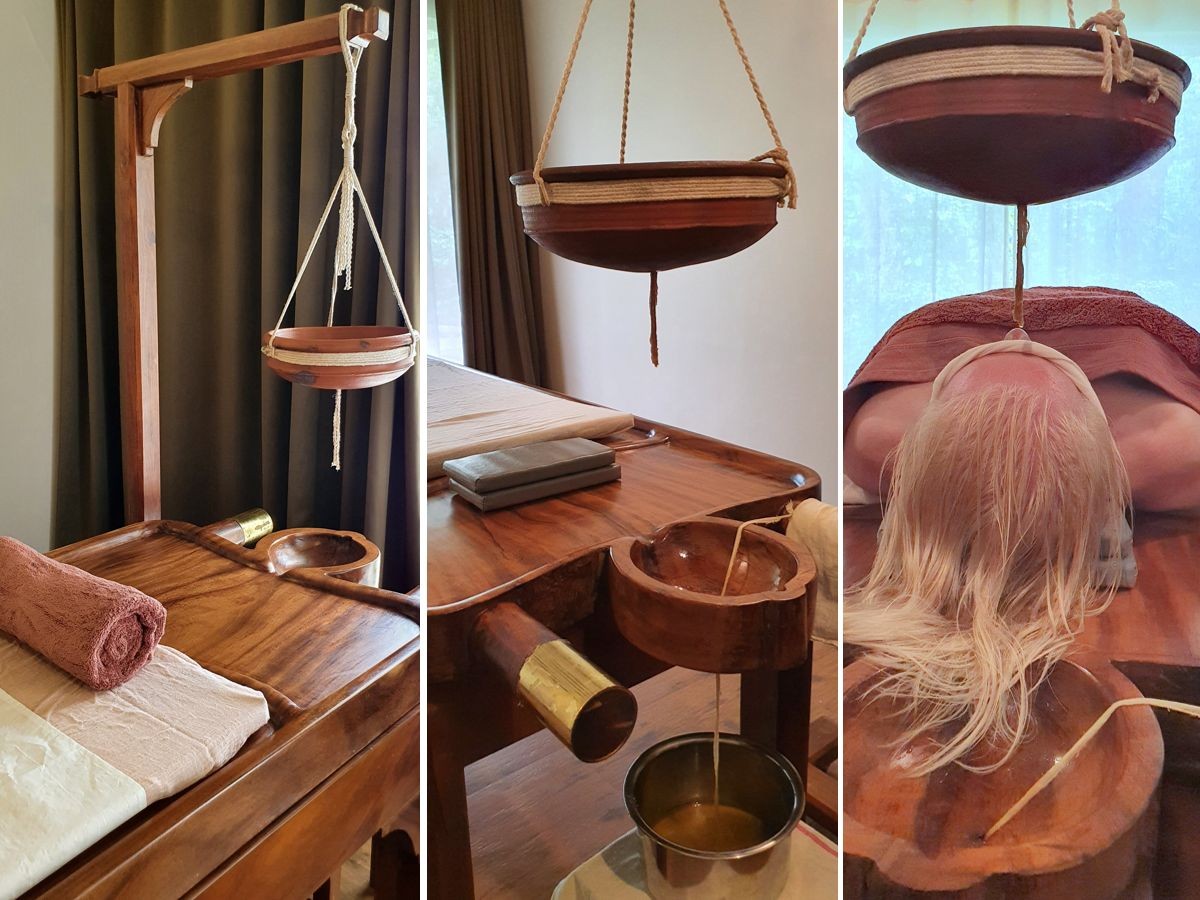 The therapist immediately spread the oil on my forehead and gently massaged the forehead at the roots of the hair as well as at the point between the eyebrows. After the end of the therapy, they tied a turban around my head and I was allowed to wash my hair only after an hour had passed. Usually, I went to bed during that hour and, although I had not had any physical exertion, I fell asleep immediately. This only proves what is said about this therapy: that it reduces mental stress, induces calmness and improves the quality of sleep.
My Experience at Jeevess Ayurvedic Resort:
– as I mentioned, I could sleep better and longer
– the skin on the face and body was soft, smooth and deeply moisturized
– my hair didn't fall out at all when combing, and I washed it up to twice a day
Of course, the effects would be more permanent if I stayed at the resort for a longer time. However, I can still say that I felt super relaxed overall. After returning home, I had no appetite for meat at all. I haven't become a vegetarian, but I cut back on meat. I regularly cook various vegetable mixtures now. Inspired by Kerala cuisine, I also prepare combinations that I would not have thought of before, e.g. chickpeas, lentils and cauliflower. For that reason, I brought special masala spices from India and dried curry leaves, which give the vegetable dishes the right taste. Well, and I drink a glass of warm water 1-3 times a day! 🙂 🙂 🙂 It significantly improved my digestion.
As I mentioned at the beginning, the best bonus for me was the wonderful nature in the area. That variety of flowers and exotic trees. I walked here every day and every time, I discovered new flowers or fruits.
I finally had the chance to see how the tea blooms…
…and coffee as well…
Everywhere, there was a healing silence, interrupted only by the sounds of the jungle and buzzing electric wires. One morning, I was woken up by a strange sound that I had not heard there before. When I came out of the cottage, I saw a group of women harvesting tea leaves. Watch the video:
During my walks, I also met lizards and geckos, sometimes I could hear a strange giggle or squeak. I tried to catch at least one butterfly with my lens and I was also surprised by the number of different birds. You can read more about these experiences in my article: 7 symbols of Kerala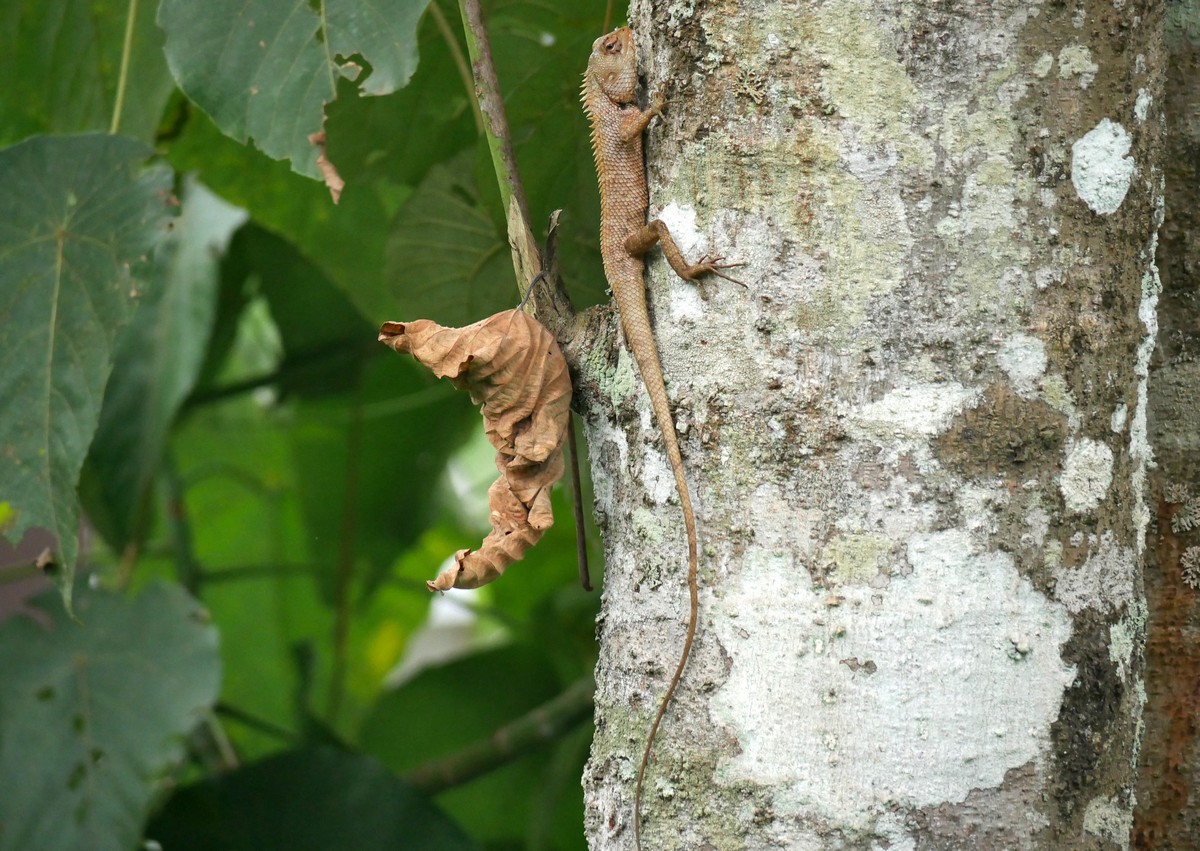 Almost every day in the dense forest in front of my terrace, a monkey jumped from branch to branch, and on the last morning, the whole pack paraded in front of me – ten small and big monkeys, the mother carried the smallest baby clutched to her belly.
The staff didn't like seeing the monkeys, but for me, the only annoying creatures were the mosquitoes. If you plan to come here, be sure to take a product against these annoying insects with you – both for your skin and for your clothes.
The resort has a very pleasant climate. I was here in May – the weather was fresh, cooler than in other parts of Kerala, morning fogs were typical and it often rained in the afternoon.
If you have the opportunity, I definitely recommend trying an Ayurvedic stay at least once, preferably in such an authentic environment. Jeevess Resort is the perfect place.
I lived in a single cottage with two spacious rooms – one living room with a couch and one bedroom, two toilets with a shower and a terrace. You can also stay in twin cottages, each with its own entrance and appropriate comfort. Wi-fi is available. Two cottages are adapted for wheelchair users.
The resort staff was very helpful and friendly. And the food was excellent!
More information, including the offer of individual therapies and current prices, can be found on the website: https://jeevess.in/
The nearest airports are Calicut (76 km), Kannur (123 km) and Cochin (222 km), and the railway station in Calicut (63 km).
I thank the management of the Jeevess Resort for providing me with a stay during which I could get to know more about Ayurvedic treatment and its effects.
I also thank Kimmie from www.adventuresnsunsets.com for providing me with the two drone photos.
Note: all opinions expressed in the article are my own.
Text: © Copyright Ingrid, Travelpotpourri
Fotos: © Copyright Ingrid and Kimmie (2), Travelpotpourri