In Iceland, you will meet water – in its different forms – all over the country.
One of the natural phenomenons which inseparably belong to Iceland are geysers. The high temperature in the proximity of magma causes a high pressure which catapults a column of hot water at a height of several meters.
The word "geyser" comes from the Icelandic word "gjósa" meaning "to gush". You can find the oldest erupting spring – Geysir – in Haukadalur region in Iceland. But nowadays it is just "dozing", ejecting water very rarely only.
The unforgettable natural theater is now performed by another geyser – Strokkur, in the immediate neighbourhood of its progenitor.
In the beginning, it seems like nothing is going on.
Then a big blue bubble is creating…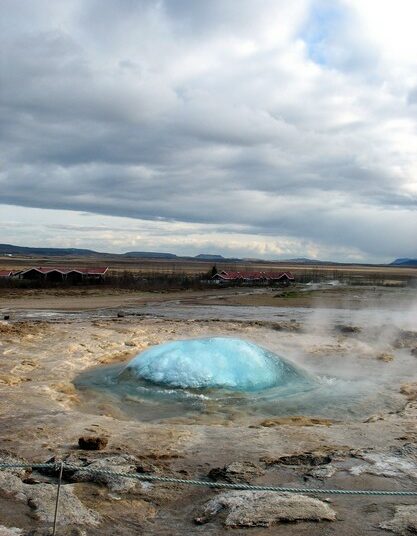 …it is shaking a little bit, keeping you in tension.
Suddenly a column of hot water accompanied by steam discharges in the height of 30 meters.
This happens about every five minutes.
Another fascinating phenomenon in Iceland are waterfalls.
Approaching some of them you might be surprised that nothing indicates you are coming to this wonder of nature. There is just flat land everywhere and you are wondering where is the place from where water should fall down? Suddenly you notice a small white cloud. Coming nearer and nearer to it, a sinister noise is growing stronger. And here it is – the earth is breaking just in front of you and in that huge crack water is siucidely tumbling down in a deep abyss.
Sometimes it is just a narrow column of water.
Sometimes a whole veil – massive flows of incessantly rushing water.
Although the water quickly escapes under the waterfall, it continues being with you and tirelessly demonstrating its power.
When the sun peeks out, a colourful rainbow frames this whole natural show.
Dettifoss will take your breath away. It is situated on the river Jökulsá á Fjöllum which flows from a glacier. With its flow rate between 200 – 500 m³/s (the water amount is higher in the summer when the glacier melts), it is one of the most powerful waterfalls in Europe. Dettifoss is 100 metres wide and has a drop of 45 metres.
It is an unforgettable scenery, a roar of foamed water spray, nature and its elements in eternal movement…
Gullfoss on the river Hvítá is also called the "Golden Waterfall". It is said that it is the most beautiful waterfall in Iceland.
This is Godafoss.
In the year 999 or 1000, the Icelandic parliament (the oldest one in the world! – established in 930) was debating which religion Icelandic people should practice. The lawman Thorgeir Thorkelsson decided in favour of Christianity and ordered to throw the idols of their pagan gods into this waterfall.
That is why it is called the "Waterfall of the Gods".
The waterfall Skógafoss can be seen from far away because with its height of 60 meters it belongs to the biggest waterfalls on the island. But also to the most beautiful ones. It falls down from former sea cliffs, but now the coastline is at a distance of five kilometers.
Seljalandsfoss is unique because you can walk behind the water wall.
At ten o'clock in the evening from behind this unusual curtain, we watched the shining sun which just touches the horizon in the summer without going down.
After some days spent in Iceland, you get the feeling that every place has its own waterfall. There are so many waterfalls of different sizes and forms that many of them even do not have a name.
Read more about Iceland on this blog:
Iceland – As from some other world
Húsavík – Whales' hide-and-seek play