Zell am See – one of the most beautiful corners of Austria. A small town on the shores of a lake surrounded by majestic mountains. One of them is Schmittenhöhe with a height of 1,965 m above sea level, the locals consider it their home mountain.
In winter, the Schmittenhöhe is used for winter sports, in summer and autumn mostly for hiking, and everyone can choose what suits them best – a slow family walk with children, a several-hour hike or challenging alpine trekking.
You can reach the top comfortably with the trassXpress cable car. It is said that it has a view of up to 30 mountains higher than 3,000 m. For us, this view was foiled by fog, but the sight of fresh greenery also pleased us.
You can choose the hike not only according to the degree of difficulty but also according to the topic. For example, you can choose a panoramic path with beautiful views. The fog parted with each step and Zell am See with the lake became more and more visible.
Families with children can combine pleasant with useful during the walk. In several places, there are wooden figures of various mountain and forest animals by the hiking trail, as well as panels with information about them.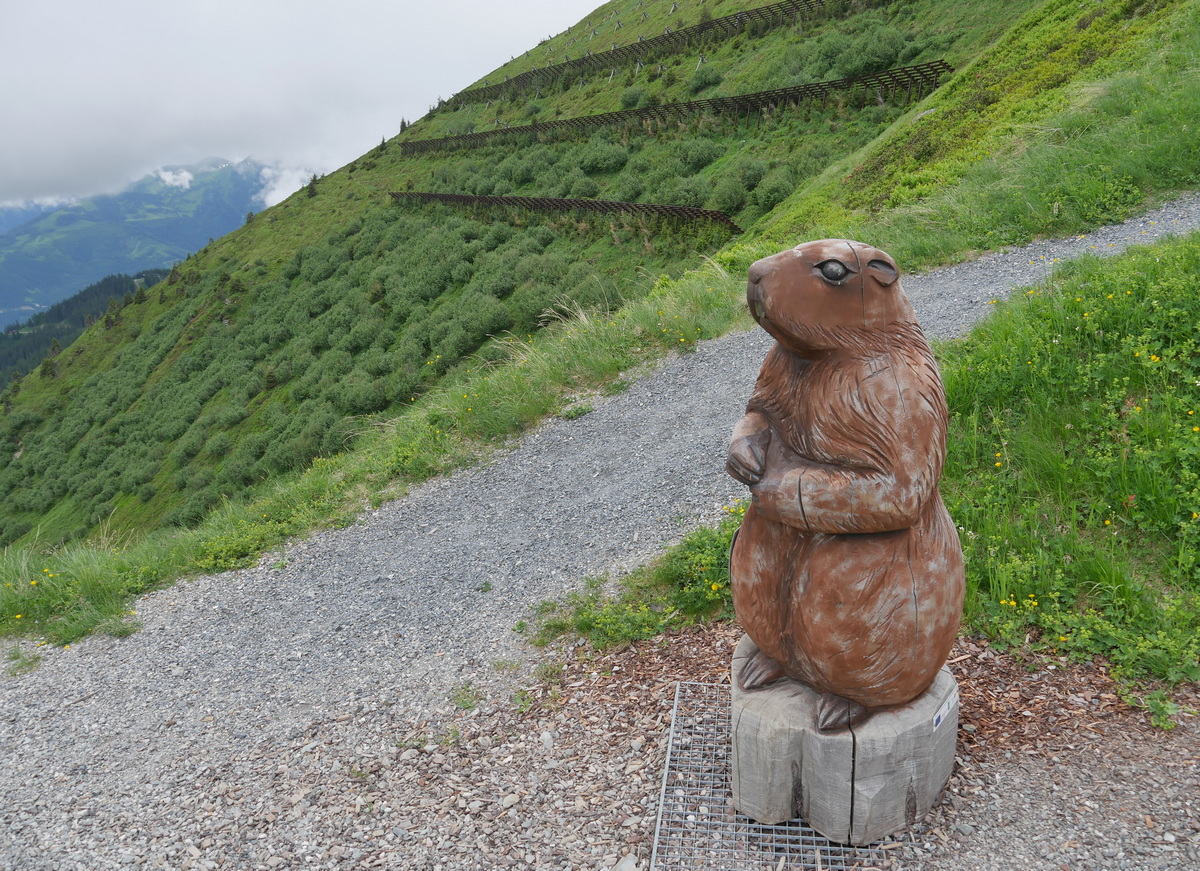 A small sacral building emerged from the fog right near the final station of the cable car. It is a chapel dedicated to Saint Elizabeth of Thuringia (also known as Elizabeth of Hungary).
The chapel was built on the initiative of Carl and Emilie Haschke and consecrated on September 10, 1908, on the occasion of the 10th anniversary of the tragic death of another Elizabeth – the Empress, the wife of Emperor Franz Joseph. The connection with Sisi was not accidental. Unlike other members of the high nobility, who were transported to the Schmittenhöhe by horse-drawn carriages, Sisi liked to walk, even in the mountains, and at a fast pace.
On the evening of August 7, 1885, Sisi arrived by train in Zell am See and no one knew about her visit yet. She hired mountain guide Anton Ulmann and decided to climb Schmittenhöhe on August 9 at 01:00 at night so that she could watch the sunrise undisturbed. The ascent lasted 2 hours and 16 minutes, which is still considered a record performance today – tourists are recommended 3-4 hours!
In the chapel, you can see five windows depicting scenes from the life of Elizabeth of Thuringia, called also the Princess of the Poor. Even at the altar painting, this saint stands and distributes bread to the poor. In the background, you can see Wartburg Castle in Thuringia, the seat of her husband. After his death, his relatives expelled Elizabeth from the castle precisely for her charitable activities.
On a special hiking trail (Sisiweg), you can learn interesting facts about the life of the Empress and enjoy a wonderful view of Lake Zell or the flowers that have already gone out of bloom in the valley.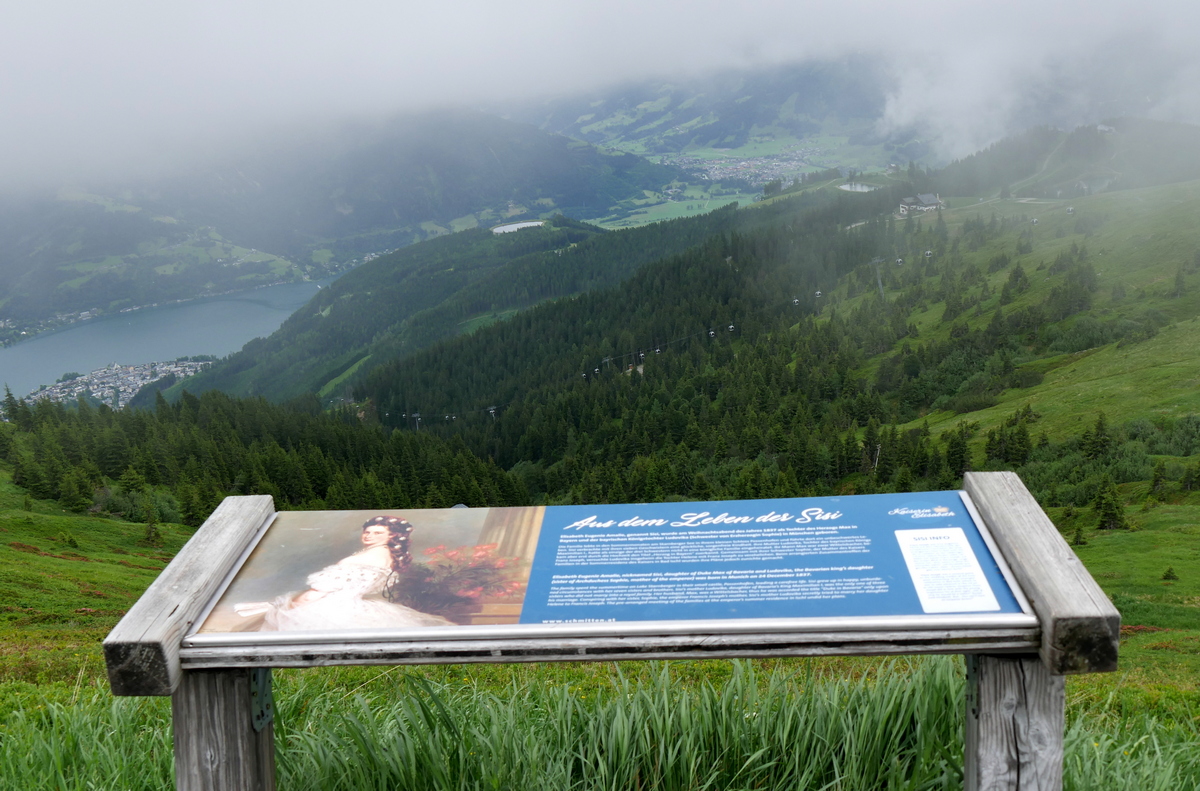 And flowers and herbs were the main topics of our tour. That is why we also had an expert at our disposal – Barbara Haider, who deals with traditional European medicine and also writes books about herbs for children. Not only did she immediately name each flower, but she knew exactly what its healing effects were and what it was used for.
Already at the beginning of our tour, near the chapel, we found flowering gentians and primroses.
At the time of our visit (end of June), the slopes were covered with large spots or entire strips of alpine rose (Rhododendron ferrugineum). Some shrubs are said to be up to a hundred years old, loved by bees, which then produce a special alpine roses honey.
Cranberries and blueberries, wild strawberries, arnica and various other flowers also bloomed. We even found one wild orchid of nice violet color.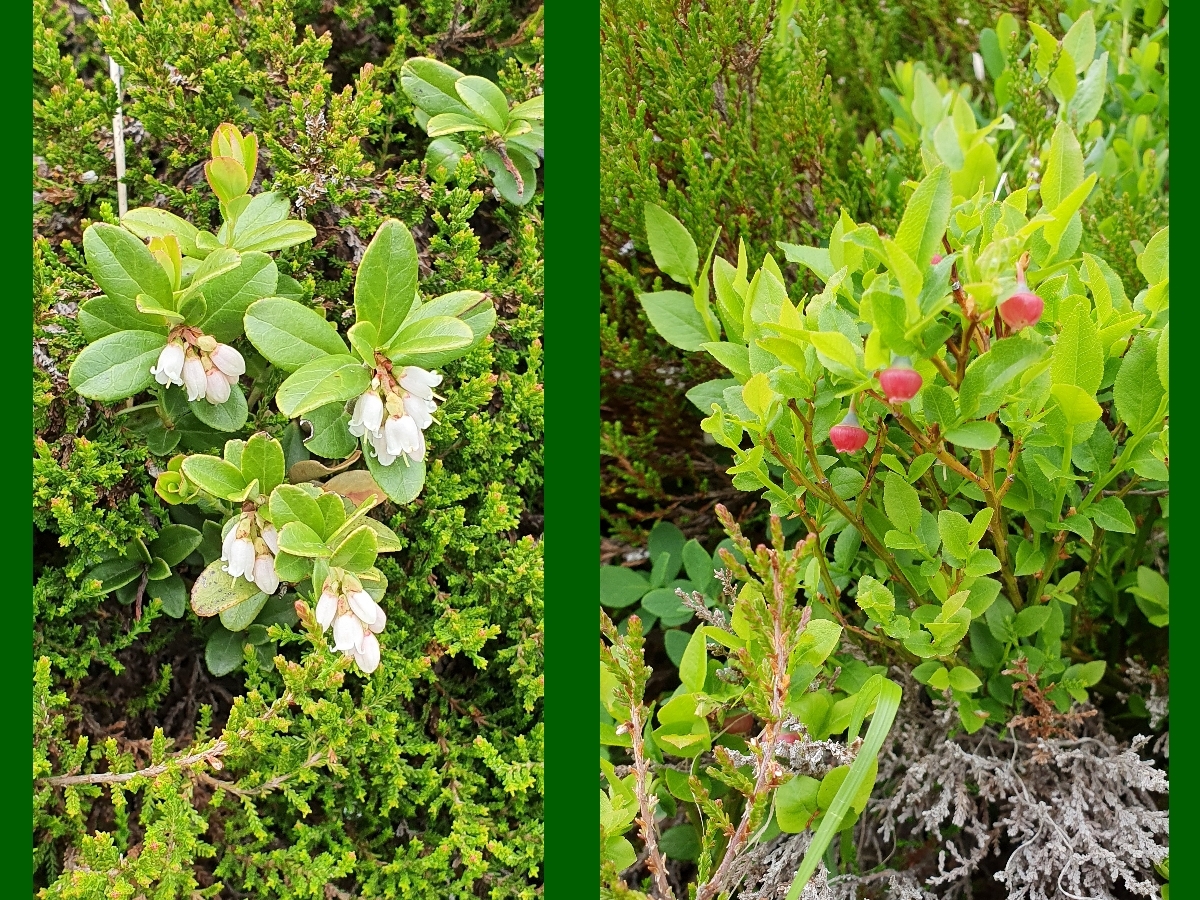 It doesn't matter if you go on a hike without a herbal expert. Along the paths, there are also information panels about flowers – in German and English.
Sometime later, Alfred Bürki joined us, who is also familiar with plants and uses them extensively in his kitchen.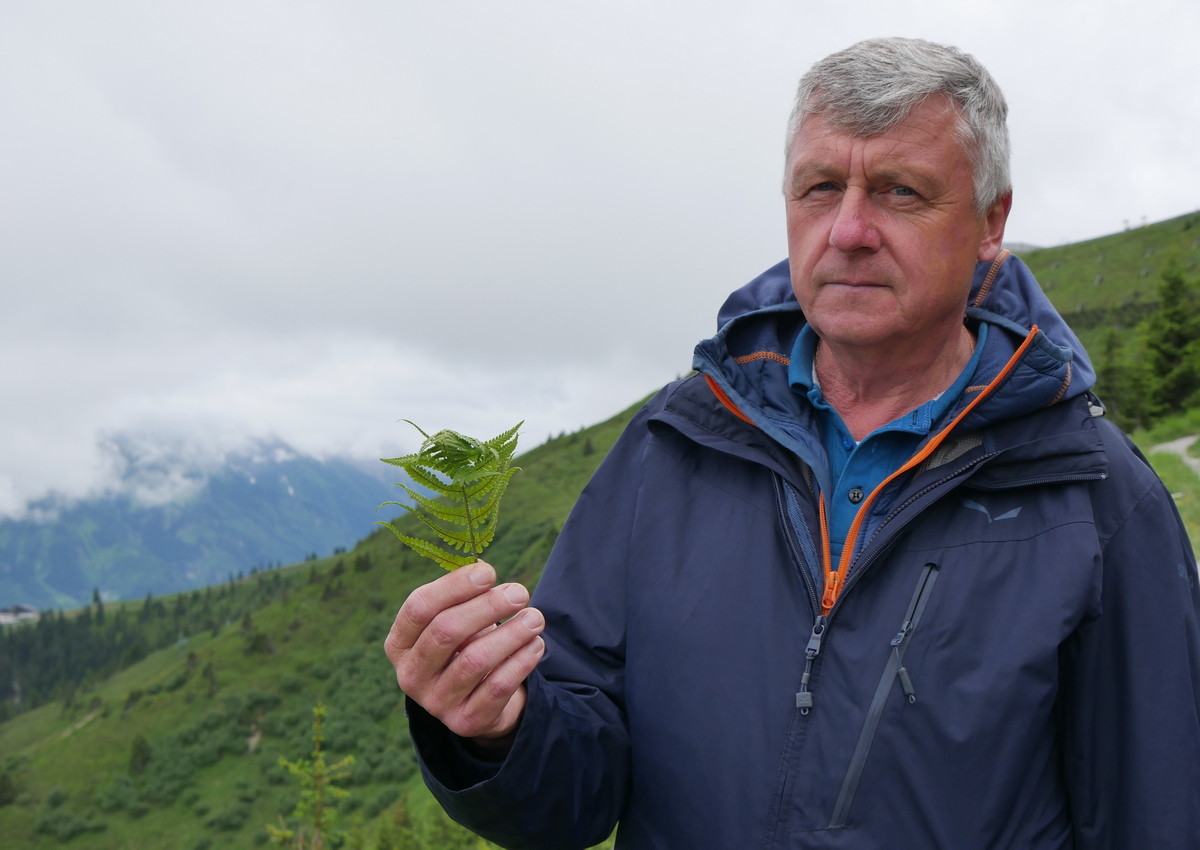 We were already approaching the Sonnkogel Restaurant (about 45 minutes walk from the chapel), where Freddy works. The fact that herbs play a major role in the preparation of meals was also apparent from the fact that flower beds with fragrant herbs grew in front of the restaurant, while inside the restaurant the herbs were dried and glasses with already dried herbs were placed on the shelves, as well as various vinegar, syrups, jams and teas. And on the walls, we could see pictures of herbs and flowers. In addition, the mostly wooden interior inside and all that decoration – you just could feel a strong connection with nature everywhere.
In addition to homemade lemonades (for example from mint, thyme or rosemary), we had a whole herbal menu: nettle-potato soup with a cake from a beer dough and with nettle filling, herb burger and a Meadow Cake as a dessert. All the dishes were beautiful to look at and delicious to eat, only the burger seemed a little dry to me.
The Meadow Cake was not only adorned from above with flowers from mountain meadows and pastures but the herbs were also felt in the dough. They served us this dessert with homemade poppy seed ice cream. Yum!
The restaurant is located next to the three-chair-lift, which we used to descent into the valley, while still admiring the beautifully blooming lupines.
More information about the restaurant: here
Extra Tip:
Summer Card – a combined ticket for natural and other attractions of the region, all cable cars, swimming pools and local buses. Guests staying in partner companies receive it free of charge, their list: here
More information about this region: here
Text: © Copyright Ingrid, Travelpotpourri
Photos: © Copyright Ingrid, Travelpotpourri
Thanks to SalzburgerLand and Zell am See-Kaprun for the invitation.