Burgenland is the Austrian federal state that belonged to Hungary during the monarchy. When pronouncing its name, we usually think of the capital Eisenstadt or Lake Neusiedl, the largest body of water in Austria. However, there are other places worth visiting. One of them is the knight's castle Lockenhaus.
I visited the place during the time of school trips. One class came to see this castle too. While one group of children tried to make yarn from wool, the other learned to shoot from a bow and crossbow.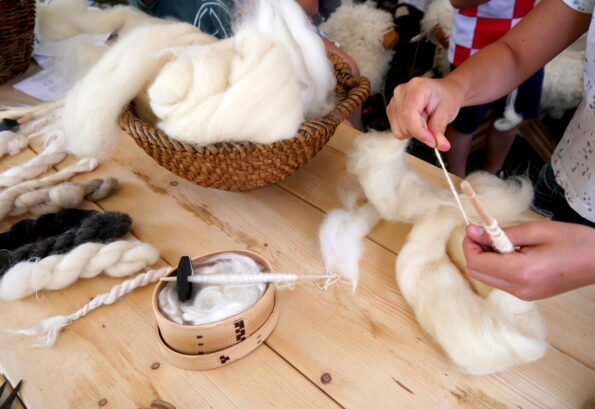 The castle guide looked as if he had escaped from the Middle Ages – he had a shaved head, which contrasted sharply with his black beard and moustache, he was dressed in a long, baggy shirt and had boots on his legs. However, he would have had to travel for a long time, because the first mention of the castle dates back to 1242.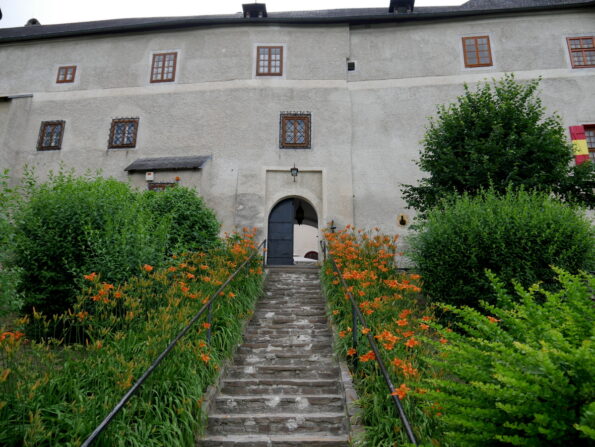 During its 800-year history, the castle was rebuilt many times and various owners took their turns here until in 1676 it became the property of the Esterházy family. It remained like that until 1968 when it was bought by Austrian writer Paul Anton Keller and his wife. They donated all their private property to the restoration of the dilapidated castle. The former dormitory is now a concert hall. We also saw the Knight's Hall with a Gothic cross vault, the black kitchen and the chapel.
However, the most remarkable room of the castle is a secret chamber, covered by a large stone at the top. To this day, historians have not agreed on what this space was used for. Most claim that the castle belonged to the Templars and that the room could have been used for the ritual of accepting new knights into the order.
There is a well in the small courtyard. While such castles were built in one to five years – depending on whether there were enough money and manpower, the excavation of five centimeters of the well took one whole day, which meant about ten years for this 110 m deep well! When the castle was occupied by the Red Army at the end of the war, part of the castle was blown up through the well, that's why it reaches a depth of only 61 meters today.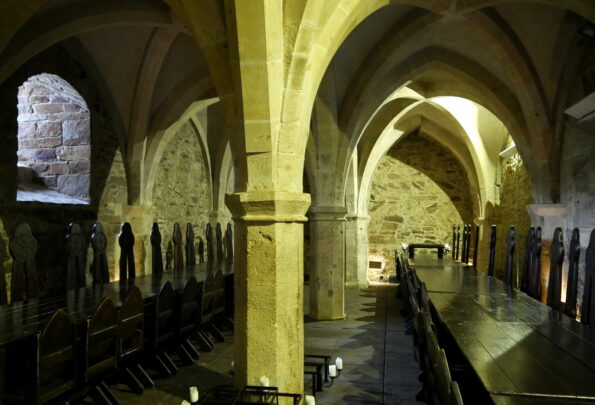 Our guide was obviously looking forward to astonishing us in the last part of the castle, which is dedicated to its infamously famous inhabitant, unaware that our Slovak group knew much more about countess Elizabeth Báthory than he did (because she was imprisoned and spent her last years within the Castleof Csejte in Upper Hungary – now Slovakia). Nevertheless, the information the man gave us was also interesting. The castle once belonged to the Nádasdy family, to which the countess came through her wedding with Ferenc II Nádasdy. There is no doubt that she lived here and probably had already succumbed to her bloody passion here. The Austrians have relied on the reputation of the most prolific female serial killer of all time, as stated in the 1988 Guinness Book of Records. In the room where she had lived, they have placed not only a replica of her dress but also a tub with an imitation of a bloody bath and, in addition to traditional torture instruments, they have also placed the legendary iron maiden in the torture chamber.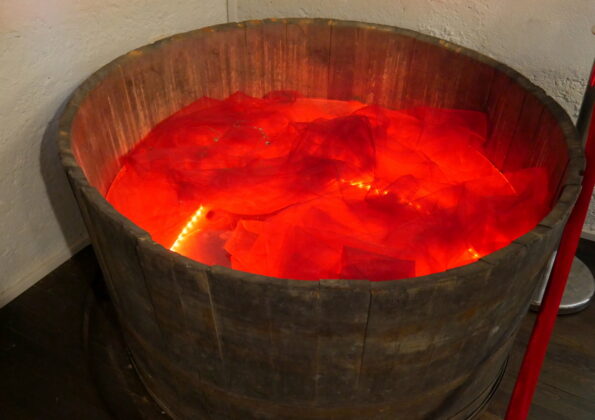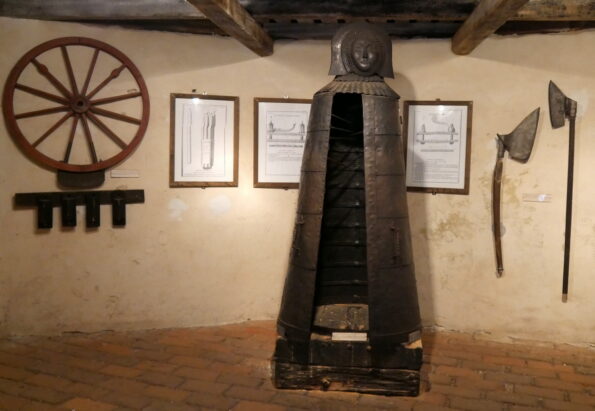 We said goodbye to our guide. I was wondering whether if he really went back in time if it would be possible to dissuade the Countess from those horrible practices because time cannot be stopped and the body cannot be rejuvenated by any magic – because even 400 years after Báthory's death, no one has invented a magical rejuvenation pill and people obsessed with plastic surgery look often more comical than actually young.
The castle is open from 1 July to 31 October 2020 every day from 9.00 am to 4.00 pm (last entrance). More information: here
There is a hotel in the castle complex as well, also suitable for families with children. Current accommodation offers can be found: here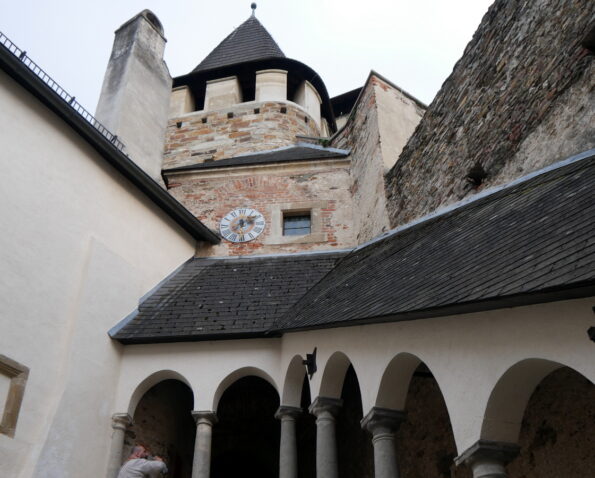 Where to eat on the way:
If you just want coffee, something sweet or delicious or handmade ice cream, then I recommend Café Heiling. They offer a variety of interesting names such as Summer dream, Grannie's apple pie, Mozart, Raffaelo, poppy, grape and other sorts, including some vegan flavours.
Address: Café Heiling, Hauptstrasse 21, Lockenhaus
In the Prosciutto Kingdom – if you go on a trip on a Saturday, I recommend – either on the way there or on the way back – to visit Hans Bauer's family company in Pöttelsdorf – it is open every Saturday from 9.00 am to 5.00 pm.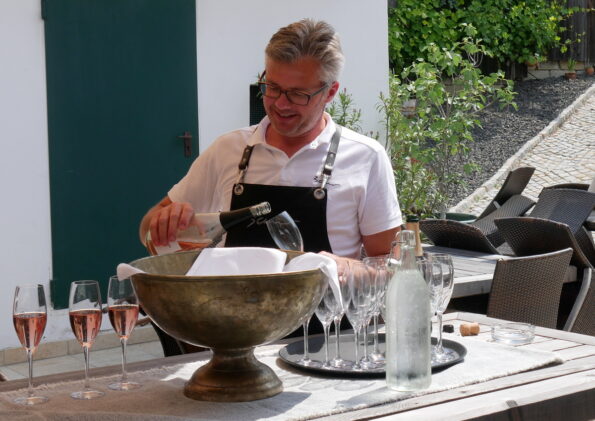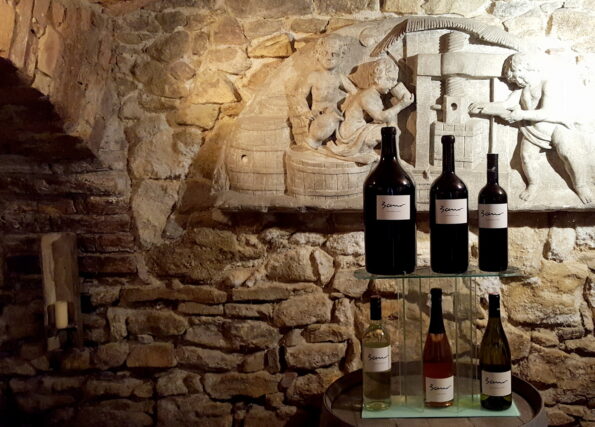 Hans's great-grandfather started producing wine. Initially, for Hans, it was only a hobby, but later, when he had expanded his activities to include the production of prosciutto ham, the moment came when the hobby became the main job. Today, there are only three companies in Austria that produce prosciutto on such a scale, and his company is one of them.
It's really an experience (but not for a vegetarian!) to see hundreds of neatly hung pork legs that have to be dried for months. Until recently, I knew of Parma ham at most, but there are many more sorts of prosciutto hams – Pannonico, Reserva, Coppa, Lardo, Pastrami, Pancella – these are all names of that tasty specialty.
In the Bauer family, hams are made from their own piglets, which they feed exclusively with their own crops, especially barley and peas. Of course, we couldn't leave without tasting. Thin slices of different types of ham of several shades of white and pink created a nice pattern on the plate – it was a perfect feast for your eyes and a delicacy for your taste buds…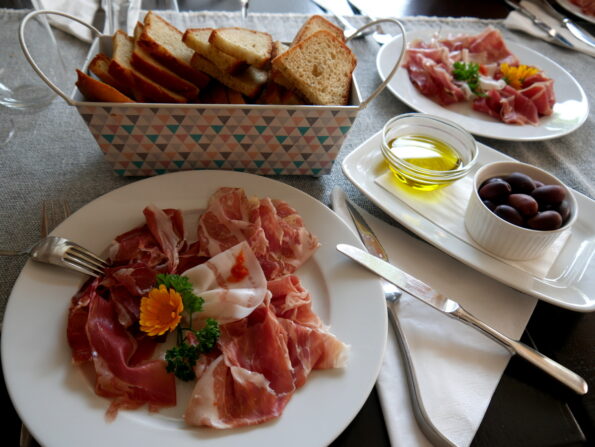 In addition to the served ham, we also had the opportunity to taste excellent wines from the family production. They also took care of the vegetarian girl from our group. Her beautifully arranged plate did not lag behind ours in anything…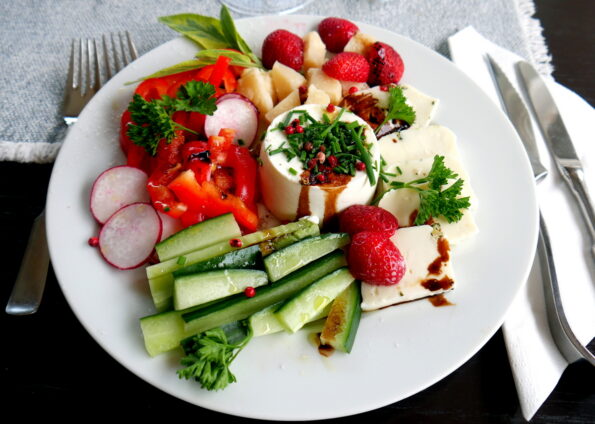 Address: Hans Bauer – Wein & Prosciutto, Bachzeile 24, Pöttelsdorf
More information: here
Note: all opinions expressed in this article are my own.
Text: © Copyright Ingrid, Travelpotpourri
Photos: © Copyright Ingrid, Travelpotpourri
I would like to thank Österreich Werbung for organizing this trip.