Do you love Christmas and are sorry that it is over and you have to wait for the next Christmas one year again? Don't worry. If you plan to visit Salzburg, you will find a unique museum there – the Christmas Museum (Weihnachtsmuseum) located in the old part of the city on the Mozart square (Mozartplaz).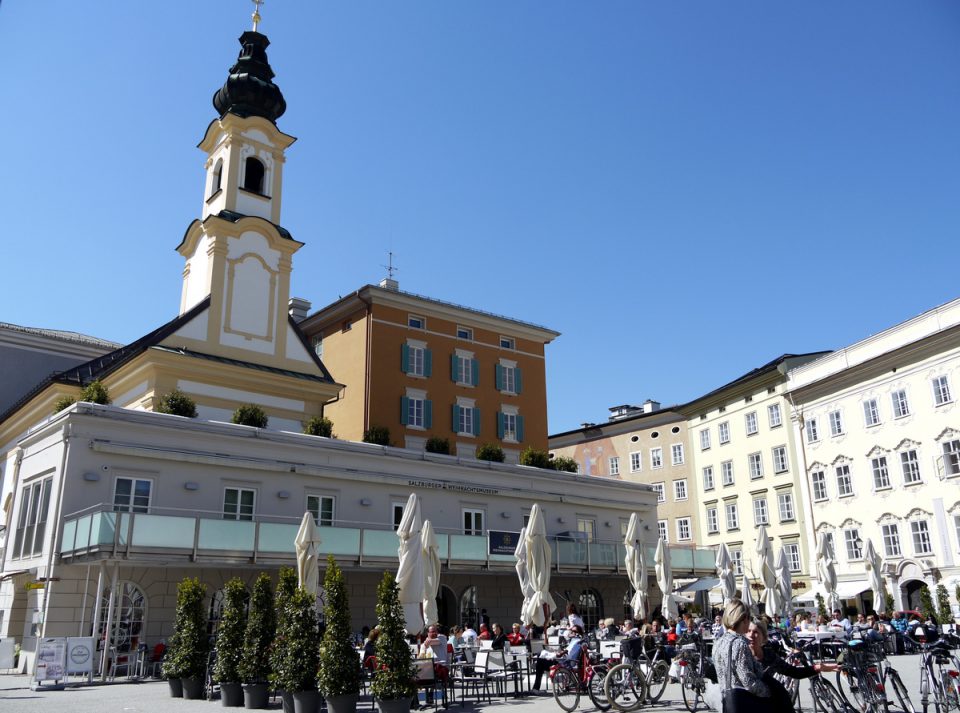 The exhibits come from the private collection of Ursula Kloiber. As a child, she spent a lot of her time in Styria with her grandmother who used to tell her Christmas stories and fairy tales. When the granny died, Ursula inherited all the old Christmas decorations. This was the beginning of her collector's passion. She was looking for new items both in flea markets and auction houses. When they became so many that neither the attic nor the cellar were big enough to store them, she and her husband Herbert, a TV mogul, decided to open this museum.
You will find everything which is typical for the Advent, Christmas and New Year time in Austria and southern Germany, especially from the period between 1840 – 1940.
There are different appearances of St Nicholas and the devil. St Nicholas is almost always in a bishop's robe, with a mitre on his head and a crosier in his hand. Krampus, which is the name of the devil creature in this region, was portrayed in the company of St Nicholas in the southern Tyrol for the first time in the 16th century.
Originally, it was St Nicholas who was bringing gifts to children but gradually the tradition was shifted from December 6th to December 24th. In the second half of the 19th century, children started to write their wish letters to Jesus Baby. One day, when I pulled out a Slovak children's book about a Bold Rabbit from the shelf, I found in the book such a wish letter I wrote when I was a child. And what did I wish? That book, of course! 🙂
Looking at the Nativity scenes made of paper, I remember that we used to have also a similar one…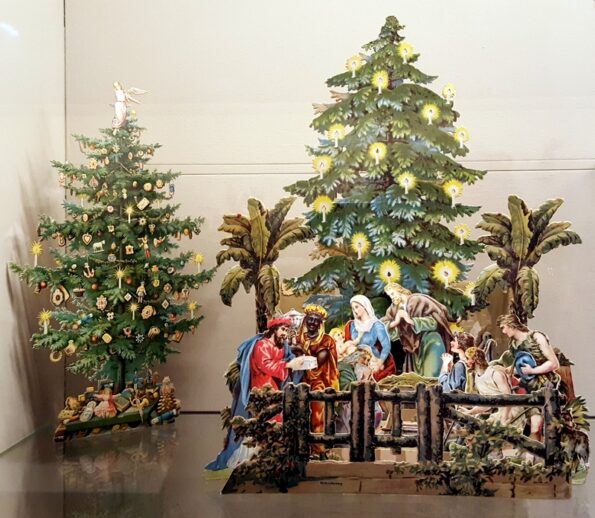 What a pity that people do not send postcards anymore. It is said that in 1905, a real postcard mania exploded… Some Christmas cards are really of artistic value like these from the production community called Wiener Werkstätte.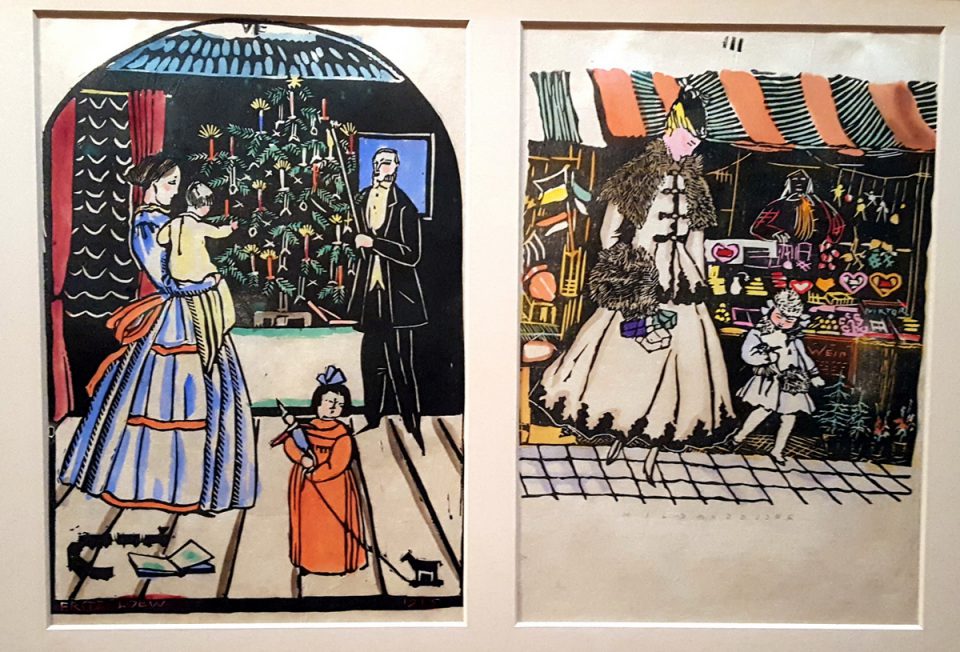 I am sure that in the collection of different Christmas adornments made of glass, beads, paper, wax, wire or some other materials, you will find some which recall your memories of the Christmas tree from your childhood.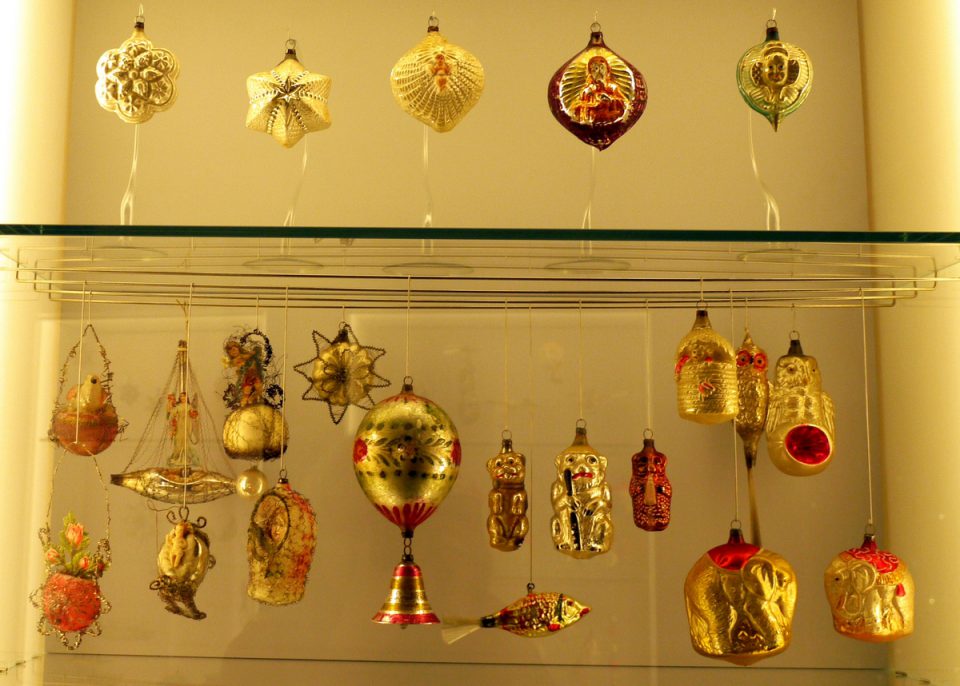 But there are also some Christmas decorations which really surprised me. Did you know that there are objects which used to be hung on a Christmas tree by front-line soldiers? U-boats, ships, airships, iron crosses, cannons, rifles and other weapons belonged to the most popular ones, but also models of crowns which were worn on the heads by rulers for whom the soldiers had to fight…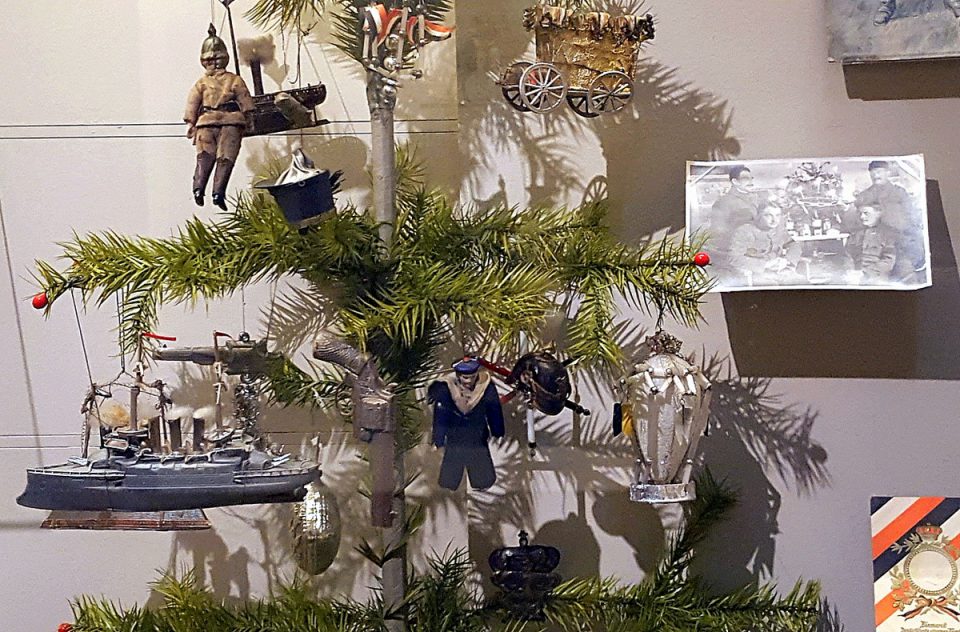 In the Art Nouveau time, the Christmas decoration was in gold and silver only. You can see one such Christmas tree in the museum. It is gorgeous, reflecting in several mirrors.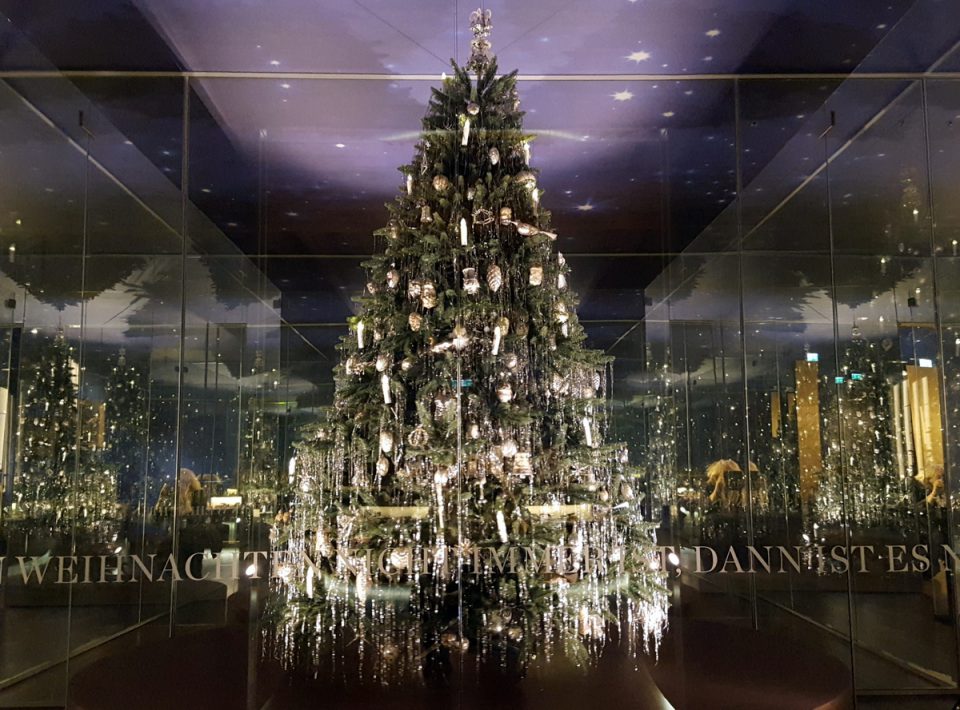 You will find also various biscuit moulds here, even some recipes! The very first recipes for Christmas cookies are mentioned in some cookbooks from the 15th century.
One showcase is dedicated to chimney sweepers. It is one of my favourite ones because when I was about 4, I drew chimney sweepers almost everywhere! 🙂 There are also some other lucky symbols. And why actually do chimney sweepers bring happiness into a house? You can read about it in our other post: here.
Anyway, the highlight of the exhibition is the Christmas room. You look through a window in the room as if you are looking into your own childhood. The warmth and cosiness of the home are created by a fireplace, a lamp, an upright piano and some candle holders. In the middle of the room, there is a splendid Christmas tree and many pictures, postcards and books everywhere around it, but especially toys – which you once used to have or at least longed for them: a doll, a rocking horse, a carousel, a pram, a drum…
When you finish delighting your eyes, you can sit down in a small café and sip a hot drink and you think back of Christmases long past or watch the bustle in the street. On hot summer days, you can sit directly outside the museum.
If you use the Salzburg Card visiting Salzburg (more info here), the visit to the museum is included in the price of the card.
Information about the opening hours here: Salzburger Weihnachtsmuseum
The title photo: Anton Nowak: Christmas in a Monastery, about 1894, Salzburger Weihnachtsmuseum
Text: © Copyright Ingrid, Travelpotpourri
Fotos: © Copyright Ingrid, Travelpotpourri