Walking through the narrow streets of the old town, we almost felt the atmosphere from the past when the trade was very active here. Although only three of the nine original domed bazaars (toqi) still exist. Their gates were so wide that caravans of several camels could pass easily.
In the past, booksellers, traders of jewels, hats and other headdresses as well as flour had arranged their stalls under the historical vaults. In addition, arrows had been manufactured here and there had been also an exchange "office". Well, money is a story even today!
The currency is Uzbek som. After changing money, we did not need our purses anymore. Just some elastic bands and a plastic bag! 🙂
I do not even know, how many times during our trip we had to count those stacks of soms. Certainly many times! If somebody interrupted us or our thoughts strayed somewhere just for a moment, we could start counting from the beginning again. We always admired how excellently local people managed to count their money. They just folded the stack in the middle, wet their thumb and off they went.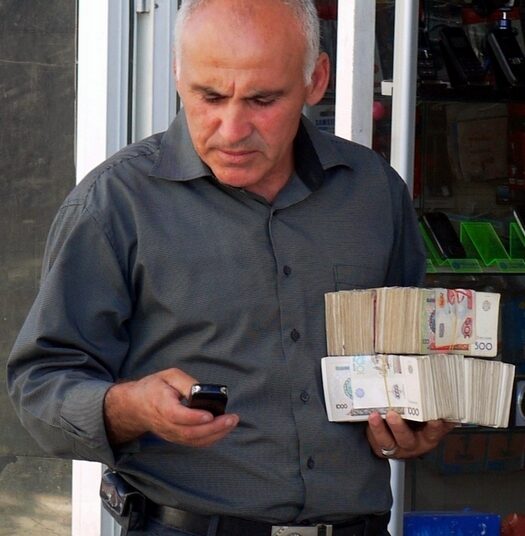 Ancient caravanserais are rebuilt in small shops and workrooms.
Different craftsmen take their tools and sitting in front of their workshops they demonstrate their skills to curious tourists, like this guy who produces wooden carved stands for the Koran.
Although most of the shops sell souvenirs now, interesting local products can be still found. You are expected to bargain but the shop assistants are not intrusive at all.
Marco Polo, who had visited Bukhara in the 13th century, wrote in his memories that the most beautiful and subtle carpets came from Bukhara.
However, the carpets are produced by Nomads in their yurts and are only sold in Bukhara. Already in the past, camels had carried them from here to the rich people in European cities who spread them in their luxurious palaces. The carpets are famous for their colourful patterns which are often of magical significance. They should bring happiness and prosperity into the house and protect it against evil.
Carpets of different sizes were hanging along the whole street. We were just waiting for the wind to transform at least one of them into a flying carpet.
However, I was more fascinated by suzani – fabulous decorative embroidered hangings, also used like bed or table covers or prayer mats.
I liked those with a lot of flowers and pomegranates most. Pomegranate is an important symbol of fertility.
The gold embroidery art of Bukhara is also very famous. A young girl gladly demonstrated one piece to us.
But in the past, only men were allowed to make such embroideries with golden and silver threads, the craft was handed down from father to son. First, motifs were cut with special scissors.
The embroideries were applied on velvet overcoats (khalat) which are still worn at a wedding or other special occasions.
Moving ahead, suddenly we heard a strange sound, like buzzing bees. A lot of bees. We went in that direction and arrived at the bazaar with gold.
Well, this was only a women's business, that is why it was buzzing. Women selling, women buying. Some of them with golden jewels on their necks or hands already, some of them even with all golden teeth in their mouths. Uzbekistan is the 9th largest producer of gold in the world (100 tons in 2016). It was interesting that we did not see any other shops with golden jewellery except at this bazaar.
Pottery was also very nice, especially tea sets – a teapot with small bowls without handles, mostly decorated with stylized cotton flowers. Well, what else? It is said that Uzbek people are able to talk about cotton – their white gold – for hours…
There were some copies of the amazing Kalyan Minaret among the pots and I am still sorry that I did not buy one because for me it was one of the most beautiful sights in this country.
The woman who was selling pottery and some souvenirs attracted our attention as well. Better to say – her eyebrows. It is said if it is grown together, then it shows the hot-bloodedness of the person. In Uzbekistan, if you do not get it naturally, you can paint it with colour…
On many buildings in Uzbekistan, you can see inscriptions in Kufic – the calligraphic form of the Arabic scripts. We found also some pictures with animals or other objects decorated with this art of writing.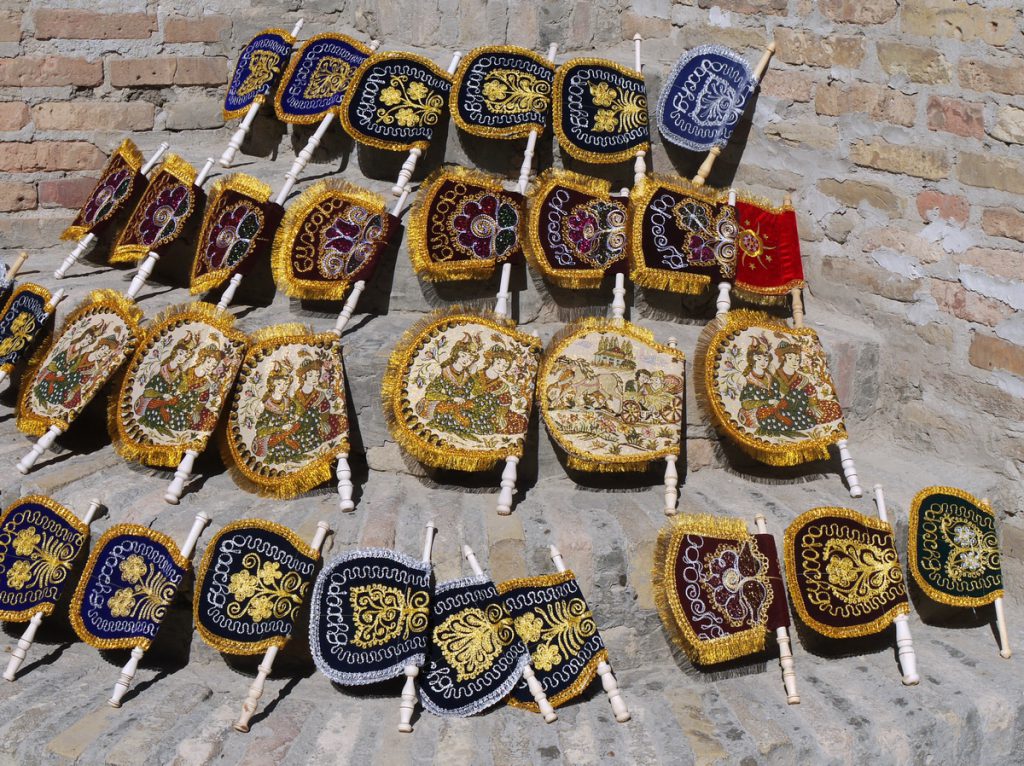 This old man was selling wooden stamps.
They use them for the decorating of typical Uzbek bread. It was a great souvenir. I bought it for all of my friends!
And of course, there were some magnets as well…
This was Bukhara. Oh, and I should tell you that the man holds less than 500 euro in his hand. 🙂
If you want to know more about the city and its sights, you can also read the post:
Bukhara – An Important Crossroad on the Silk Road
If you plan a trip to Uzbekistan you can also contact:
Visit Uzbekistan Travel – information about Uzbekistan on sightseeing, transportation and travel options/packets (Tashkent)
Text: © Copyright Ingrid, Travelpotpourri
Fotos: © Copyright Ingrid, Travelpotpourri