Bad Mühllacken is located near Feldkirchen an der Donau in Upper Austria (only 21 km from Linz). I came here between two waves of the pandemic. Due to anti-pandemic measures, we did not have the opportunity to move for a long time, we sat more at home and, at the same time, opened the full refrigerator more often. And so it was much easier to gain weight. For me too. So I really welcomed the opportunity to spend a few days in this spa, which is one of the ten best "European Detox" facilities in Germany and Austria. It is actually a monastery, so there are also Carmelite sisters among the staff.
We hear the word fasting mainly in connection with faith because the strict or specific renunciation of certain foods is known in every religion. Nowadays, however, the health aspects of fasting are gaining more and more attention. But fasting is not a diet, weight loss is just a side effect. Fasting should bring a new beginning, put an end to unwanted habits, bring a chance to get rid of certain addictions and reorganize your life in general.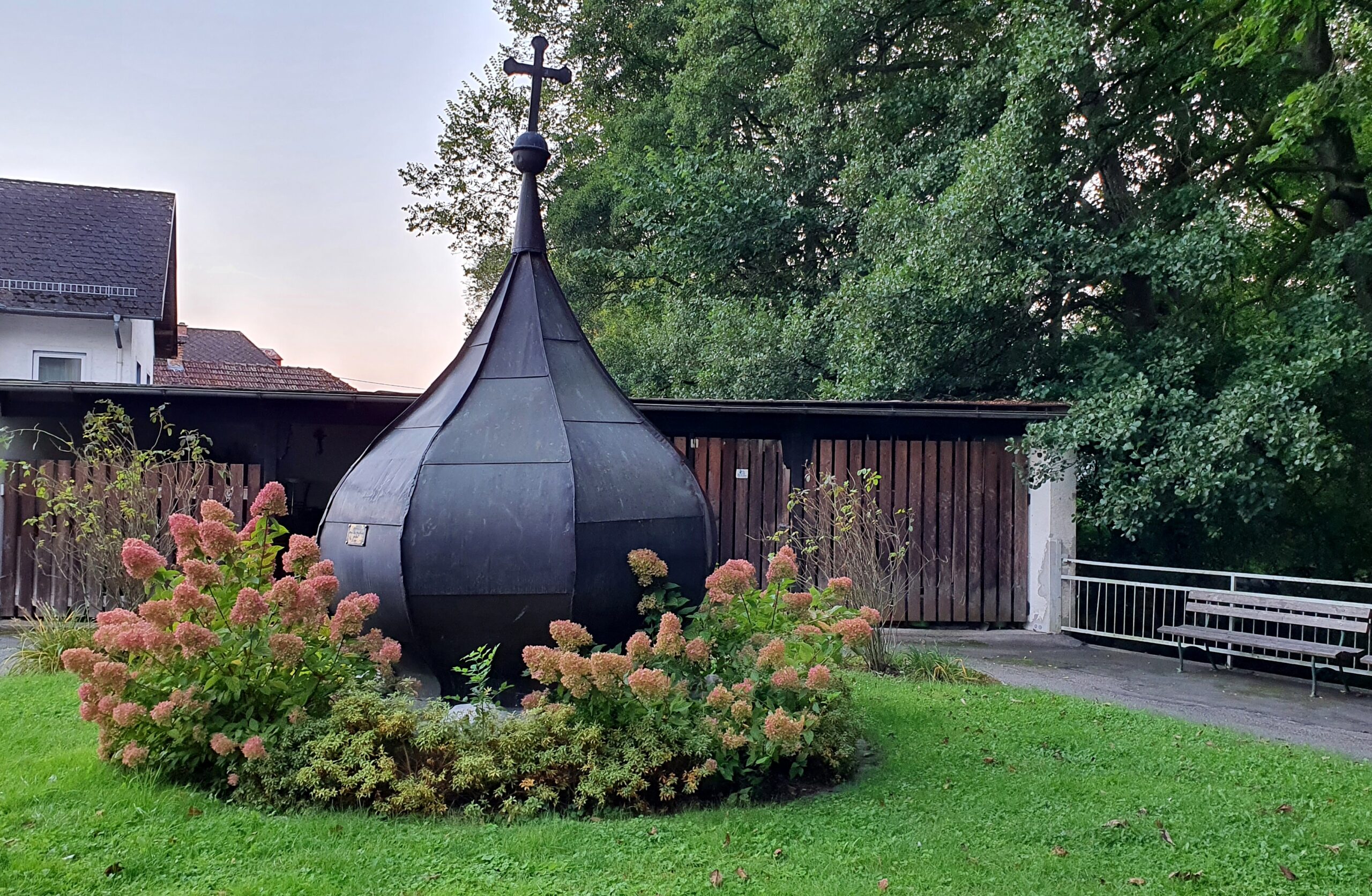 Kneipp and Kneipping
In Bad Mühllacken, I often encountered the name of Sebastian Anton Kneipp (1821-1897). It was a Bavarian priest, hydrotherapist and naturopath who popularized cold water therapies. In his youth, he suffered from lung disease, probably tuberculosis. When he accidentally discovered a book about the effects of fresh water on the human body by Johann Siegemund Hahn during his studies, he decided to try to cure himself. He began to prepare the baths and at night, he secretly left the seminary so that he could pour cold water from the city fountain on himself and even dove into the icy waves of the Danube. Daily applications of water became an integral part of his life and he secretly began to treat others as well. He wrote and lectured about his methods, traveling almost all of Europe. In 2015, Kneipp therapy was included in the national UNESCO register for intangible cultural heritage.
Sebastian Kneipp was actually one of those who popularized the idea that our health benefits by the strengthening of the body, hardening and harmonization of our lifestyle. His healing method is based on five pillars. The first three include a harmonious lifestyle (calming down, relieving stress – it is recommended to hand over mobile phones at the reception in the spa), a healthy, moderate diet – conscious fasting and medicinal herbs. The fourth pillar is physical activity and water, the source of life is the fifth pillar.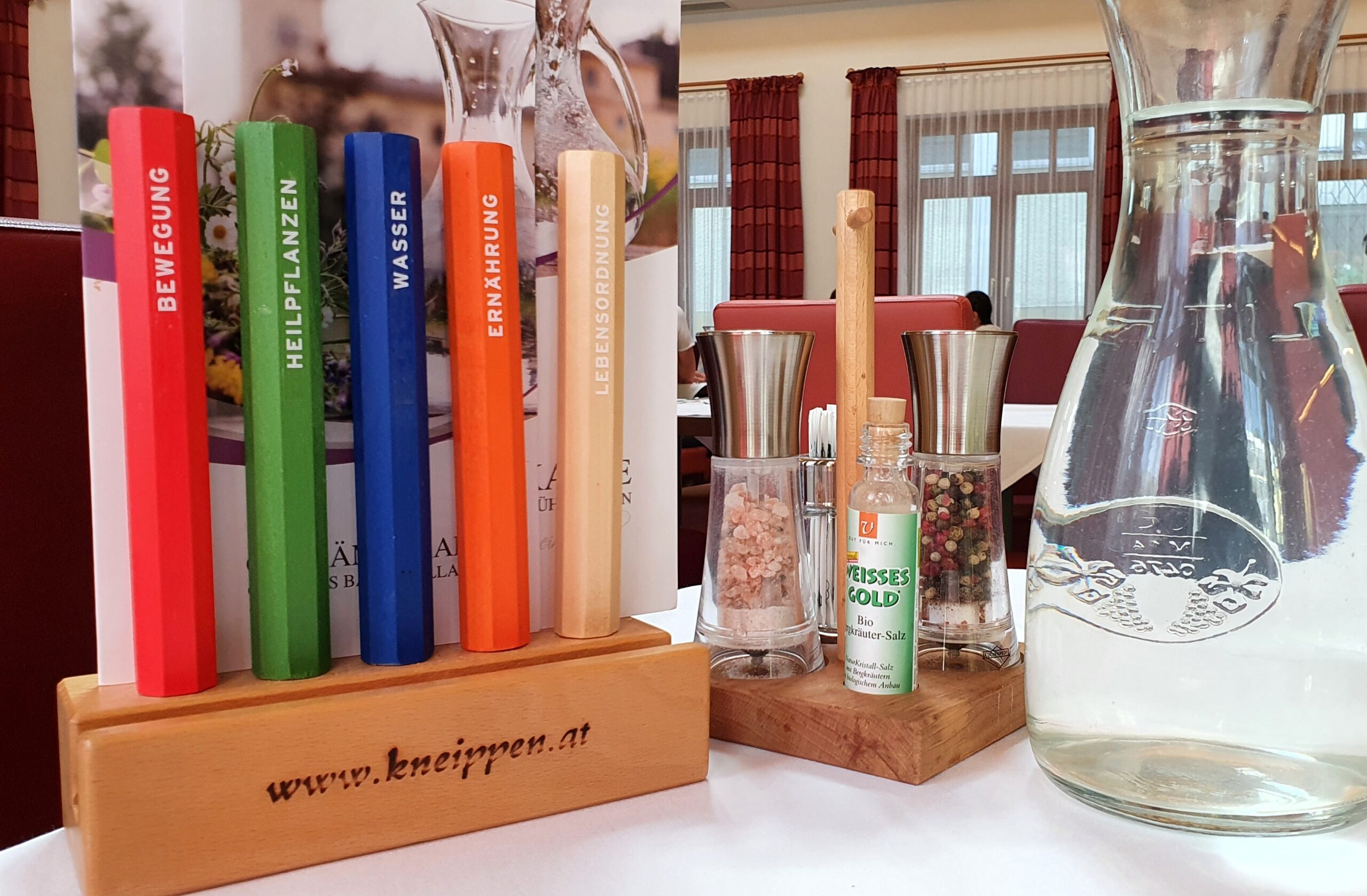 Traditional European Medicine
In Bad Mühllacken, they focus on detoxification, fasting and diet modification according to the principles of Traditional European Medicine, which classifies people into four archetypes (sanguine, choleric, melancholic and phlegmatic). Upon check-in, guests will receive a questionnaire with over 80 questions. According to my answers, I am something between a sanguine (34%) and a melancholic (25%). The percentages may fluctuate on different days.
According to the respective archetype, individual treatment concepts, ointments, tinctures and teas are programmed, and the menus are adapted as well. During my stay, I did not observe strict fasting, rather it was about getting acquainted with the main principles of good fasting and at the same time examining my own needs. Eating according to archetypes enables a targeted selection of ingredients and especially herbs and spices that suit individual types. The monastery kitchen uses its own herb garden.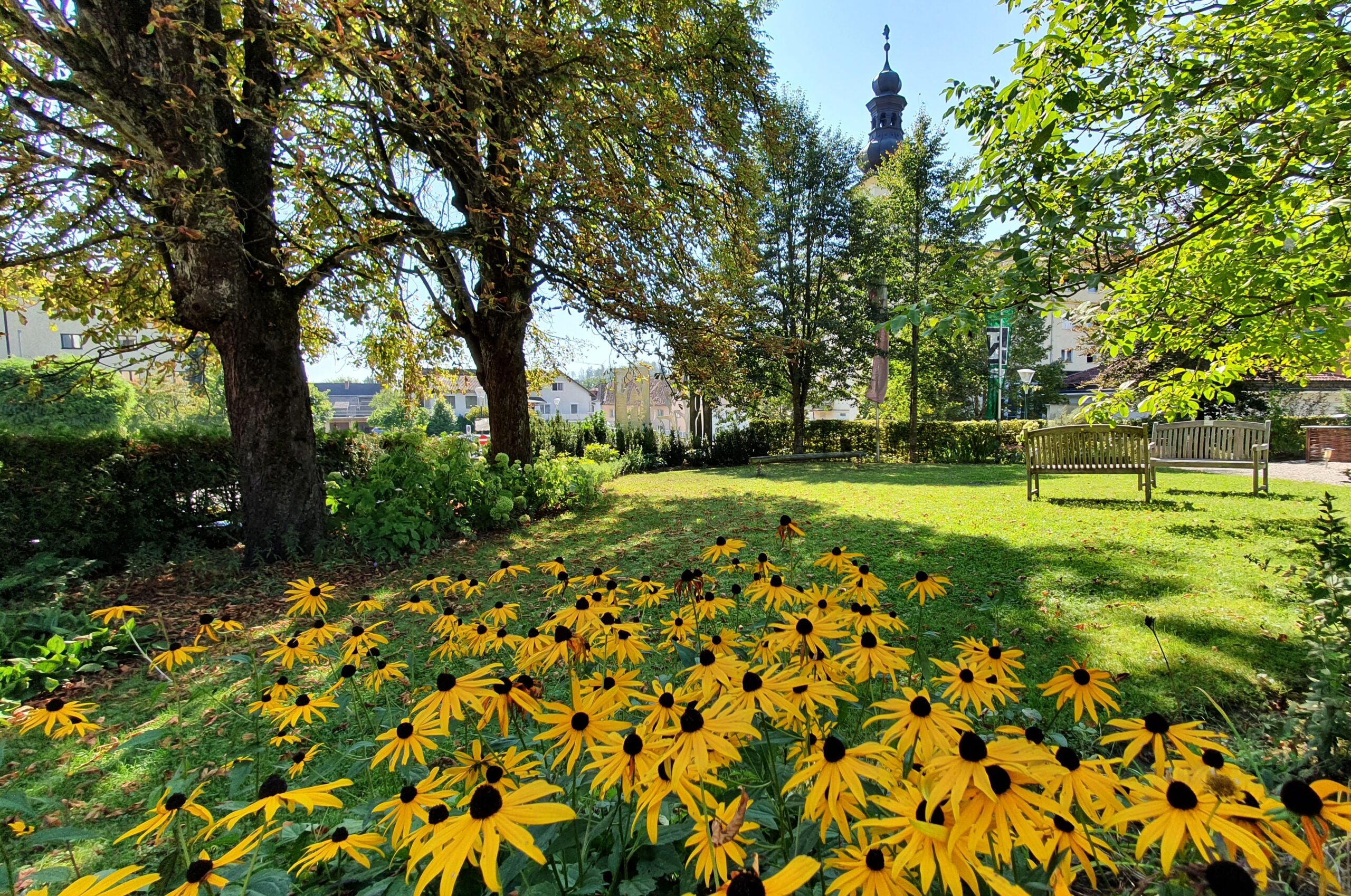 I tested for you:
1. A conscious diet
We chose the dish for the next day from the prepared menu according to individual archetypes. The lunch menu also included a meat dish. Other dishes – easily digestible and gluten-free – were intended to lighten the stomach or they were exclusively vegan vegetable dishes for basic fasting. The menu was complemented by salads and soups, and you could even choose from two light desserts.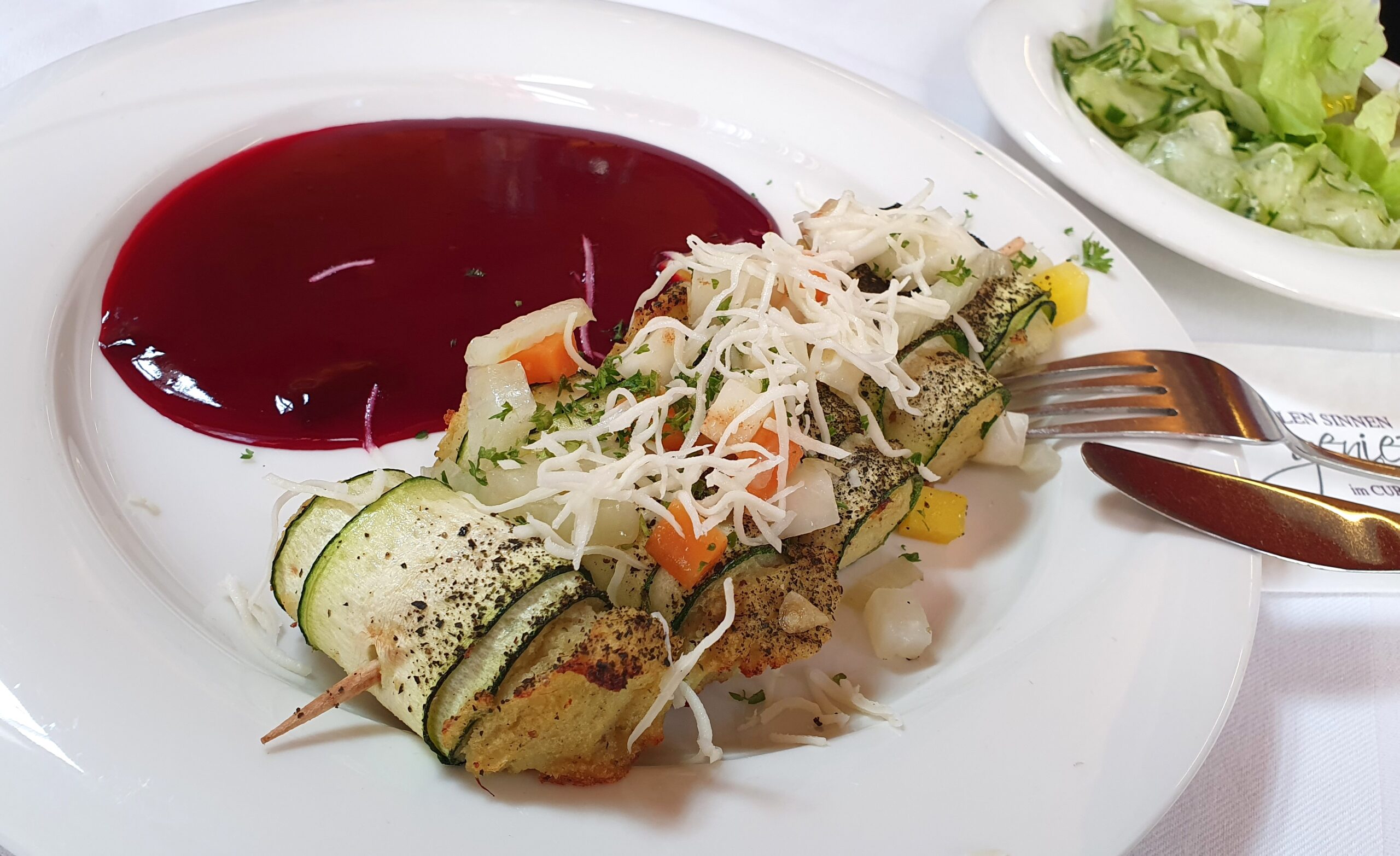 The evening menu met the criteria of Traditional European Medicine. I did not stick to my classification as archetypes when choosing the dish, I preferred modern compositions with – to me – lesser-known ingredients. All dishes were delicious and stylishly arranged.
2. Water and herbal teas
The drinking regime is extremely important. Especially during fasting, you should drink more water than tea, 2-3 liters a day. In fact, whenever you feel hungry, you should take a sip of water. However, you should not drink too much while eating.
The curing house provided spring water from the Bruno Spring in the Pesenbach Valley, just 700 meters from Bad Mühllacken. It contains manganese and iron. The effects of this water have been known since 1364. We could always pump it from large containers into smaller jugs.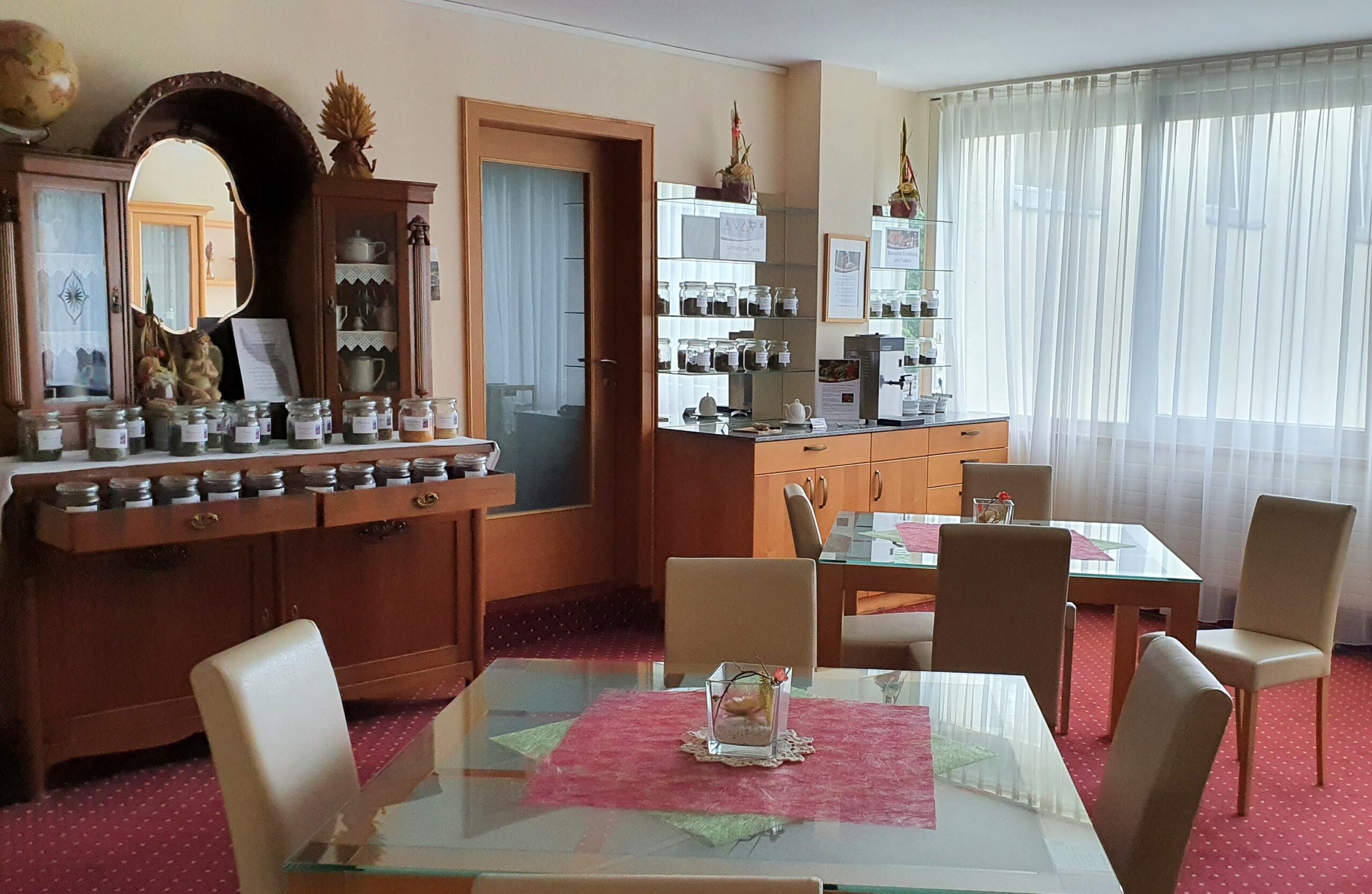 If we want to regenerate our digestive tract, we should not drink cow's milk, coffee or alcohol. In addition to water, only herbal teas are recommended. There are also common rooms in the building where herbs were prepared in glass containers for making tea. Different combinations are probably better to consult with the staff. I poured myself tea from several herbs, not knowing that this mixture was prepared for participants in a strict detox for dehydration. So I spent the night running frequently for a small need.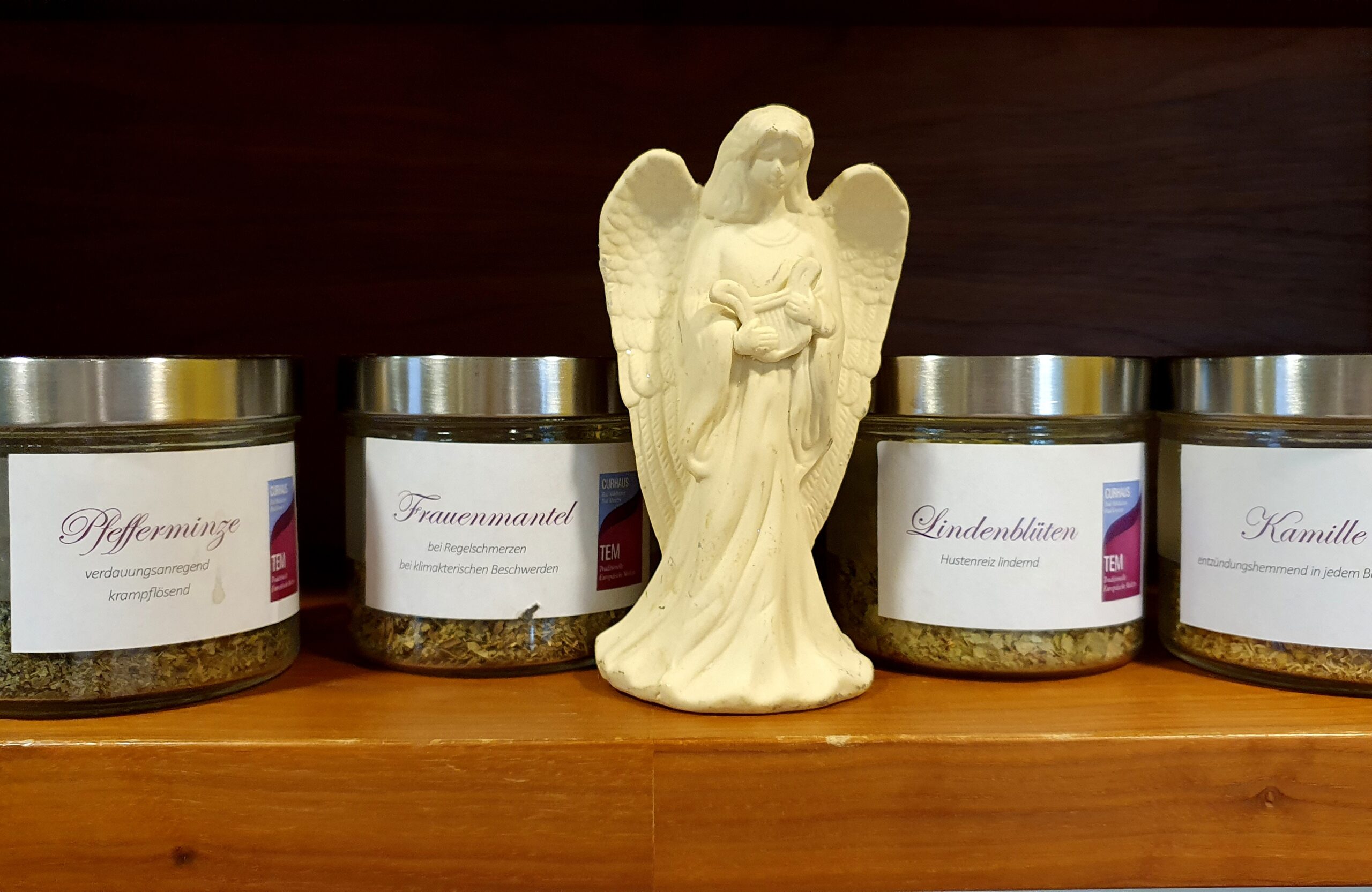 3. Kneipping
According to Sebastian Kneipp, the most effective remedy is water. It should be cold, but pleasant. Although the washbasins in the garden were without water due to anti-pandemic measures, Kneipping can also be carried out in the local stream: take 30-40 steps like a stork, the foot must always be completely pulled out of the water. This procedure stabilizes the heart and blood circulation.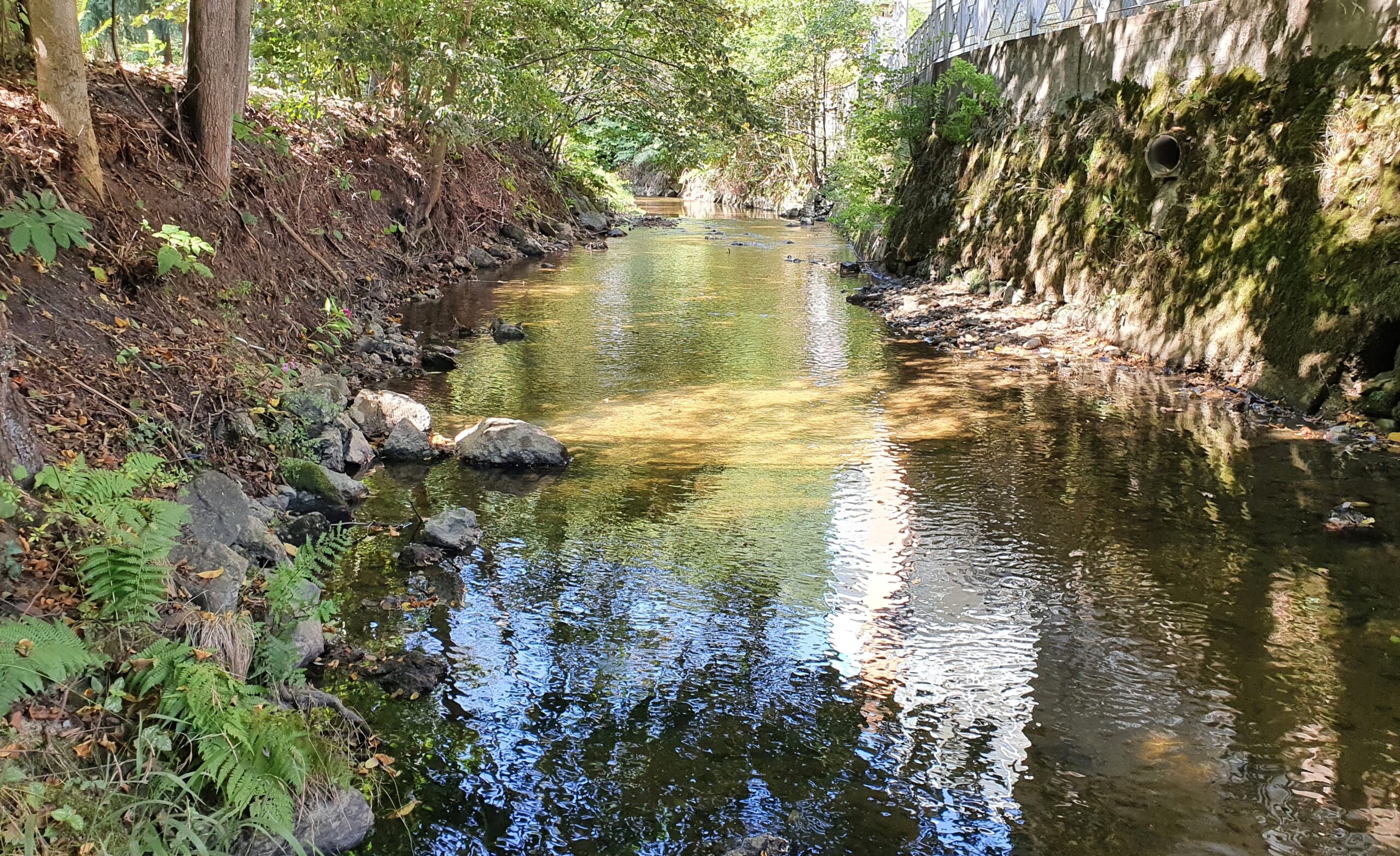 And, since the days were really hot at the time of my visit, I also enjoyed the refreshment in the natural pond.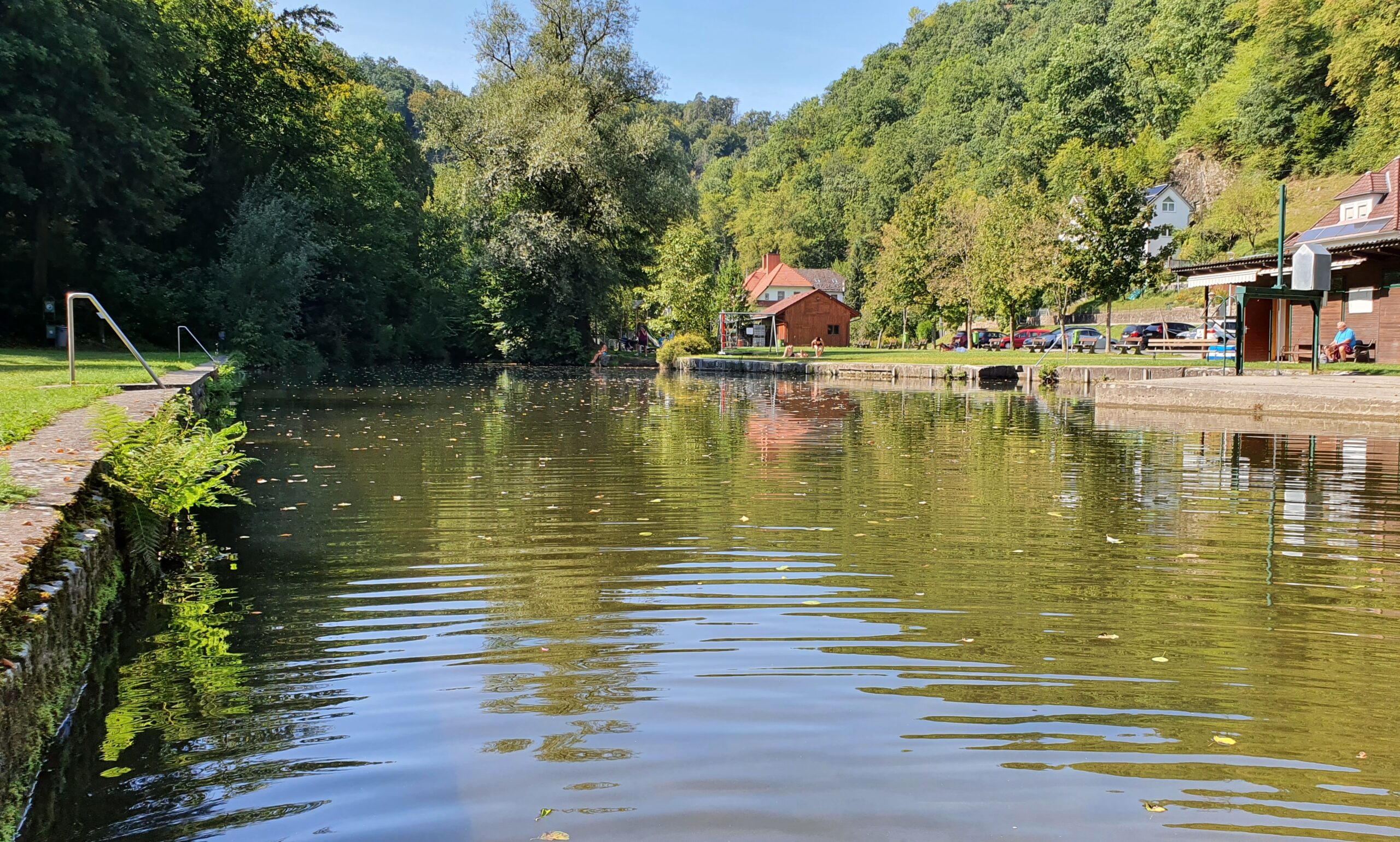 4. Wellness
In Bad Mühllacken, water is used in 140 different treatments. The house has a wellness area as well, a small one but a nice one. Here, too, you can train the "stork march" according to Kneipp in a special pool.
Wellness facilities include a sauna and a steam bath. This was one of the highlights of my stay. The therapist first measured my pulse and determined my current classification as an archetype. Then she mixed tea (for use before the sauna) and a special herbal-oil mixture for peeling. I carried it on the tray like something precious, everything smelled wonderful.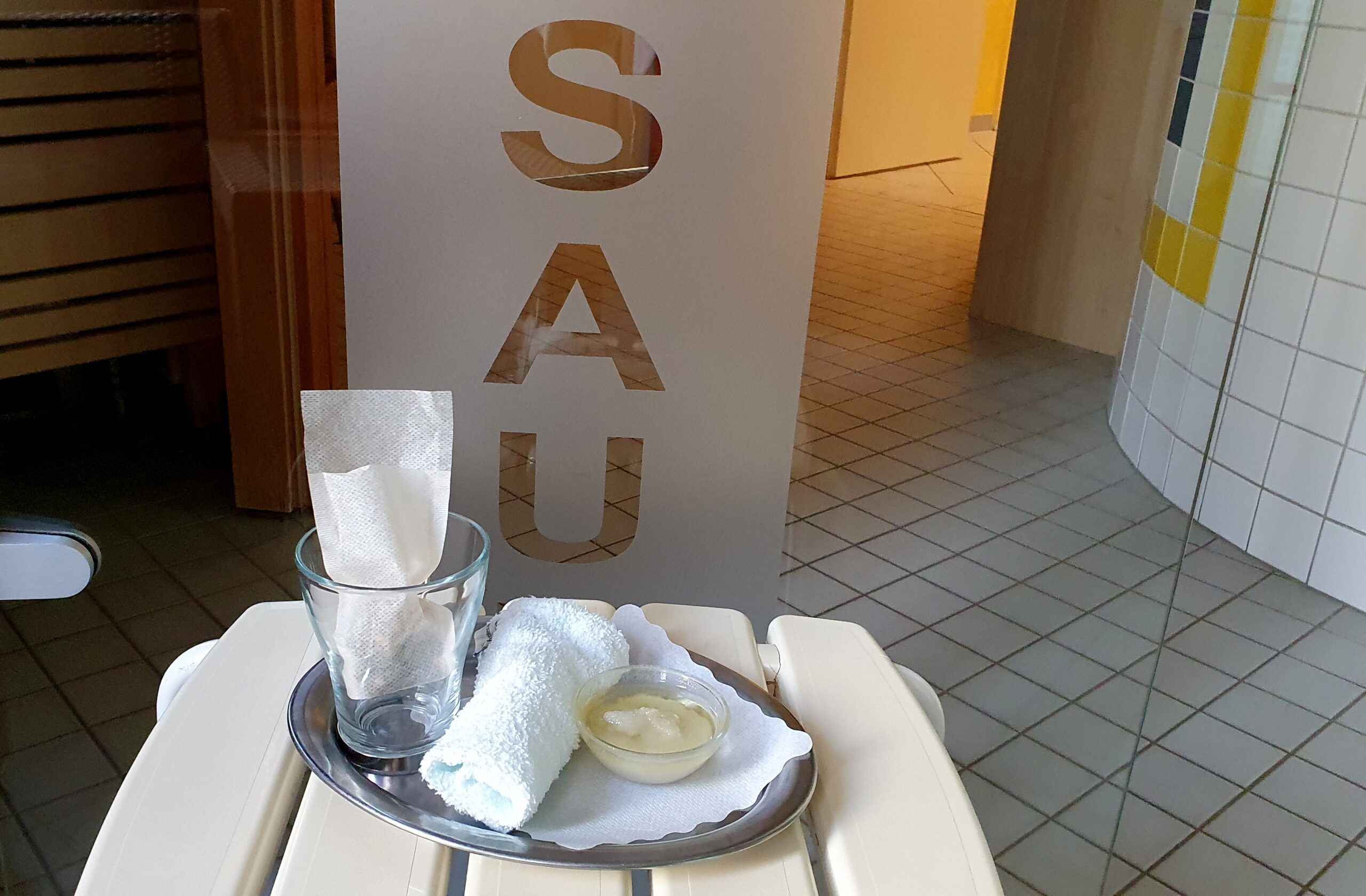 5. Herbal wrap
Another pleasant procedure was a hot wrap when I was lying in bed and a warm linen bag filled with dried leaves, flakes and seeds of various meadow plants was placed on the lower part of my abdomen. It not only pumped blood into my skin but also into my internal organs.
Sebastian Kneipp had said that nature was the best pharmacy. Almost 150 herbs grow in the monastery garden, which are used not only as a part of meals and teas but also as ingredients in mixed medicinal ointments, peeling and massage oils and wraps. The signs with the depicted sensory organs clearly indicate which herbs are suitable for which body part.
6. Physical activity
This is also one of the main pillars of the Kneipp treatment method. I got up in the morning and took part in light strengthening and gymnastics to awaken the body and mind. During the day, the spiritual and energetic exercises of the ancient Celts (WYDA) were practised in the park.
The park has a playground as well. There are also wooden beds because physical activity should be followed by rest. The wooden, color-coded columns again remind of the aforementioned five pillars.
It also felt good to run on the grass barefoot or on paths strewn with bark, cones and other natural material.
7. Walking in silence
As early as 6.30 in the morning, one of the nuns was waiting for us and together we went for a half-hour walk, during which we were silent. Although we went outside, we actually went more inside. We were quiet but there were all sorts of natural sounds around us – the chirping of birds, the ripple of a brook or the crackling of twigs under our feet.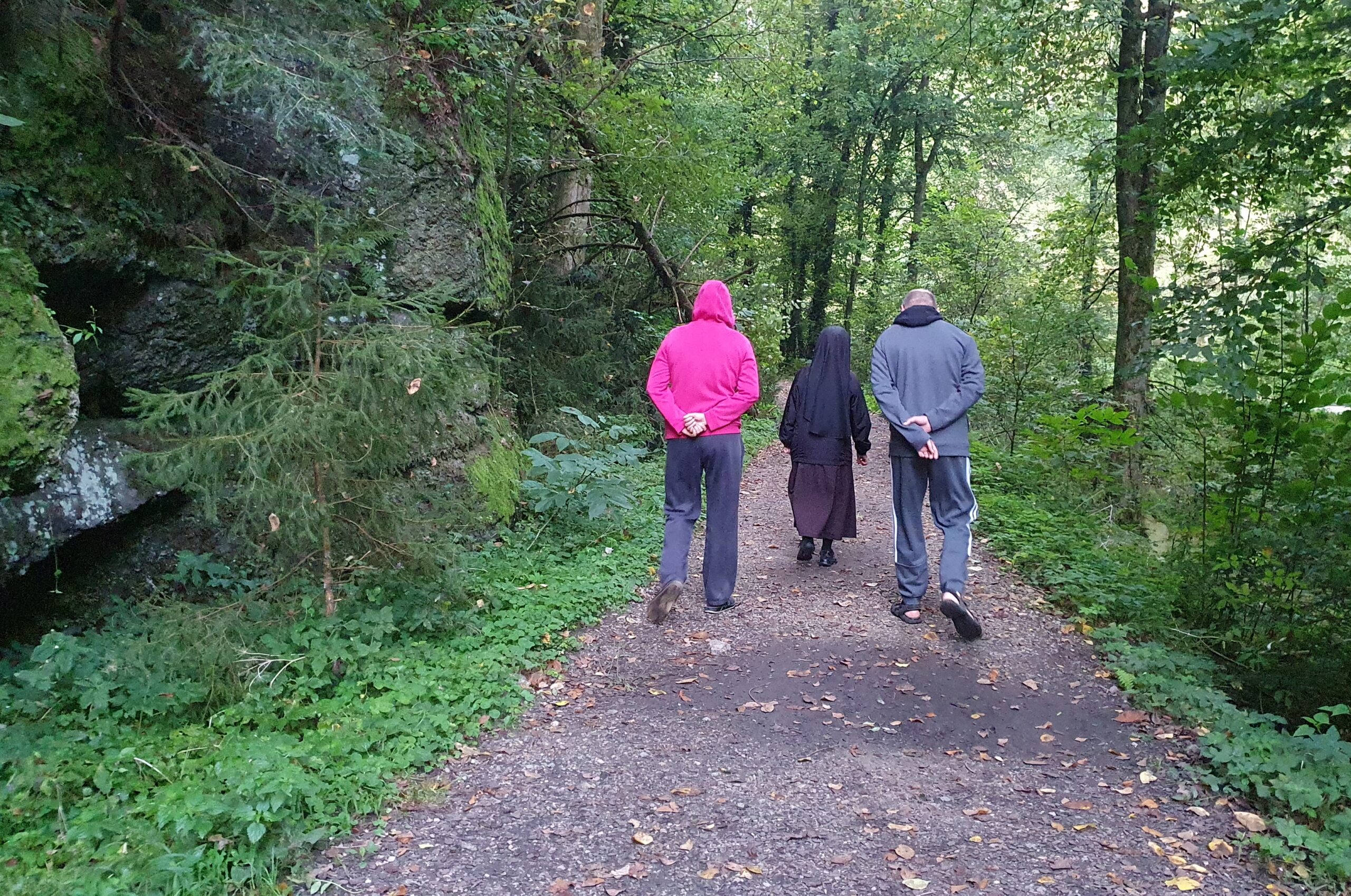 So we arrived at a strong energy place with large granite blocks, where Tiefenbach flows into Pesenbach. We stopped in silence and then continued back without words, noticing various natural trifles – flowers, mushrooms, fallen hazelnuts…
8. Prayers
According to the nun with whom we took that silent walk, nature is the largest temple. However, if you need to calm your spirit and soul through prayers, you can also go to the chapel or participate in common prayers and meditations with the nuns.
9. Herbal workshop
Light meals can get a special touch by adding spices and herbs. I enthusiastically took advantage of the offer to participate in a creative herbal workshop led by trained herbal pedagogue Manuela.
She prepared various green herbs and flowers for us. We made herb salt, butter, vinegar and pesto together. I was especially fascinated by nasturtium flowers. Their bright yellow color stood out well in all products. So I am already growing these flowers on our terrace at home.
Remember that the best time to collect both cultural and wild herbs is between August 15 and September 15, when they reach their full maturity.
10. Monastery shop
There is also a small shop in the curing house, full of products suitable for a person to continue conscious eating at home. Definitely worth a visit!
Extra Bonus:
In Bad Mühllacken, I also met Elisabeth Rabeder, author of the book Fasten für ein neues Lebensgefühl (Fasting for a New Life Feeling), who has been working here as a motivational advisor for over 15 years. In the interview, she told me about her amazing experience on how much taste for life and new creative power can be found in people who opt for conscious fasting. After only a few days, they become more mature, more attentive and more grateful. Her book also contains interesting recipes. If you are interested in the book (in German only), you can order: here
At the end of my stay, I was rewarded with coffee at the local Café Einkehr at the entrance to the curing house. But even here, small wooden pillars reminded me of the five pillars to achieve cleansing of body and mind. 🙂
My Concluding Remarks:
I enjoyed the food according to the archetypes in Bad Mühllacken, but I am sorry that it excludes several ingredients that I love, such as eggs and milk. However, my stay in the curing house, although only short, helped me to look more into this issue and to find what suits me best. Inspired by the consumed dishes, I now include more gluten-free cereals in our home menu, such as millet, buckwheat, quinoa, amaranth, etc. The production of pumpkin-apple jam also had a successful premiere at home (the recipe on the blog: here). I also try to stick to a 14-hour interval when I'm not eating anything. I know, you may think it is very easy, but since I'm one of those people who work mainly at night and I don't go to bed until 2 a.m., stopping eating between 6 and 7 p.m. is a challenge for me.
These are just small steps so far, but you need to start somewhere.
You can find more information about Bad Mühllacken at: www.tem-zentrum.at
Note: all opinions expressed in this article are my own.
Text: © Copyright Ingrid, Travelpotpourri
Photos: © Copyright Ingrid, Travelpotpourri
Thanks to Klösterreich for organizing my visit to Bad Mühllacken.
Update 2021:
Bad Mühllacken is merging with a similar facility in Bad Kreuzen. The first-class expertise in fasting, conscious nutrition and detox will move to Bad Kreuzen with operations manager Elisabeth Rabeder and a small team. Bad Mühllacken will be renovated in 2022. The number of rooms will be reduced, but they will still offer physiotherapy, massages, wraps and hydrotherapy for external guests, as well as wellness days and various training courses. Café Einkehr and the monastery shop will continue to serve the guests.