As soon as we set out for the largest Kyrgyz lake Issyk-Kul, black clouds began to pile up over our heads, as if one of the old Dutch masters had dripped gray paint into the sky and made a large splotch with his brush. We secretly hoped to outrun those storm clouds.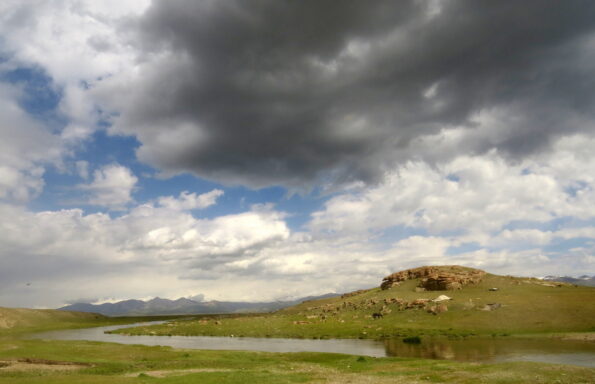 The winding road was wedged into the valley, the hills of the Tian Shan rose – higher and higher –in the distance. On the slopes, brooklets flowed quietly from the top, glistening rivulets took small stones with them, and in the valley, they merged with the river that rippled along the road.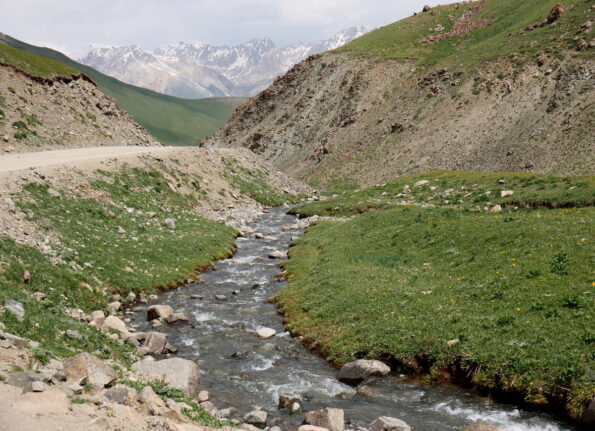 Now and then, horses stood by the roadside or grazed on green pastures and shrunk to miniature dimensions for our eyes a few minutes later, until they were so small that they looked like brown seeds of cumin scattered on a green tablecloth. After a few days spent in the Kyrgyz landscape, however, that scenery was already known to us.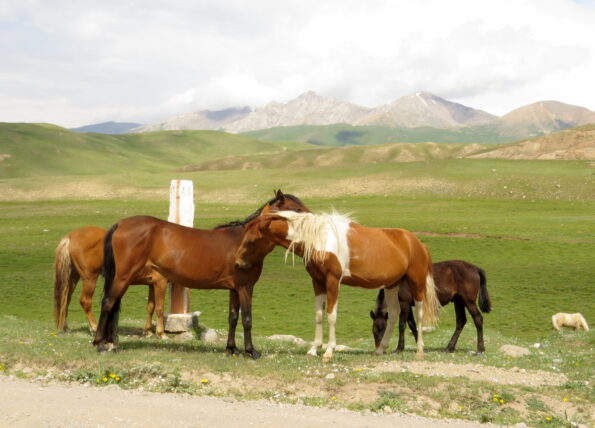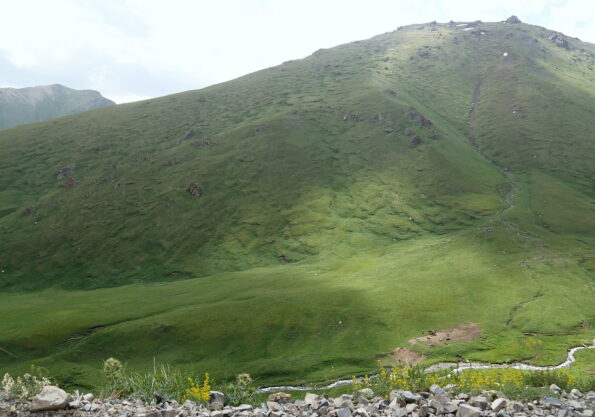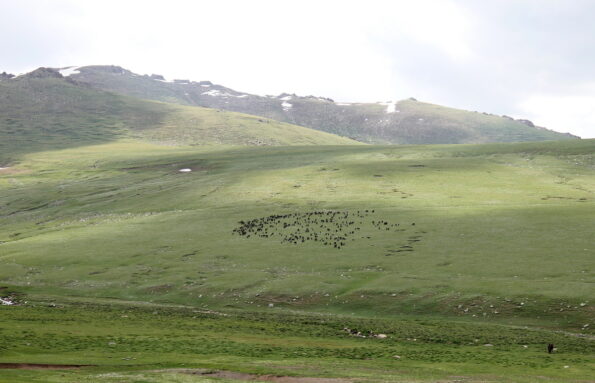 And then we noticed them! Mountain thistles like I've never seen before. Not much grew on the earthy slope so these fascinating flowers stood out even more. They looked like huge jellyfish, fluffy and wrapped in a fine cobweb. They lifted their "tentacles" to the sky as if in some sacred pose. In fact, these were their long, thick leaves with thorns.
The heart in the middle of the basket of expanding leaves was a giant ball composed of several large thistle flowers, nestled in hairy cobwebs. Tiny needles of various shades of violet stuck out of them. As strange as this flower looks, as strange it is called: shmalhausenia – named after Russian botanist Ivan Fyodorovich Shmalhausen, who lived in the 19th century.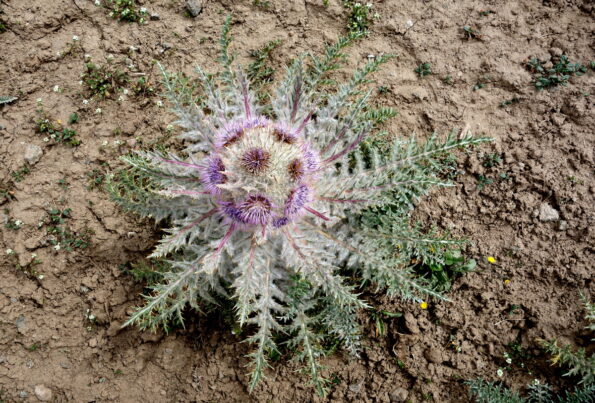 People do not go to Kyrgyzstan because of cultural monuments. It is a country that will fascinate you primarily with nature. Amazing mountain ranges are not only a gorgeous motif for photography, but they are also an excellent destination for horseback riding, hiking and trekking. However, Kyrgyz nature will also please anyone who loves flowers. And I am not talking about rare species of plants, they are often just ordinary meadow flowers, but their amount and their location in the picture of the local wildlife, framed by endless hills and mountain peaks, is simply fascinating. This happened to us on the next part of the journey, when we found ourselves in the middle of a violet meadow.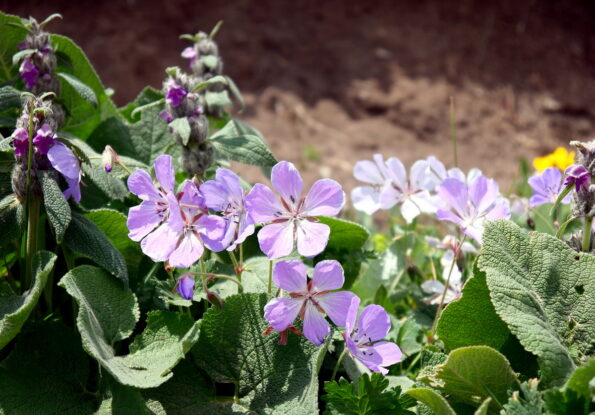 The flowers were again just very common ones, they grow in our meadows as well – lamium and meadow geranium. When I was little, I and other girls plucked petals from meadow geranium, salivated and glued them to our nails. Five petals – five children's fingers that – "painted" blue – wanted to look like adult's…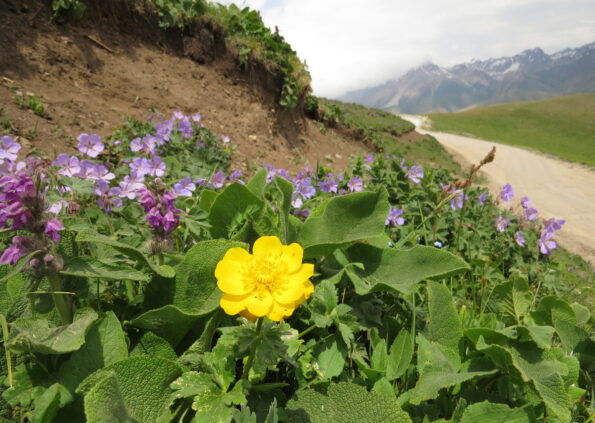 Only the road intersected this violet-green beauty, in which only yellow buttercups shone here and there as if a rare, golden thread was woven into a colorful carpet. The amount of flowers was amazing – above the road, but also below us, as far as the eye could see. When the wind blew, the whole meadow rippled like a wide river.
We didn't even want to leave, but we had to continue on our way, the sky was getting darker and darker, it didn't bode well. There were no longer just isolated clouds, the black spilled across the sky until it completely covered it.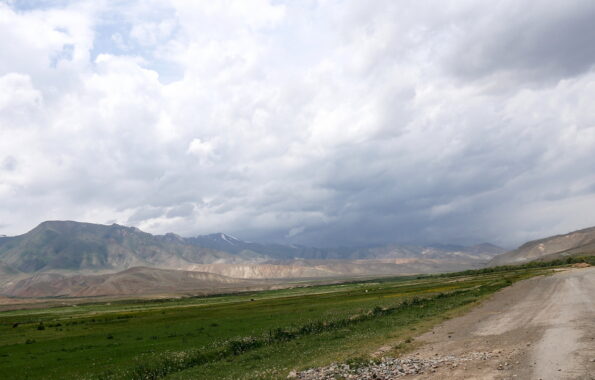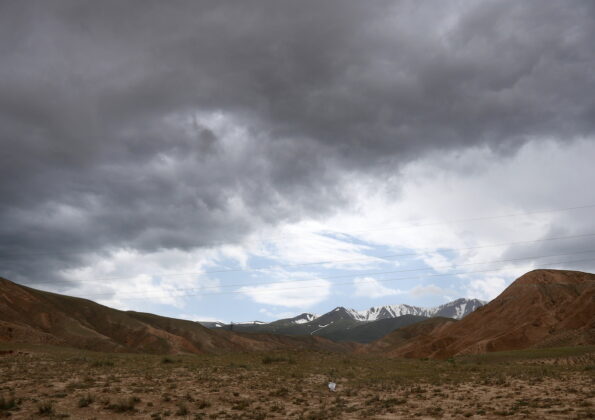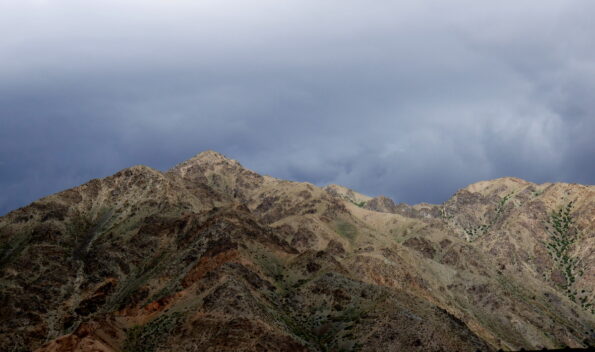 We were approaching a village. The brick tombs in the cemetery with their roofs seemed to want to compete with the mountain peaks in the background. The black sky had already reached the first houses.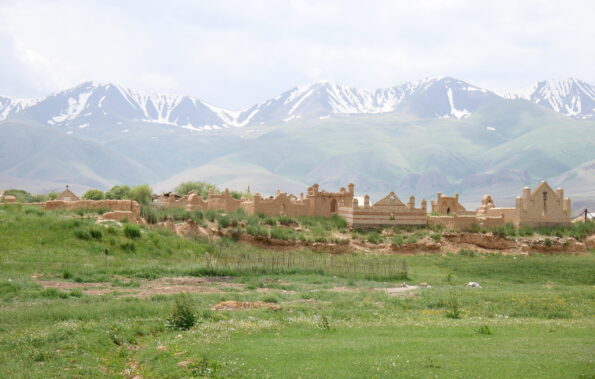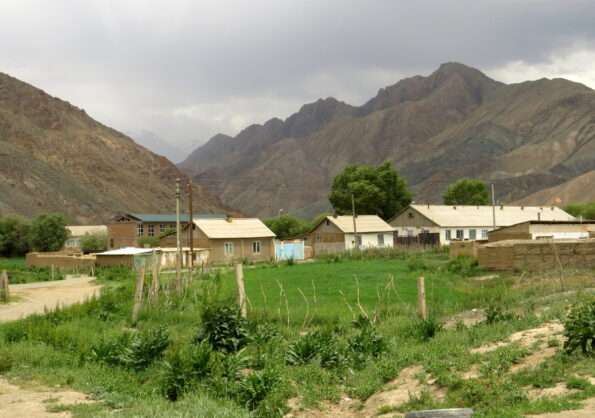 The wind was strong, it brought dust and dry leaves. And just at such a time, when you don't need anything like that, we got a puncture on the right front wheel of the car. While our guide-driver and a man from the village started changing tires, we hid in a small shop.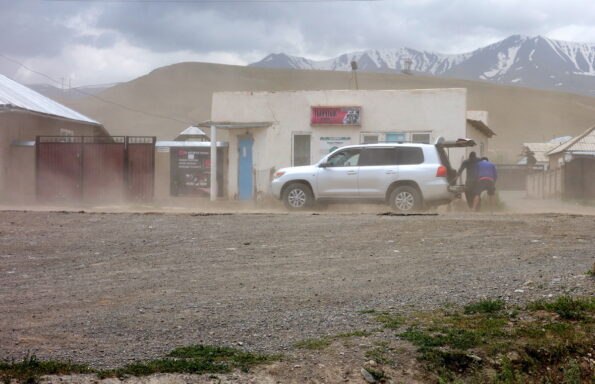 The lady inside was very nice, she allowed us to sit on small shambles. Surprisingly, there was no little boy around which we were used to seeing in Kyrgyzstan, but a little girl who even understood Russian. While the wind was blowing outside, we sat on those low chairs and looked at the full shelves from a child's perspective. It was a genuine village general store. There were a lot of candies and biscuits on offer, as well as oil and pasta, teas, T-shirts, laundry soap and powder, toys, hair dyes (none for blondes – I wonder why?), balloons, five large plastic flower pots with young sprouts of houseplants, but also a few boxes with decorative glass bowls. We bought salted nuts – for 40 soms – and adhesive tape for my broken sunglasses – also 40 soms – maybe it was a single price there. However, most shelves were full of vodka! Chastushka, Seven Cereals (most bottles), Marsal, White, Gold and vodka With Silver Filtration or just with a simple name such as Our Vodka. They even had small plastic jars with vodka for one gulp. We did not ask about the price of vodka, someone had already told us that in Kyrgyzstan, it was cheaper than soup. And those empty bottles left outdoors spoke for themselves…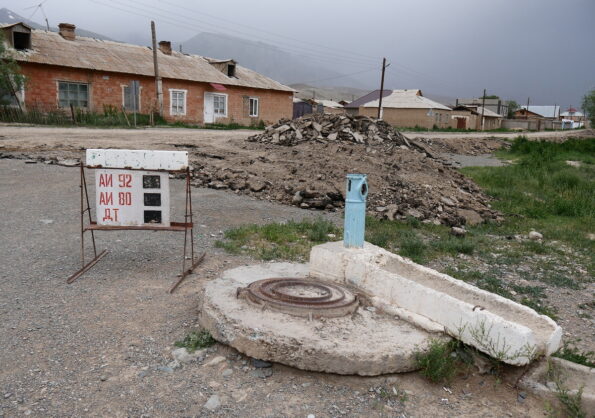 The store was also a filling station. When the wind calmed down a bit, the saleswoman's son refuelled a tourist from Israel. The small girl hung a key from a magnet on a large iron gate and took us to their outhouse in the yard. Cattle droppings were spread all over the yard to dry and serve later as fuel.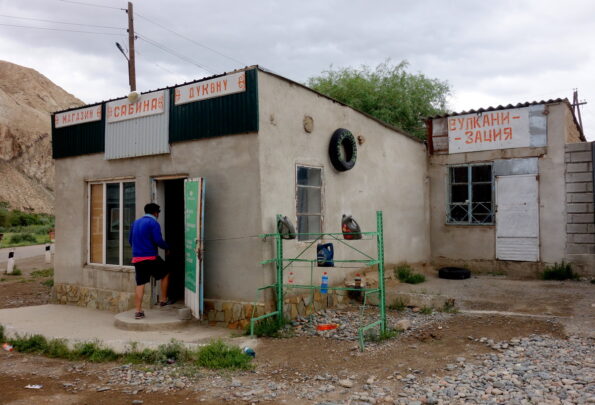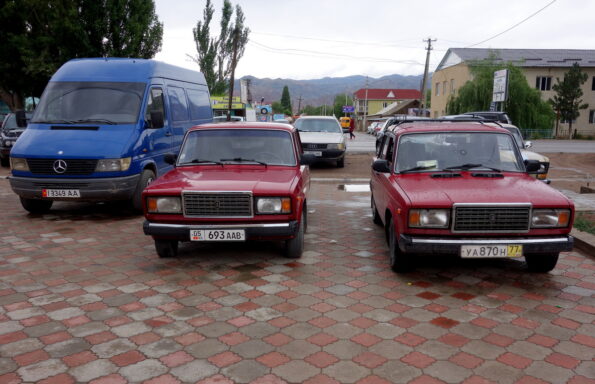 Finally, a downpour started which accompanied us to the town of Kochkor. The driver went to the auto service to complete the repair of the puncture, I was recovering from the symptoms of mild altitude sickness and the others went to explore the local cars and tourist information center, which was a great disappointment because except for one map on the wall they did not provide any useful information. It will take time before the people of this country understand what exceptional landscape they have and how they can offer it to foreign visitors – although, on the other hand, it is perhaps better when this country is not crowded with tourists.
We ordered coffee and were pleased that they served it with a small cookie in the shape of a yurt. In fact, we were very lucky that we didn't get the puncture at a deserted part of the road and that the rain hadn't caught up with us until later, so we managed to enjoy both the mountain thistles and the violet meadow.
Text: © Copyright Ingrid, Travelpotpourri
Fotos: © Copyright Ingrid, Katarína and Janette, Travelpotpourri
More articles about Kyrgyzstan: Kyrgyzstan