No matter whether we are passionate travellers or just occasional tourists, we all probably have a dream destination we would like to visit at least once in our lives. Thanks to that, many cities got special attributes like Rome –The Eternal City, Milan – The Fashion City or Prague –The Mother of Cities. There are also some bad nicknames you should take as a warning. For example, "see Naples and die" must not mean to achieve the peak of beauty, but more probably, it could be the consequence of the chaotic local traffic. However, the capital of France is the city of love for many reasons. What's more, in some languages (German or Czech) the word Paris is of feminine grammatical gender! The better known your dream destination is, the more time you should spend preparing the trip. Because, in addition to the famous sights, there are also various insidious traps for visitors.
Travelling now and then
When I was planning my first big trip around Europe with the Interrail pass in 1990, I could only rely on the printed guides from the Czech publishing house Olympia and the Slovak Sport. Only thanks to my contacts to people from the Directorate of the Slovak Railways, I managed to borrow a wonderful multicolored timetable of the SNCF and could plan my trip around France. The Czechoslovakian train timetable contained only information connected to its neighbouring countries, the railway line from East Germany to Romania and Bulgaria and the connection to Moscow
The result of the planned route looked like this:
Writing notices about the places I knew from books, movies or Pijoan's History of Art took me several weeks and caused me more headaches than joy. Finally, a coincidence helped me. In Monaco, I went to a small bookstore and found the legendary Michelin Guide and its green alternative and bought it at a fire-sale price
Looking back, it was one of my best investments, since you often want to see the maximum during your first visit. Also because you don't know if you will ever come back again. In my case, it took me almost 25 years to visit Paris again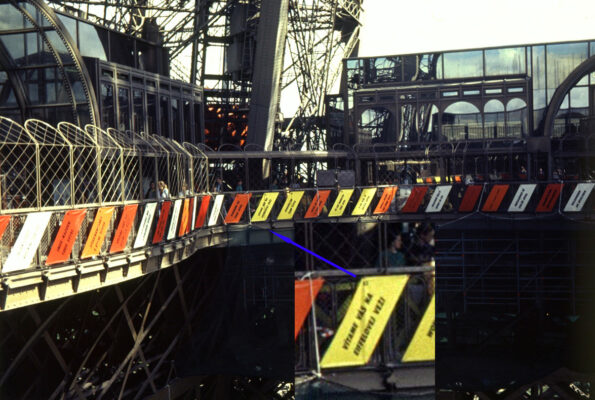 Although we live in the digital era, when everything is no longer only on the Internet but in apps, a classic analogue guide (= a book) still finds its place in the tourist's bag today. In my previous article, you could read how the guides got their names. Today, we'll show you which guide is the best choice according to the type of trip you are planning (It's just a model example. You can plan a visit to any city or country in a similar way.)
Before you buy or borrow a tourist guide you should answer these questions:
Is it my first trip? Do I need to know "everything" – the history, accommodation possibilities, food…?
Do I want to see the sights or get culinary experience as well? Or just go shopping?
Do I want to visit unknown and hidden places?
How to organize a special orientated tour, if I have already seen the most popular places?
You have to love Paris, to be able to understand it
If you love somebody, you will forgive him/her any imperfection, if you don't love him/her, you will not see any virtues. If you have not fallen in love with Paris yet, then try these four books. Ernest Hemingway's posthumous memories of his youth spent in Paris are not among the works you would know from school. A Moveable Feast is one of the most beautiful declarations of love to the metropolis on the river Seine. After the tragic terror attack in November 2015, the sale of the book increased significantly in many countries – as Savoir Vivre – a manifestation of the art of living. Maria Dopjer Danthine writes in her Parisian moments about how she fell in love with this city after she moved there almost 20 years ago. The third publication will show you How to be Parisian: Wherever you are. If you're dreaming of sitting in one of Paris' famous cafés, where Charles Baudelaire, Antoine de Saint-Exupéry, Jean-Paul Sartre and Umberto Eco used to spend their time, then the book In love with Paris about 60 cafés is the right choice for you
Travel encyclopaedias know every detail of the city
Among travel encyclopedias, Baedeker is a good choice. Even if you have never heard about Paris before, you will find everything you need to know there – not just for your trip: historical background, tips on accommodation and eating and detailed information about everything worth seeing. However, all these full details could be a problem for you as well – you have to drag the heavy book the whole day with you and that might be exhausting. It will excellently help you to plan your trip but walking through the city, better take its lightweight version: Baedeker Smart. Dorling Kindersley's Paris Vis-à-Vis also suffers from a similar handicap, but there are many more pictures in the book. You will appreciate the vivid tips on ideal walks around the city. The guides published by Dumont and Lonely Planet are not as colourful, however they are very useful. Especially the notably marked TOP PICKS in Lonely Planet should not be overlooked
Practical tips
In this group, the Marco Polo Guide is the clear leader. It will be appreciated especially by tourists who do not want to overpay their trips. In particular, the Insider Tips– verified by the editorial staff – are very useful. The new editions already exist in the electronic version. You should not overlook the warnings of what is not allowed at the location you plan to visit. (In Paris, if you go to a restaurant, you have to wait for a table and not go directly to a vacant seat. Also, if you drive a car, you should know that there are no STOP traffic signs in the city.) Green Guide Michelin does not primarily direct you to the best restaurants like its famous red sibling, but it will certainly help you to see everything that is significant. From my own experience!
Paris for gourmets and shopping lovers
Even for those who don't need to see everything in Paris and go there mostly for shopping or those who want to enjoy a gourmet experience in one of the world's best cuisines, there are special travel books. You can choose practically arranged lists of the most beautiful or most appreciated restaurants or find important advice on where to go for the best or cheapest shopping. If you would like to get inspired by the experiences of others, check out Gourmet in Paris
Hidden gems of Paris
If you are a frequent visitor of the city on the river Seine, you will not want to see the crowded sights. There are some books in German – 111 places that you have to see in Paris, Paris 99 times as you don't know it, or Only in Paris – which bring you to hidden places in Paris. You should definitely visit them with a map so you won't get lost
Thematic Walking Tours
Paris is the right city for those connoisseurs who would like to see famous places from popular movies, native homes or even the final resting places of well-known writers. The Père Lachaise cemetery is the most visited site where almost every tombstone belongs to a great personality. The grave of Oscar Wilde studded with kisses and the tomb of Jim Morrison, the vocalist of the rock band the Doors, are among the most popular ones. The final resting places of other important people such as director François Truffaut and the recently deceased actress Mireille Darc can be found in the cemeteries of Montmartre or Montparnasse.
However, many books with other thematic walking tours can be found as well, for example, girls-only trips.
What kind of guides do you use? Share your own tips!