First, I have to say that this post is not for people who are looking for trips full of adrenaline. As you can anticipate from the title this trip is a break, a pleasant leisurely walk, a chance to stop for a while and admire everything around you. In addition, the atmosphere of the early thirties of the last century will blow on you in many places here. I am not surprised that many filmmakers choose this spa town as a film location. For me personally, the trip was also a return to the past because some years ago, I used to work in the Slovak spa Sliač.
Luhačovice is the biggest spa town in Moravia (Czech Republic) for people with diseases of the respiratory and digestive tract and metabolism disorders. The spa area is a pedestrian precinct so you should park your car in one of the parking lots or in a side street. Our walk began at a roundabout with a modern fountain. We could see the biggest spa hotel Palace behind it.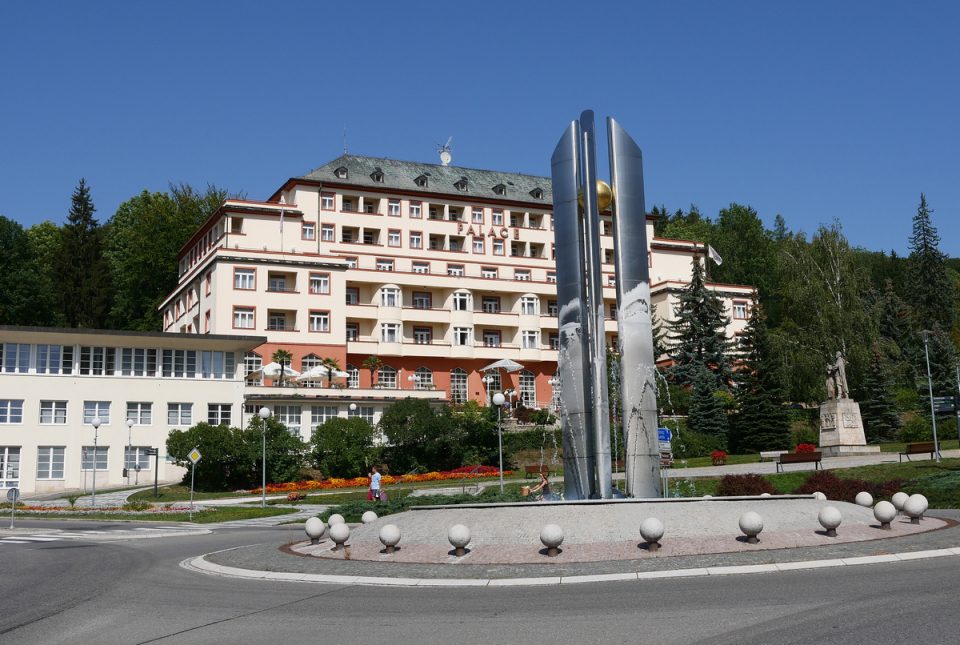 In the 17th century, the Hungarian-Austrian family of Serenyi were the owners of Luhačovice. They must have had a sense of business when they invited Jan Hertod from Todtenfeld, a physicist and doctor, in 1669 to test the local water. He recommended using the water for healing.
In 1902, the spa was sold to a joint-stock company whose director was the Czech doctor and spa specialist František Veselý. In contrast to Karlovy Vary mostly visited by German people, he wanted Luhačovice to keep both its Slavic spirit and form.
The promenade is named after doctor Veselý. One side is lined with small shops, cake shops and stores with spa wafers. They are two very thin, round and crispy sheets stuck together with a sweet loose mixture of sugar, hazelnuts or almonds and vanilla.
In Luhačovice, they produce more than 40 different sorts: apple, stracciatella, cinnamon and cocoa, mint and chocolate, liqueur, yoghurt and many other. However, I prefer those classic typical wafers with hazelnuts, especially if they are fresh, just baked. If you bite the wafer it cracks and then melts in your mouth like a sweet dream.
We also saw a funny carousel – wafers were riding in it while the heated metal plates caramelized sugar inside and so stuck two wafers together. One lady skillfully took out the wafers and put new ones on the carousel. The other one packed the baked wafers into tinfoil to prevent them from becoming moist.
On the other side of the promenade, you can read the names of compositors, writers, painters, architects, doctors and other personalities who visited Luhačovice, underwent treatment or worked here.
The spa town is also famous thanks to its waters, there are 13 mineral springs here. In the small park at the beginning of the spa area, there is one of them – the spring of Dr Šťastný – carbonated water of ferrous taste.
Thanks to its geographical location, Luhačovice became a place where Czechs and Slovaks meet traditionally. Even today, the spa is mostly visited by guests from Slovakia, a summit of presidents of both countries took place here and Days of Slovak Culture are regularly organized. But first of all, the spa is connected with the Slovak architect Dušan Jurkovič who was invited by Dr Veselý to help him realize his projects.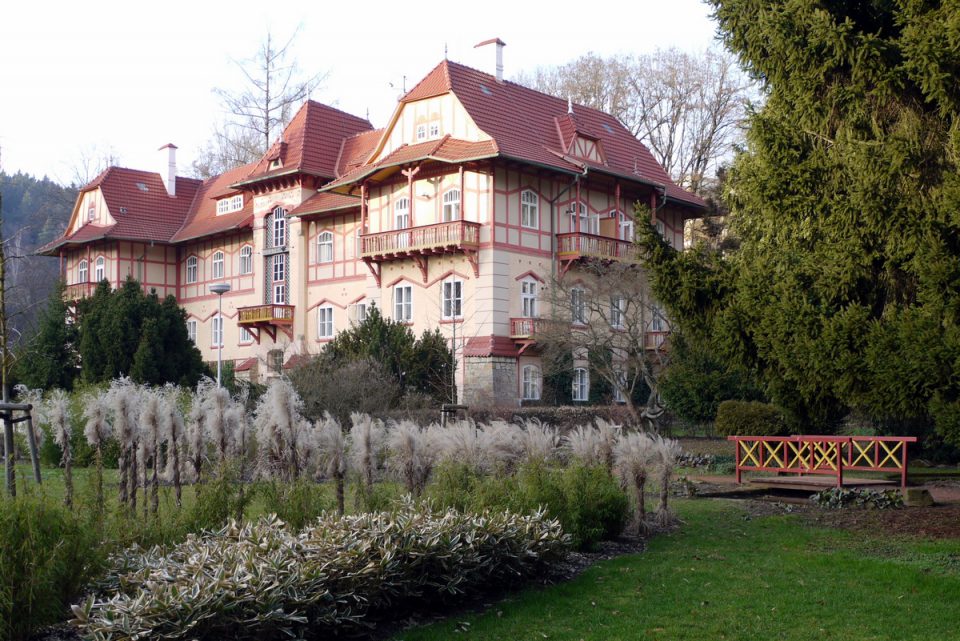 Jurkovič left an inerasable trace here. Inspired by the surrounding nature, he built several buildings in the style which combines Art Nouveau with Slavic folk architecture. What a pity that he was not allowed to finish all his plans.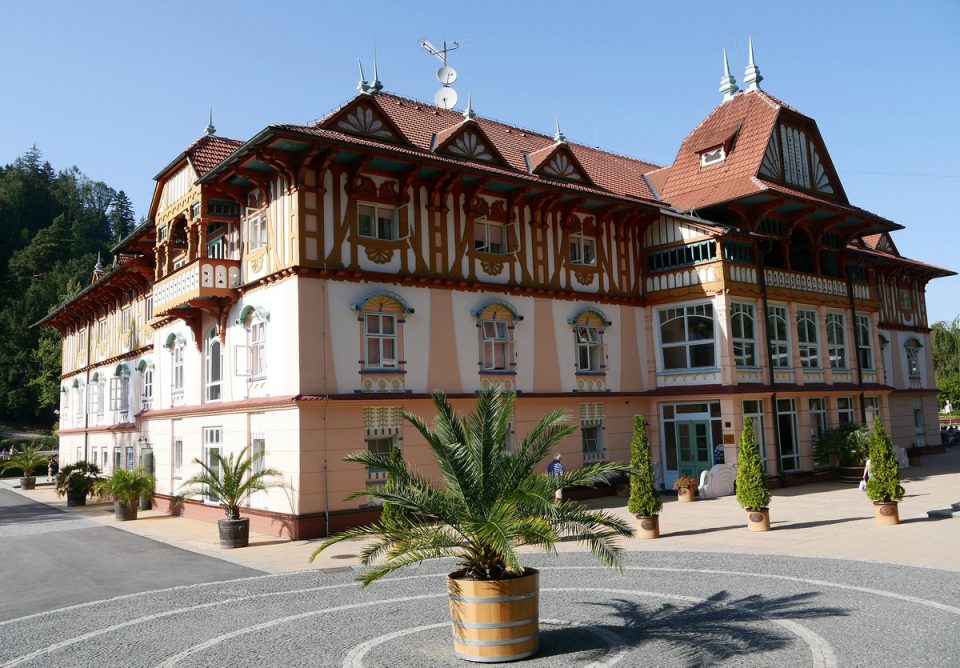 He reconstructed the original classicistic building in 1902 – he connected two sections and added one more floor. Jurkovič designed also the furniture, the rooms with beam ceilings and the wooden decoration of the entrance hall. 
However, the building was badly repaired several times and slowly fell into disrepair. In 2002, an extensive restoration was finished, all objects designed by Jurkovič were restored according to the original plans and old photographs.
So now we could admire this colourful jewel of that special Folk Art Nouveau architectural style located directly in the heart of the spa area. I would like to mention at least some details which mostly engaged my interest: floral motifs on the facade beside the wooden ornaments, two swans at the entrance, the wooden decoration of the ceiling in the foyer, the rooms like from the grandma-era, the interesting chandelier in the dining room, the wooden staircase with the banisters and even that "golden" bathtub.
More info: here
Besides this house, there are almost 50 other objects in the 20-hectare-area: some other buildings built by Dušan Jurkovič – Chaloupka, Jestřábí, the music pavilion, Sun Bath, villa Valaška, villa Vlastimila and also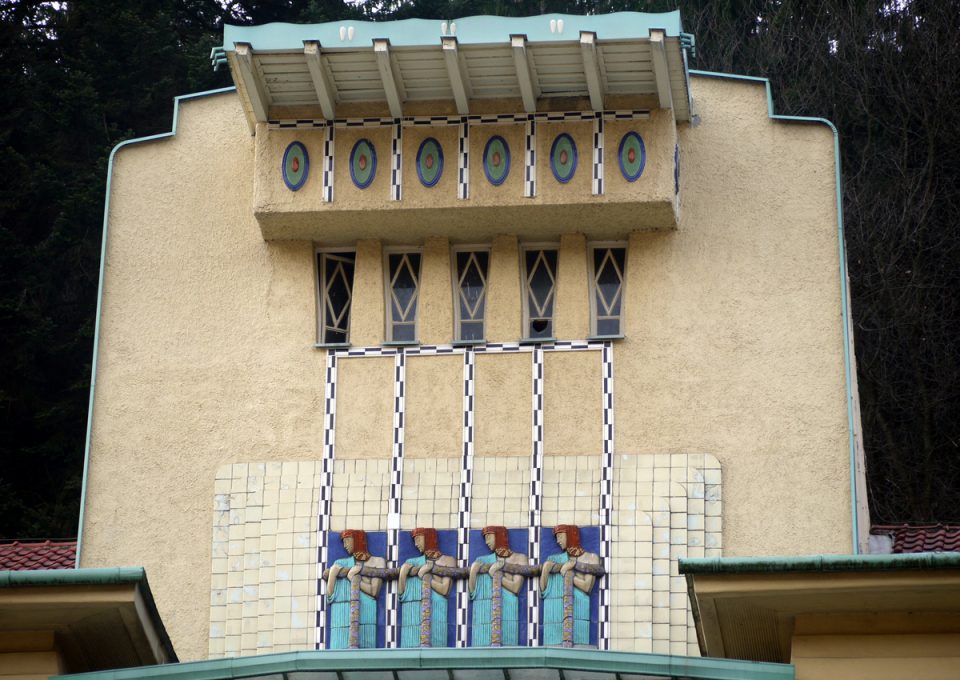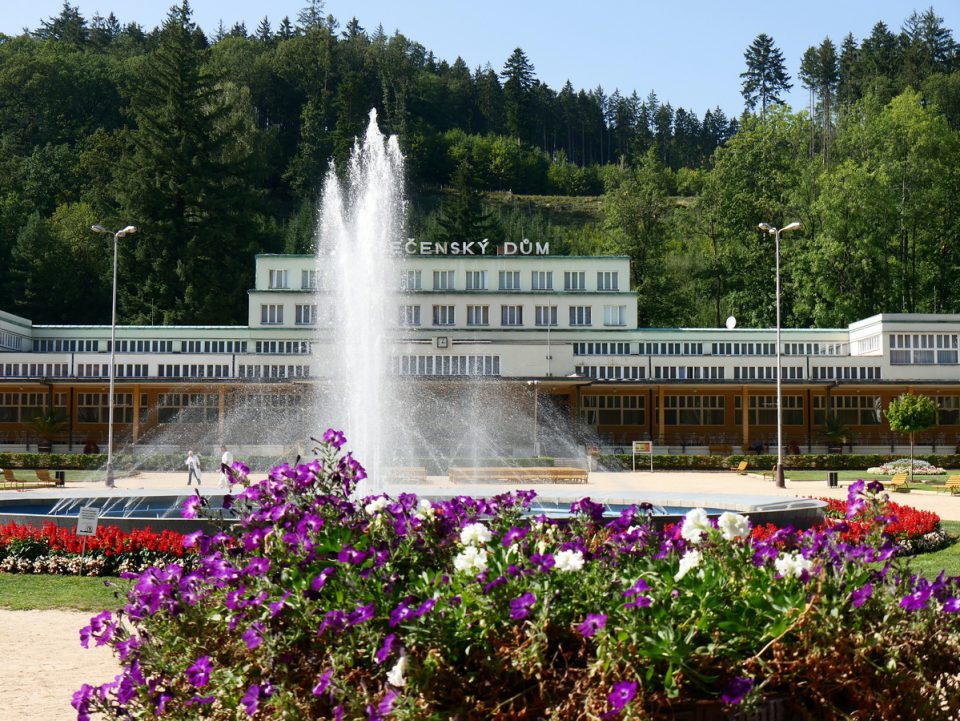 Let's make a stop at the colonnade. I don't know if this architectural element was borrowed from the Ancient Romans, but actually, a covered space with a long sequence of columns simply belongs into any spa town! When I was working in Sliač, the Slovak compositor Ján Cikker often visited the spa there. He always said that he can recognize – thanks to his good musical hearing – the sound of my steps on the colonnade. 🙂
In Luhačovice, my steps didn't resound on the colonnade. Somebody was playing the piano which stood here ready for anybody who does (or doesn't) know notes. A young girl released the tones of Beethoven's composition For Elise into the hot summer day.
I remember that there were three shops in Sliač: a stationery shop (because postcards and letters used to be sent from the long stay at the spa), a bookshop (because books used to be read during the stay) and a shop with crystal and porcelain (because it was necessary to bring a souvenir from the stay). The shops on the colonnade in Luhačovice offer similar stuff, including an object which is very traditional for a spa with drinking treatment – a spa mug!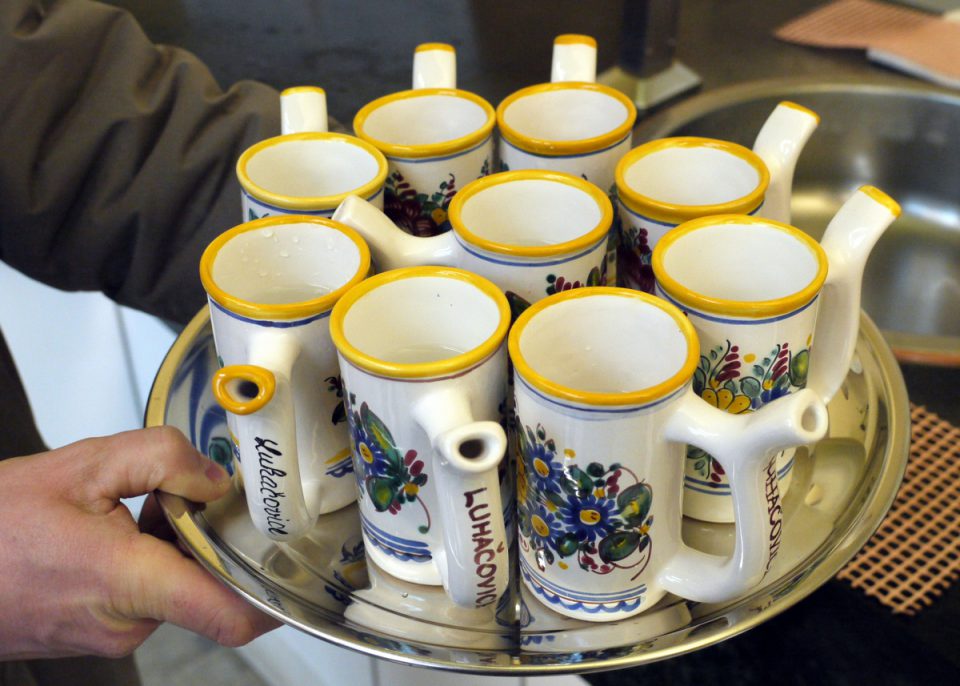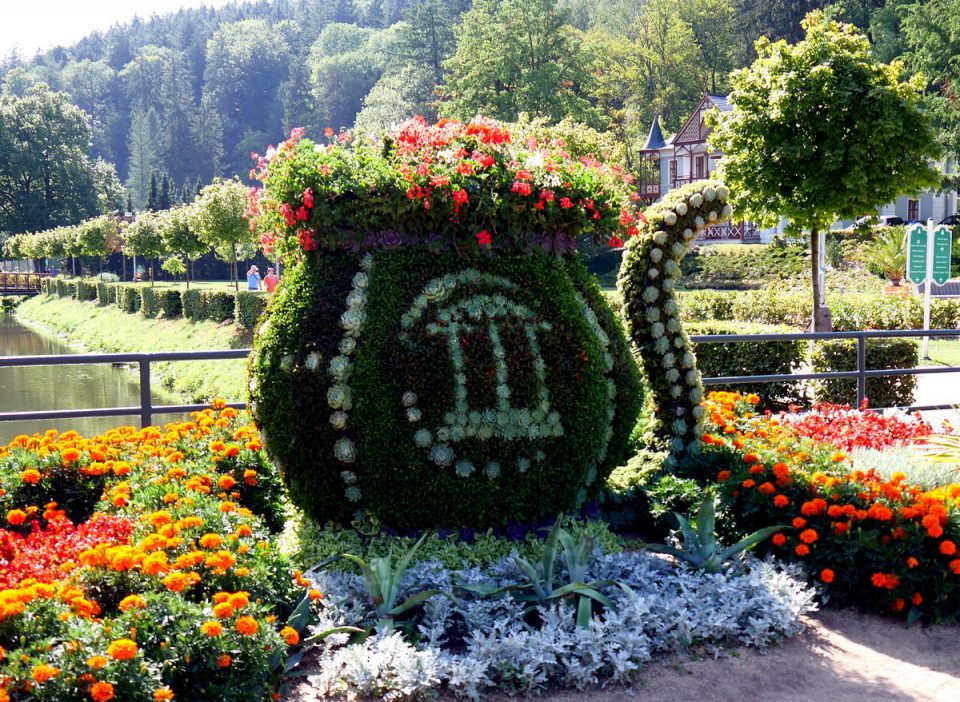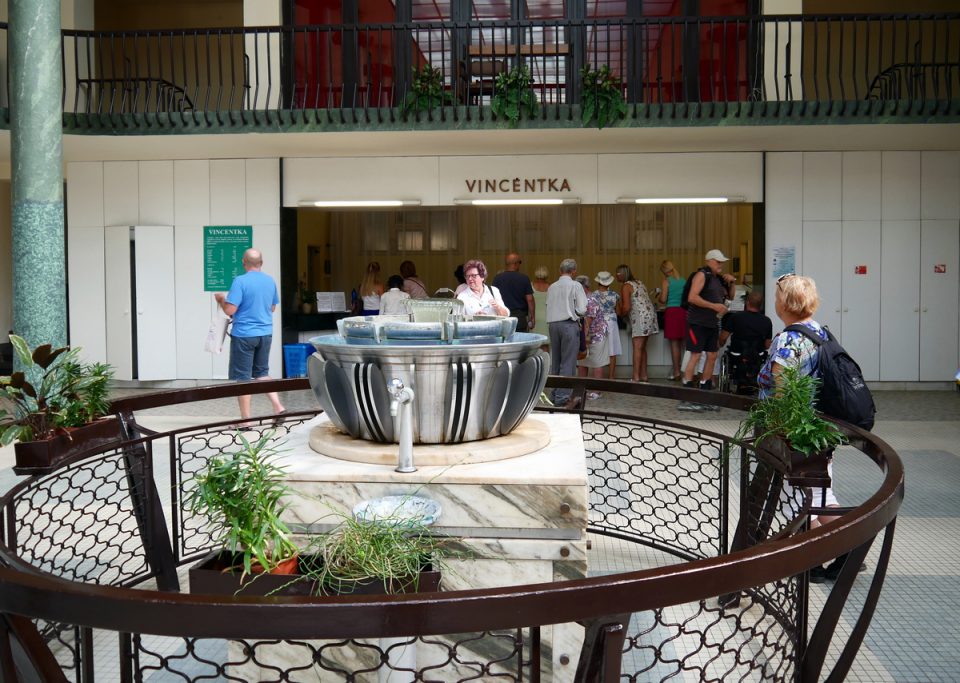 There are 13 springs in the area, waters are carbonated and heavily mineralized. The springs are named after some family members of Serenyi dynasty such as: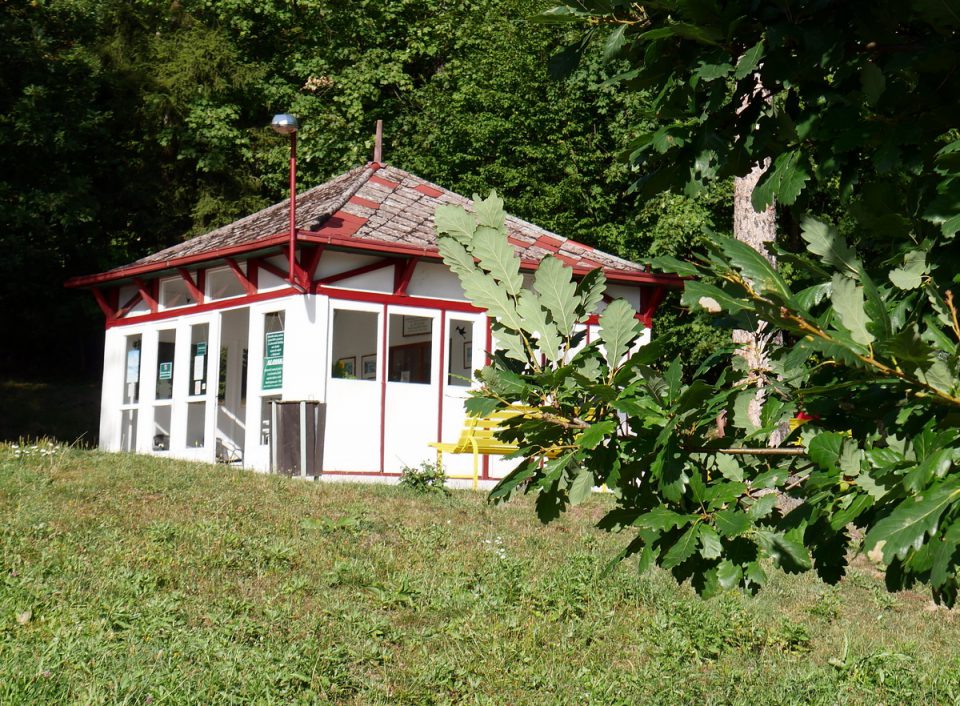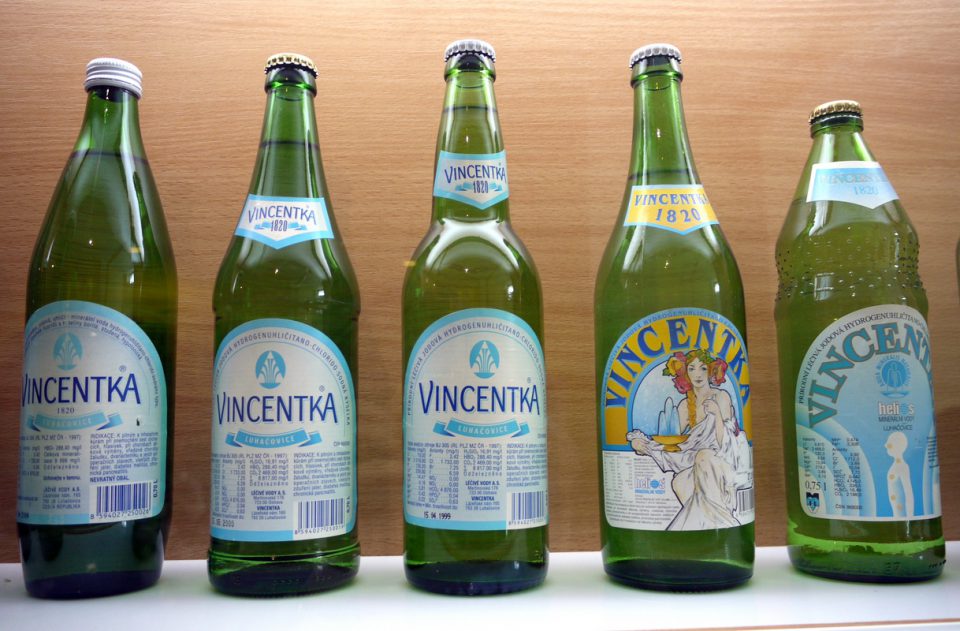 The salty water had been bottled in 1820 already and delivered to Vienna, not only to the imperial court but also to Viennese coffee houses. It used to be drunk to wine because the water was able to neutralize the sourness of wine.
It is used also for inhaling, even in China! Chinese traffic policemen who are working the whole day in dense smog obligatory inhale it after they finish their work shift. Bottles travel by train from Zlin to Hamburg and after that by ship to Beijing which takes about 4 weeks. There is no danger that the water would spoil, if it is stored properly, the guarantee is 2-3 years.
However, you should be careful drinking this water. Otherwise, instead of having a leisurely walk, you may have the runs… And there are still so many things worth seeing here!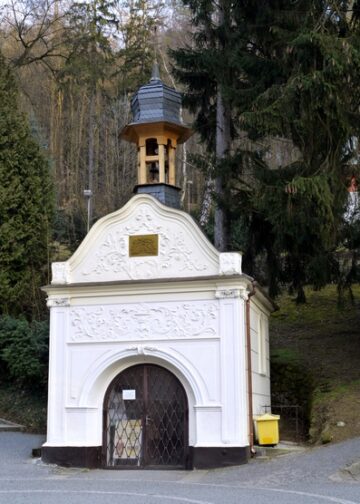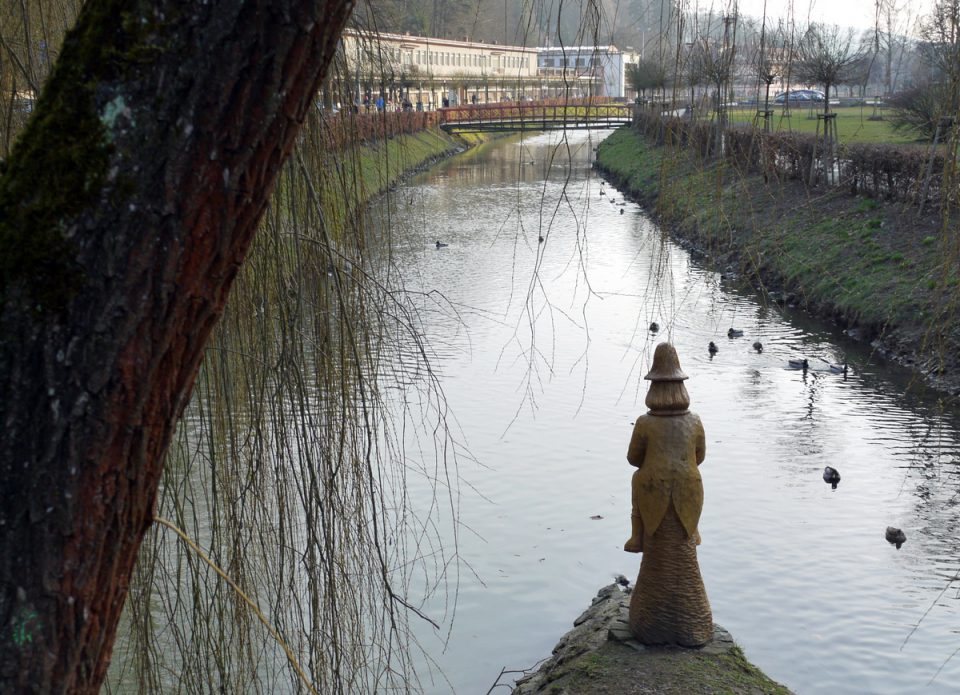 The spa town Luhačovice is not only for people with health problems (more info about treatment stays: here). Its scenic architecture, nonchalant atmosphere and many social and cultural events attract everybody who would like to take an interesting trip.
Where to Stay: during our visit organized by CzechTourism, we stayed in the hotel Alexandria which is divided into two parts.
One part is new and modern, while the original building started to accommodate guests in 1939 and is still in the style of the 30s of the 20th century. More info: here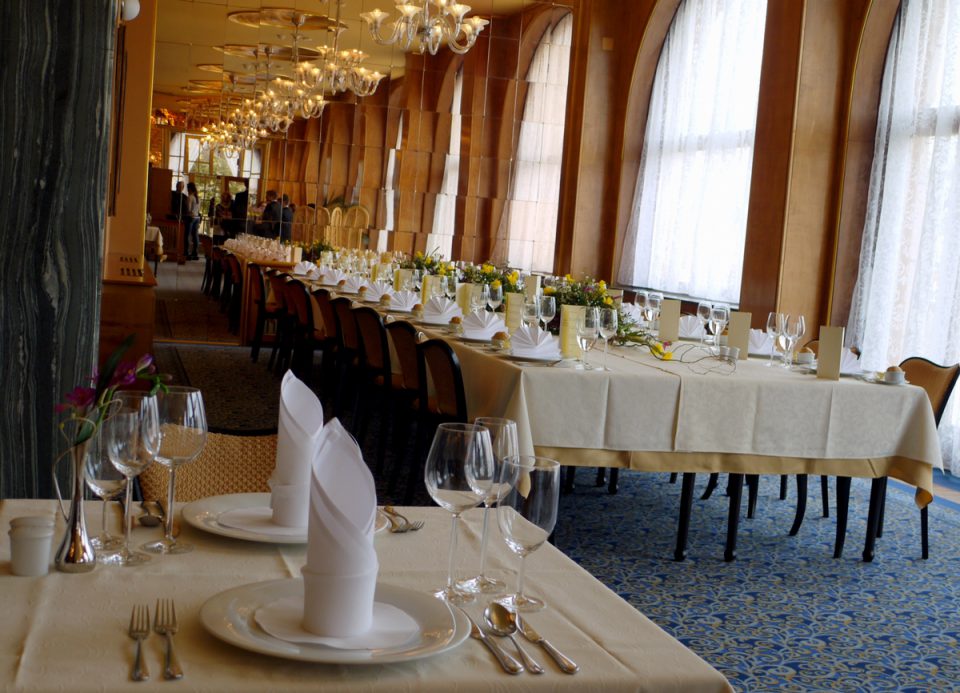 Extra Tip:
It is said that every spa should have a special "spring" as well. In Luhačovice, it is a herb liqueur produced in the distillery Rudolf Jelínek in Vizovice, not far away from the spa town. We continued our trip also there. At the beginning of the guided tour, we were welcomed with a glass of the famous Slivovitz (plum brandy) with a dried plum dipped into it. They call it the "Moravian drowned one". I have to confess that for me, it was more difficult to drink this than the salty water on the colonnade. And I didn't know that they prepared two more tastings for us…
But the tour was really interesting, there are also a visitors center and a factory shop where you cannot resist buying something even if you don't drink alcohol so much…
They told us about the history of the company as well – it was established in 1894 – and we also got information about the kosher Slivovitz which has been produced in the distillery under supervision by a rabbi for more than 80 years. More information: here
Text: © Copyright Ingrid, Travelpotpourri
Fotos: © Copyright Ingrid, Travelpotpourri