Somebody likes it, somebody doesn't. Somebody considers it a piece of art, somebody else thinks it is just scribble and vandalism. For me, many pieces of urban art, even if they are provoking, are more interesting than large billboards imposing to us things we don't need or politicians we don't like.
Graffiti has been known even since ancient times. There have always been people who wanted to show that they went somewhere, so you can find old graffiti on Egyptian temples, the ruins of Persepolis or Sigiriya rock in Sri Lanka. Sprayed inscriptions as a part of our modern time started to expand in the 70ies of the 20th century. Mostly, they were done without the permission of the building owners, so they were judged as vandalism, damage of somebody else's property.
On the other hand, graffiti became an inspiration for respected artists. Nowadays, you can find street art pieces in every big city in all of its forms: large paintings applied directly to a wall, which could be tens of meters high (murals) or made by other techniques like stencils (applying paint across a stencil), stickers, posters (paper fixed using wallpaper paste or wheatpaste) and different 3D installations. But I am sure you have also seen yarn bombing already – tree stems, scaffolding or other less interesting objects wrapped up in colourfull knitted "sweaters".
Although tourists mostly come to Vienna to visit famous collections of art in magnificent historic rooms, fans of street art would also find gorgeous masterpieces of many both amateur and renowned professional artists here – in the streets of Vienna. Especially in the 6th and 7th districts, not so far away from the well-known shopping street Mariahilferstrasse. Let's start our walk at the staircase Capistranistiege, where you can find paintings from Austrian artists: FRAU ISA, ROOFIE, SEBASTIAN SCHAGER and SKIRL…
…but also MONSTERZEIT from Germany, JERSON JIMENEZ from the Dominican Republic and the French artist KASHINK who painted here one of his typical colourful monster heads. The four eyes are not accidental – take a pencil and cover the first pair of eyes and do the same with the second one. You will get two different expressions, two different emotions…
Before you turn to the right, look at those black-and-white heads made by Austrian artist GOLIF on Fillgraderstrasse 9.
Let's continue along the streets Windmühlgasse, Gumpendorfer Strasse and down Kaunitzgasse. First, you will see this bird and message from Tel-Aviv-based artist DEDE who prefers freestyle drawing and wheat pasting. His street poetry is about the desire to escape reality.
Just some steps further, on house No 33 on the same side of the street, there are works of three artists from Latin America – STINKFISH (Columbia), as well as ENIVO (Brazil), painted faces and KOZ DOS (Venezuela) added a figure with a dog's head and a human face to express the confrontation between mankind and animals.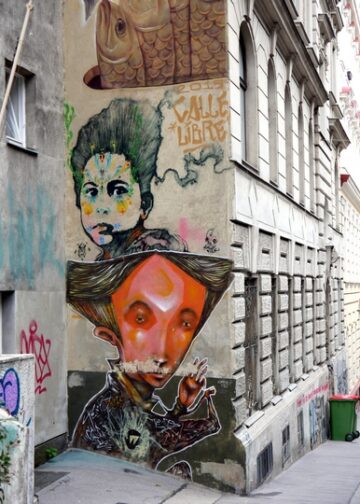 On our tour, it is not possible to overlook the tags of two of the most known illegal sprayers in Vienna who inseparably belong to the picture of the city already. It is LUXUS and MTS (Menace to Society).
On Magdalenenstrasse No 20, there is a huge masterpiece called Imperishable Relics from 2015 from EVOCA 1 (Dominican Republic) – elegant, although with gloomy colours. Like his other works, also this piece tells a story. A man with a cap is sitting and holding a fishbowl. A greyhound is sitting at his legs. The dog symbolizes the past which is represented – according to the artist – through flak towers built on Hitler's order. There are six such towers in Vienna and actually, they are those imperishable relics because with walls up to 3,5 m thick, the destruction of them in an inhabited area is impossible. In 1957, one of the towers was transformed into an aquarium – Haus des Meeres (House of the Sea).
At the end of Magdalenenstrasse, we will turn to the left to Richard-Waldemar-Park. The bright yellow colour shines from the distance. The artist is STINKFISH from Columbia who likes taking pictures on his travels and after that bringing those portraits on urban walls. This portrait of a father with his son symbolizes a strong bond between parents and children – this topic is not accidental, there is a kindergarten in the building and a playground in the park.
The two are connected with a red fish in the bottom of the wall painted by the Austrian artist RUIN. Both paintings were made during the 2nd Calle Libre Festival in 2016. With the support of the city, they chose suitable walls, negotiated the permission of the owners, asked artists for their proposals and then tried to get financial subventions for material, scaffold and tickets for the artists to be able to come and work in Vienna. During three days, local and also passer-by people had the opportunity to watch how an enormous piece of art was created in front of their eyes.
Opposite the park, there is the street Sandwirtgasse which will lead you to another interesting piece called Midnight Walk from Mr WOODLAND (Germany). It is an allegory, the tongs in the man's hand should help to destroy some social rules.
At the end of this street, turn to the left and go along Marchettigasse to Mollardgasse. Turn to the right and you will get to the small Therese-Sip Park. Here you can see a very interesting masterpiece created by three artists: FRAU ISA, ROOKIE and NYCHOS, inspired by Art Nouveau style which dominates in this part of Vienna. FRAU ISA paints self-confident women, this figure puts a bird mask on her face. Her rib cage is open – this is the work of NYCHOS, Vienna's most internationally renowned street artist whose works always allow to take a peep into the anatomical structures.
Now continue along Brückengasse back to Mariahilferstrasse. On Gumpendorfer Strasse No 91, there is the cool gallery Rabbit Eye Movement specialized in urban art. More information: rabbiteyemovement
If you are not tired yet, then continue along Gumpendorfer Strasse up to that, already mentioned, a concrete monster from World War II, today House of the Sea. Walk around and you will find the work of the renowned artist ROA from Belgium on Schadekgasse. ROA is known for his obsession with animals. He paints anatomically very precise wild or urban animals and birds which are typical for the area. This work is from 2013 and you can see a fox, beaver, chamois and rabbit. But because before there was a signature of LUXUS here, a part of the ROA's work was painted over by MTS. Now it looks like this:
Now we are back on Mariahilferstrasse. If you still prefer street art to shopping, then you can take Andreasgasse and continue to the Andreas-park. There is a piece from HNRX from Innsbruck. He always tries to put some fun into his works as you can see on this mural with a huge salami burger with a toothbrush.
There is one more mural in this park. It is from the Italian artist MILLO. His works are almost exclusively black-and-white but full of details. This picture is very appropriate for a playground in the park. I could sit there for a long time watching this masterpiece and always finding some new details on it.
Of course, there are much more places with interesting street artworks in Vienna. If you are interested in this topic, then you can order a special Street Art & Graffiti Tour. You will be given much more additional information about works, their authors and the process of their development. Just contact: Calle Libre
 Calle Libre Festival – new street artworks:

Text: © Copyright Ingrid, Travelpotpourri
Fotos: © Copyright Ingrid, Travelpotpourri