I know people who – during their stay in any metropolis – must always visit the local zoo as well. However, you can find interesting zoological gardens not only in capitals. I was convinced of it during my recent visit of Moravia.
Cuddly cartilaginous fish in Lešná
The zoo Lešná is situated only 4 km from the city of Zlín. Actually, I was very curious why it is the second most visited zoo in the Czech Republic.
The area was established in 1804/1805. At that time, a castle was also built here, but demolished some years later. On the same place, a luxurious building – a mixture of Neo-Renaissance, Neo-Gothic and Swiss style – designed by two Viennese architects Johann Mick and Viktor Siedek was built in 1893. The very first ideas about the zoo started in 1920. Today, they have more than 200 animal species here.
The compound is divided into continents which not only help visitors to orientate themselves easily but it also imitates the original environment of the animals better.
We could see the African part with elephants, lions and gorillas, the Asian aviary and steppe as well, but also a Japanese garden and then the Australian part with kangaroos and parrots. There is also a tropical hall Yucatan which reminds us of an Amazonian rainforest.
A sloth hung lazily on a tree and exotic birds were fluttering around us.
The greatest attraction, unique in Europe, is a pond shaped like a wave. Big, flat and almost one-meter long cartilaginous fish swam here. It is called the Bay of rays, precisely: of Oman cownose rays which live in the Gulf of Oman and the Red Sea. But we could see that they also liked their new home very much. No wonder. Here, they get 6 kg of food every day without any special effort. You can also buy the food and feed them by yourself.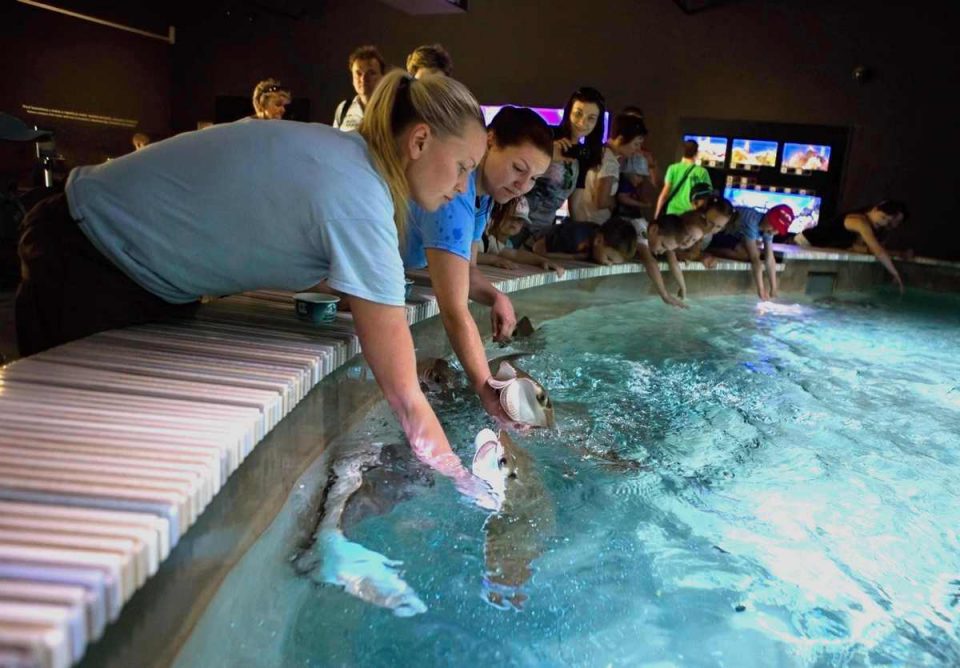 We also got a small bowl full of shrimps and cuttlefish pieces. But first of all, we were asked to wash our hands and put off all rings, bracelets and watches. After that, I took a small piece, put it between my fingers and stretched out my hand with the palm up. But when a ray like a big bat was getting closer to my hand, I yelled out and dropped the food into the water. Well, it takes some courage and then it is easy. Rays were demanding another portion of their lunch, they jumped to the edge of the pond and let us caress their fine, slithery bodies. What an unusual experience!
Here you can find the website of the zoo. It is possible to pay in euros.
Animals made of scrap
I have to say I was even more curious about the other zoo we should visit. When I got a flyer about it in my hands some months ago, I thought: "What a crazy idea!"
Well, it is a crazy, but also an interesting idea. When we arrived at the reconstructed compound of a former sugar factory from 1867 in Staré Město (near Uherské Hradiště), the sky was cloudy and it started to drizzle. However, we did not mind.
The name of the zoo is Kovozoo. It is not an accident. The word "kov" means metal in Czech and indeed, all the animals here are made of metal and scrap. But do not think that they are just random patchworks that do not look like real animals. It is not like that at all! At the very beginning of this idea, they had invited some experts – blacksmiths – who created the first animals for this unique zoo. All exhibits are perfectly worked out, with all details and life-sized. They really look like their twins in nature. The rhino Norbert weighs 5 t and the giraffes are 5 m high.
There are already almost 250 animals here and some new exhibits are produced every year – in a birth center! But instead of medical instruments, they use welding machines, grinders, hammers and other blacksmith's tools. They were preparing this beautiful walrus for its premiere.
Even in a group of the same species, every animal is different. Look at these turtles! And it is really funny to explore what scrap they are made of.
There is also this aeroplane L-610 here, the first prototype made at order from the former Soviet Union. It flew for the first time in 1988 and later was rescued from scrapping and moved to the zoo.
Children can transform into sailors or pirates on the ship Hope which is 20 m long and has three masts. A 23-meter-high lighthouse is visible from far away. You can ascend 96 stairs and enjoy a nice view of the surroundings.
The original idea was to build a recycling ecological center where people could bring useless waste. The travel on a small train was also an interesting experience for me. We passed huge heaps of old microwaves, refrigerators, monitors and other appliances. A big magnet caught our attention. It moved metal pieces on some other heap. What a thunder it was!
Children accompanied us on the train. They observed everything with their big eyes and I am sure they understood now that it is better to bring an old refrigerator here than to throw it out in a forest. Not only because a new animal can be produced from it here.
I was really positively surprised by this zoo. It is not only a crazy idea but also fun and a lesson in one place!
Here you can find the website of the zoo.
Related post:
The visits were supported by Czech Tourism and East Moravia Tourism Central Office.
Text: © Copyright Ingrid, Travelpotpourri
Fotos: © Copyright Ingrid, Travelpotpourri