It was the beginning of December when I visited the capital of Poland. The sky was grey, the view just minimal because of fog and my fingers were freezing while taking pictures. You may say it would be better to go to some exotic country with warm weather but Warsaw also offers lots of things to do even now in the winter. Here you have some tips. All of them – except (2) – you can reach just by walking because they are directly in the historical center of the city or not so far from it.
(1) Walk through the Old Town. I appreciated that the square in front of the Royal Castle was not full with any Christmas market stalls like we can see in many European cities. There were not so many tourists, you could meet more local people, especially groups of pupils or students on school trips. The walk is more effective in the evening when white and yellow diodes light up and remind of the coming holy days. You can also find much more colourful light decorations in some places and even meet a Santa. They call him Święty Mikołaj here.
(2) Take a bus from the center (116 or 180) to the royal palace Wilanów which is proudly called Polish Versailles. It was built in the 17th century for King John III. Sobieski. Go there towards the evening. There is a small fee at the entrance, about 2,5 €. Never mind that you will neither visit the palace rooms nor see the park and adjacent gardens – for that you have to come back to Warsaw in the spring or summer. Now, in the winter (or more precisely between 22 October and 12 March) instead of flowerbeds, ornamental bushes and trees you will see a marvellous magic garden of thousands of colourful diodes. Flowers are bigger than the people walking here and you will meet also a giant snail, earthworm, butterfly, ladybird and wasp.
But that is not everything. Next to the garden – every day from 16.00 to 21.00 – you can watch a sound and light show when Baroque decorations and patterns explode in twinkling colours in the rhythm of classical music from Tchaikovsky, Khachaturian and other composers.
More information: here
(3) Now we are back in the Old Town – on the Market Square (Rynek Stareho miasta) which was laid out in the late 13th or early 14th century. The houses here have their distinctive magic even now when they are illuminated by Christmas lights.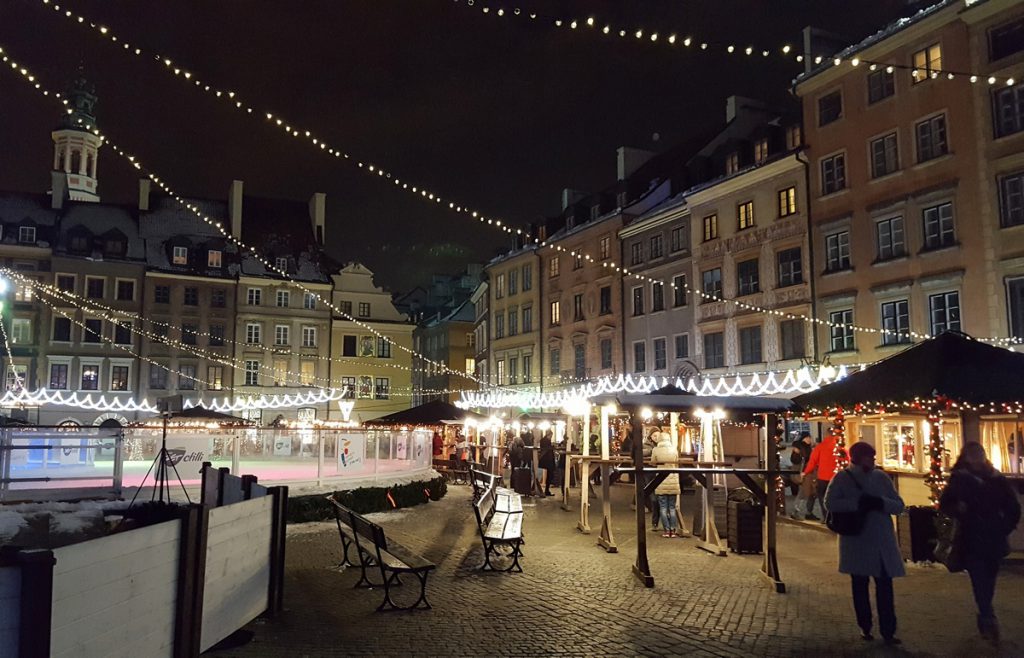 It is hard to believe that all these houses were rebuilt because almost all of them had been burnt down during the Warsaw Uprising in 1944 and as stumps used to give evidence of the war horror. Even now you can find some pictures on display from the Museum of Warsaw which illustrate that era.
About 85 % of the historic city had been destroyed in the war but later monuments, houses and other buildings were thoroughly reconstructed in their original historic and architectural form and thanks to that the Old Town of Warsaw was put on the UNESCO list of heritage sites in 1980.
In addition to drinking punch or mulled wine in one of the stalls here, the main attraction is the ice rink – open daily from 10.00 to 21.00. Admission is free. You did not take your skates? Never mind, you can borrow them (about 2,5 € for 1 hour).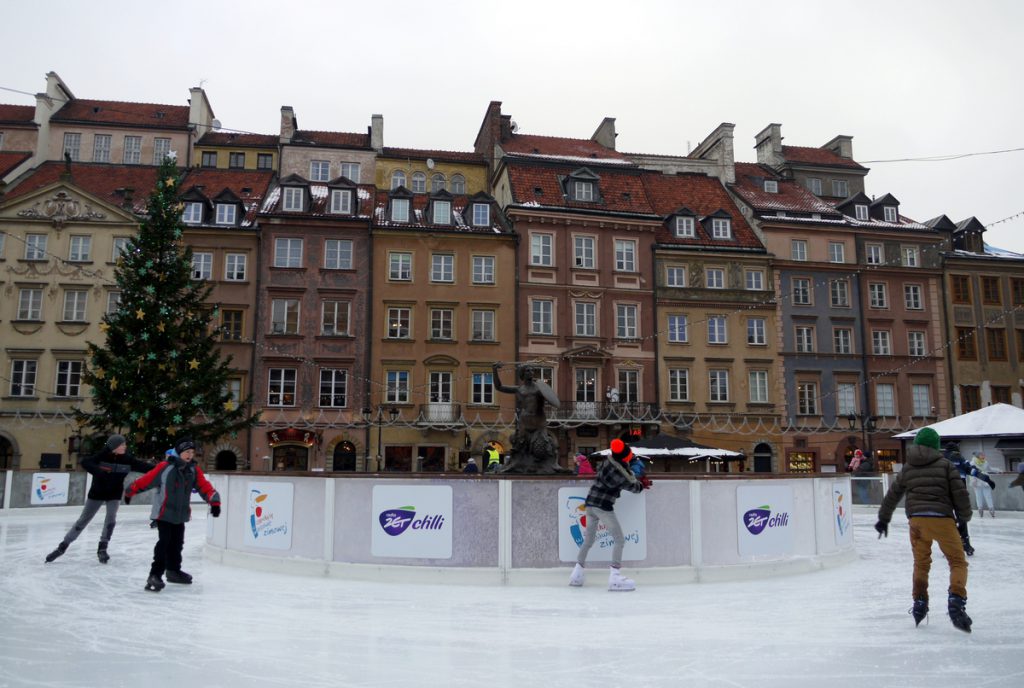 (4) The Mermaid (Syrenka in Polish) is an important symbol of Warsaw. Look around and you will find her on facades, doors, shop signs, fountains, T-shirts, in souvenir shops, even on some dust bins and logos of different institutions. I liked that one on house No. 31/33 on Piwna street (the picture in the lower right).
There are several legends about this mermaid. According to the most popular one the mermaid was swimming from the Baltic Sea in the Vistula river until she reached the place where the Old Town is situated today. She liked the surroundings very much and decided to stay here. Fishermen did not understand what was happening. It looked as if somebody would whirl water in the river, tangle their nests and free captured fish. But when they saw the mermaid they were fascinated by her beauty and singing and were unable to do anything against her. A merchant heard about it and thought he could show this charming creature on markets and earn a lot of money for it. He lured the mermaid, captured and locked her in a hut without water. A fisherman's son heard her crying and freed her with his friends. The mermaid promised to help and protect the city and its inhabitants. That is why the mermaid of Warsaw is usually holding a sword and a shield.
(5) Of course, there are not only statues of this patron of the city in Warsaw. You will meet one of the important Polish persons on almost every step. Among them is also the Polish astronomer Nicolaus Copernicus (1473 – 1543) who replaced the geocentric model of the universe with the heliocentric one. The light decoration next to the statue reminded me that this is the man who stopped the sun and put the Earth in motion.
Now is the time to meet Copernicus' successors. In 2010, the main building of the Copernicus Science Centre (Centrum Nauki Kopernik) was opened. This is the right place for both young and old explorers and researchers who like discovering the mysteries of nature and science. The center was full of children of different ages who were fascinated by the fact that they are allowed to touch, try, test or move everything and ask any questions… The main purpose of this institution is to develop both imagination and curiosity of these future new Copernicus.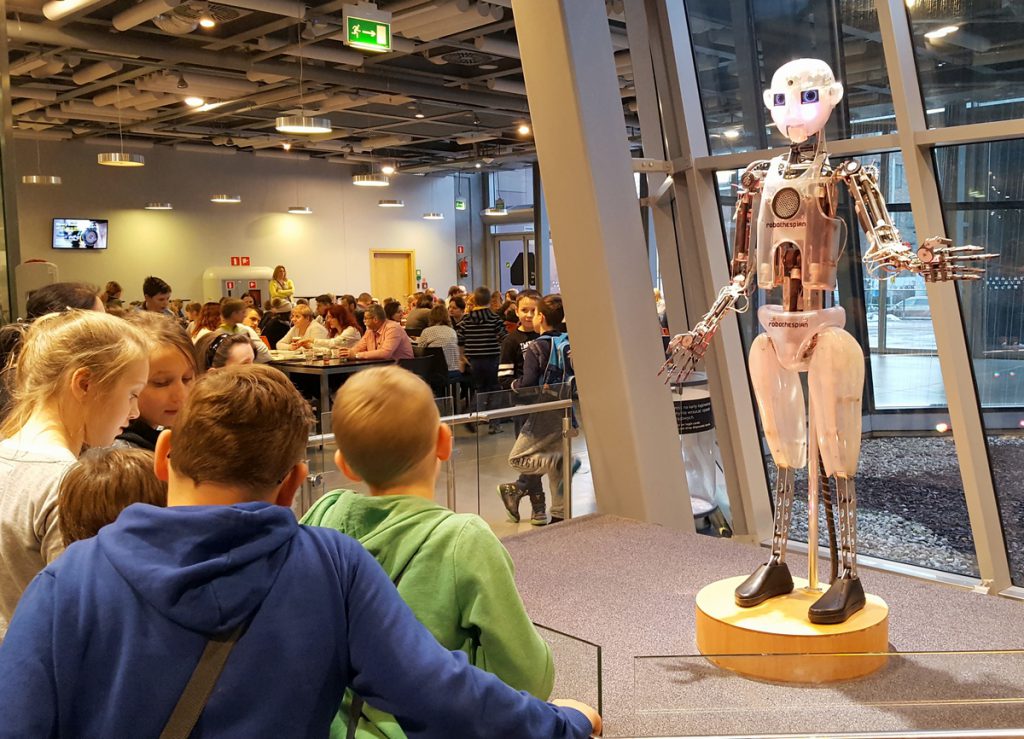 Labs, a planetarium and other attractions belong to the center. You will find more information here.
(6) If you want to go back to your childhood for a moment you should also visit the lollipop factory on Piwna Street, No. 7. There was a class inside, children standing on plastic stands were watching with big eyes two young ladies sticking colourful pieces of some sweet mixture in a huge cylinder. They were rolling it and rolling it until they got long thin "snakes". One of the women took one and very quickly cut it into small candies. But why should I explain, better watch the video!
The children formed a line, obediently cleaned their hands with an antiseptic solution and only then they were allowed to taste the candies. I thanked for the demonstration and chose two lollipops.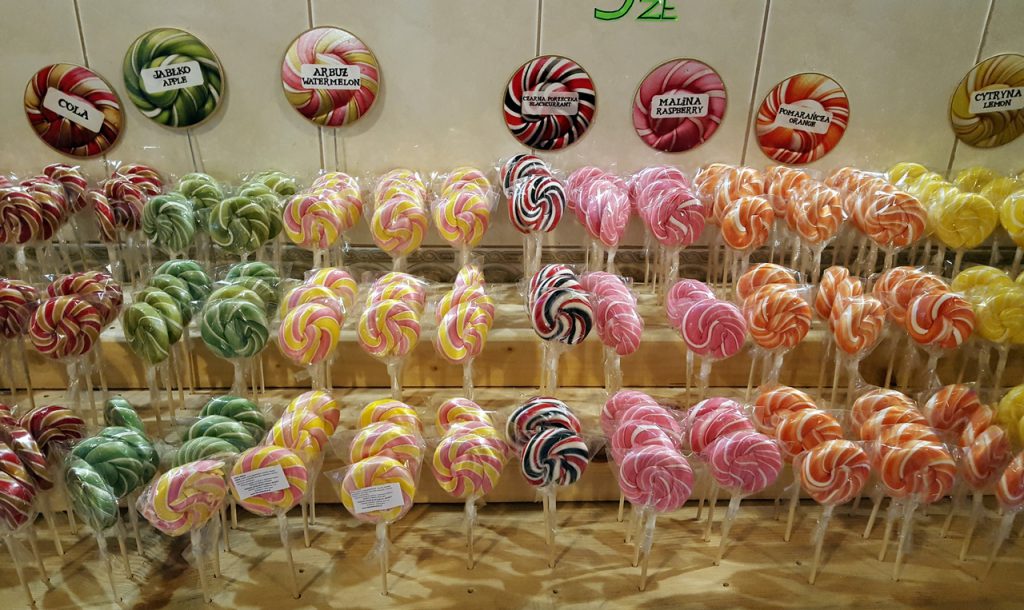 (7) Go along Piwna street and enjoy shop windows with products made from amber (bursztyn in Polish which comes from the German word Bernstein). Do you also think that the sun and honey are united in eternity?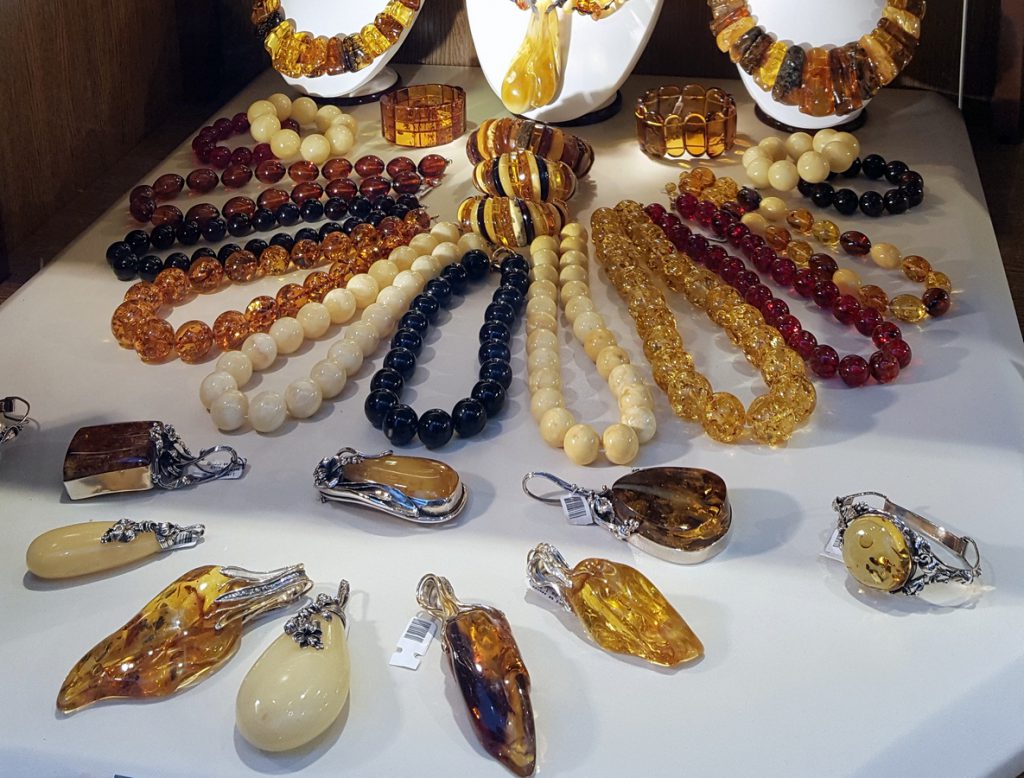 Imagine some drops of the resin flowing very slowly down the bark of a tree, some of them will stop and fill a small cavity in the stem while the rest continues to the ground. Depending on the route taken by the drops the amber can be transparent, cloudy or opaque and of various colours as well: different shadows of yellow, greenish, orange or brown, but it can be white, too.
The ancient Amber Road ran through the territory of present Poland. Today jewels, decorative or other luxury items are also made from this multiform material. Look keenly at the products. Who knows, there could be a mosquito caught inside some amber piece and somebody could clone dinosaurs from its sucked blood…
(8) If you are already cold in the fresh winter air you can hide in some of the churches. You have a wide choice, well only 2,4 % of Poles (from 38,5 million inhabitants) are non-believers, while almost 90 % belong to the Roman Catholic religion. I recommend the St John's Archcathedral on the next Świętojańska street. It catches your attention with its English-Gothic facade.
The cathedral was built in the 14th century and served as the site for coronation ceremonies and royal weddings. There are also some important personalities of Polish history buried in the crypt, among them the last Polish king, two presidents and Henryk Sienkiewicz, the famous writer and Nobel prize winner for literature. During the war, the Germans managed to induct a tank load with explosives into the cathedral. A huge explosion followed. But that was not enough. They drilled holes into the walls for more explosives and blew up the whole church. 90 % of its walls were destroyed. The cathedral was rebuilt after the war according to the original plans.
(9) You would prefer a museum? In this case, you also have a wide choice: the Museum of Warsaw, the National Museum, the Warsaw Uprising Museum, Royal Castle etc. Did you know that museums receive "Oscars" as well? This prestige award for the year 2016 was given to the POLIN Museum of the History of Polish Jews. I am not surprised because it is really a very interesting and informative modern museum. Built on the very symbolic place of the former Jewish ghetto, it was opened in 2014. Before World War II, Warsaw had the largest Jewish community in the world!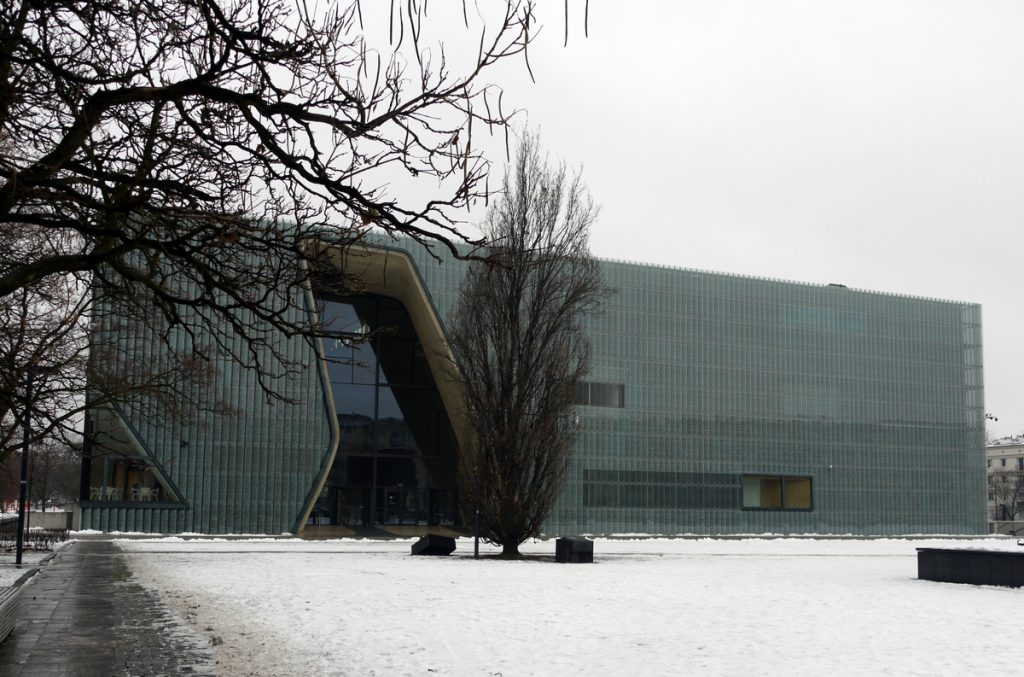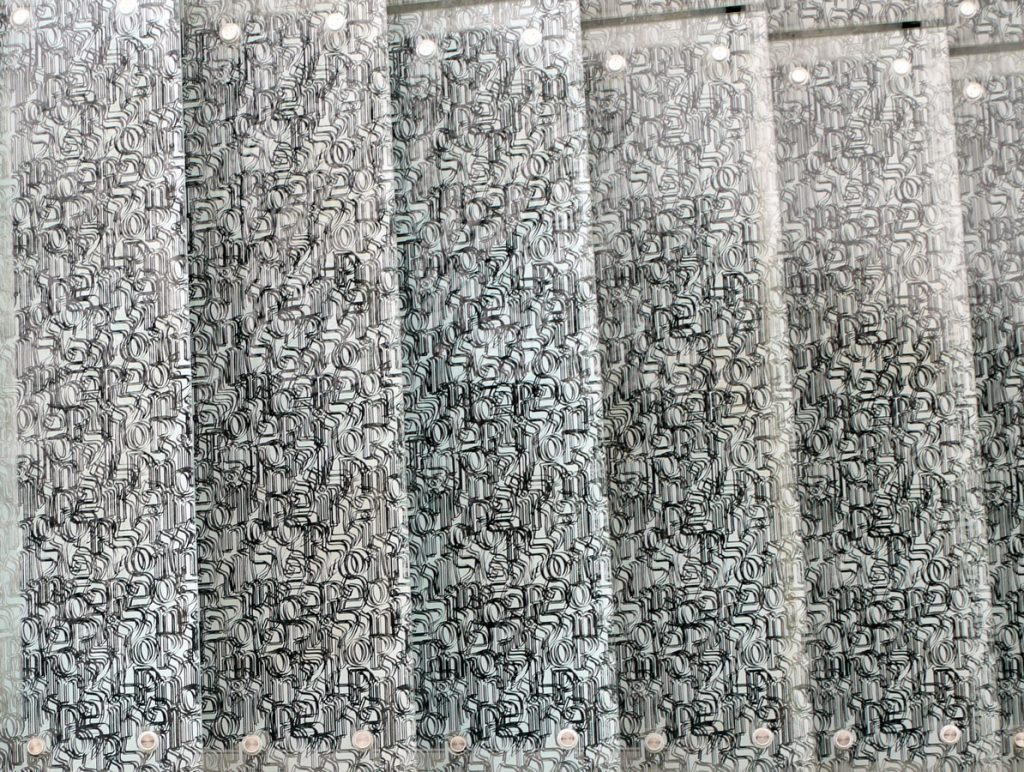 I am sure that you will be surprised by the interior the same way I was. I felt as being in a gorge of a huge canyon. The waved walls were made with shotcrete and are the biggest construction of that art in Europe.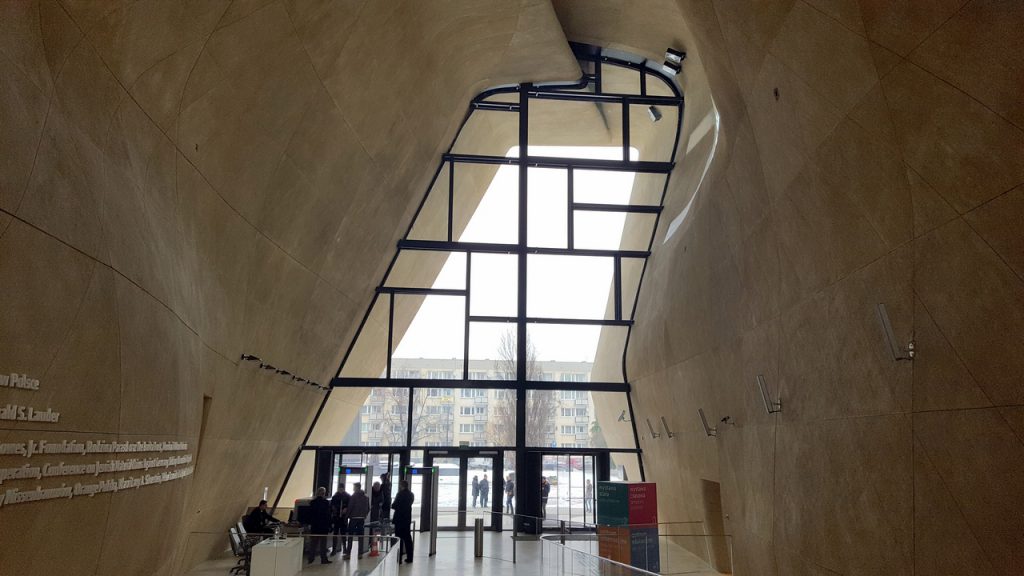 Stay beneath the ceiling at least for a moment and notice exotic and also forest animals and birds, zodiac signs, flowers…You can watch it for hours and still, you will find some new and new details. My problem was that I did not have enough time. In addition to all information being also in English, you will get flyers as well. In one of them, they offer you eight highlights of the museum which you can manage to see in one hour.
When you go out do not miss the small mezuzah at the entrance which was made of a brick found in the rubble of a destroyed house that once stood on this site. Mezuzah is an important symbol. Jews put it on the door hinges. It is a small box that protects a piece of parchment inscribed with specific verses from the Torah.
Find more information: here.
(10) After long walks through the historic streets of Warsaw it is good to eat something. What about the traditional Polish soup żurek with sausage and hard-boiled egg?
Try also the local specialty pierogi – boiled or fried dumplings with various fillings, both sweet and spicy: with cabbage and mushrooms, meat or cheese, spinach or lentil…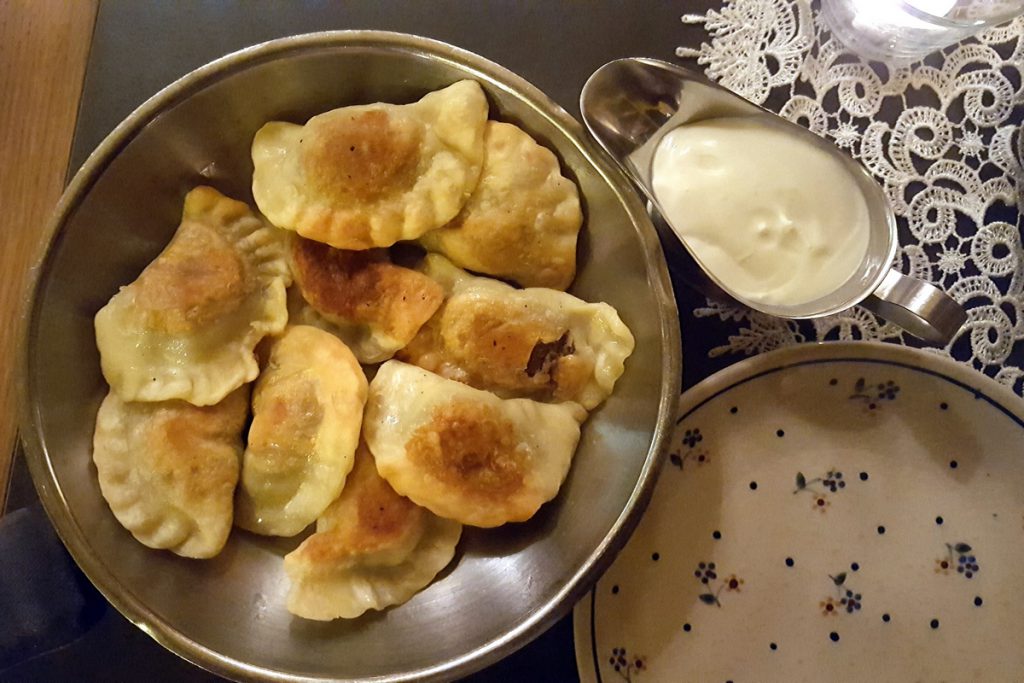 (11) During the raw winter days a hot drink will also hit the spot. Poles love tea – herbatka – as they say. There are many tea houses (herbaciarnia) in the Old Town offering also mulled wine in the winter. But I would like to invite you to a hot chocolate at the stylish cafe Wedel.
Karol Wedel, a German confectioner, established the first chocolate factory in 1851. Later it was taken over by his son Emil (you will find his signature on the logo of the company) and today, it is already the fifth generation. They offer also a large choice of hand made pralines, but the hand-decorated wafer cake layered with nut cream and covered with Wedel chocolate is the most famous specialty. But here in the cafe, you can also have a cup of good coffee and an excellent cheesecake.
More information: here
(12) If you do not like any of my tips, just go to a park (there are many – Warsaw is one of the greenest capitals in Europe), relax by walking or build a snowman! 🙂
But I really hope you will choose something!
DISCOVER WARSAW
How to Get There: by plane – take a taxi from the airport but be careful and use only official companies (look for a logo with a mermaid!). We paid about 10 – 12 € to get to the Old Town.
Where to Stay: For those who look for cheap accommodation I recommend hostels like this one: Kanonia which has a very good location near the historic center. If you prefer something extraordinary, then stay at the Hotel Bristol. It is a historic luxury hotel in Art Nouveau style from 1901 which miraculously survived the war standing almost alone among the rubble on the whole street.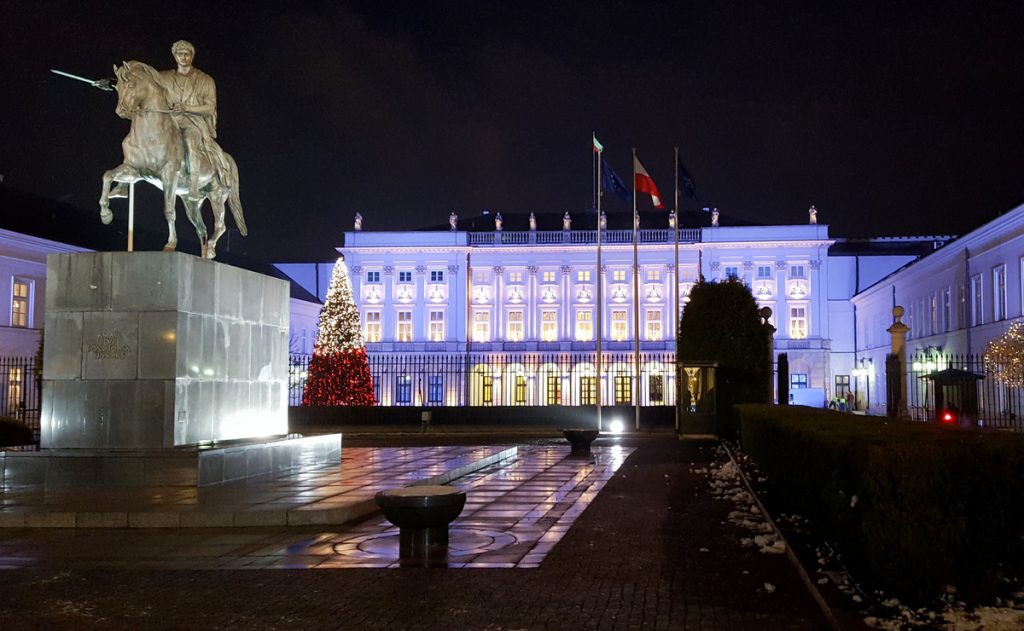 Where to Eat: If you want to taste the typical dumplings made by hand according to old recipes or some other traditional Polish dishes served on hot pans, I recommend visiting one of the Zapiecek restaurants. The smallest portion is 9 dumplings (it is enough!) for ca 6 €. This place belongs to the most popular ones and is always pretty occupied.
Did you like this article? Then leave a comment or give us your like on Facebook or share.
Text: © Copyright Ingrid, Travelpotpourri
Fotos: © Copyright Ingrid, Travelpotpourri