A napkin – of paper or fabric – is already a common part of our dining today. The word napkin comes from the French word nappe which is a diminutive for naming the fabric that covers the table.
Napkins had been used in ancient Rome already. In the Middle Ages, its use was the prerogative of the nobility (the poor wiped their mouth on their sleeves) and especially in the Baroque, inventive creations made of cloth napkins were popular which also revealed the social status of the host. The sophisticated figures folded from the napkins were mostly animals that used to be consumed in the real world – various fish, birds or poultry.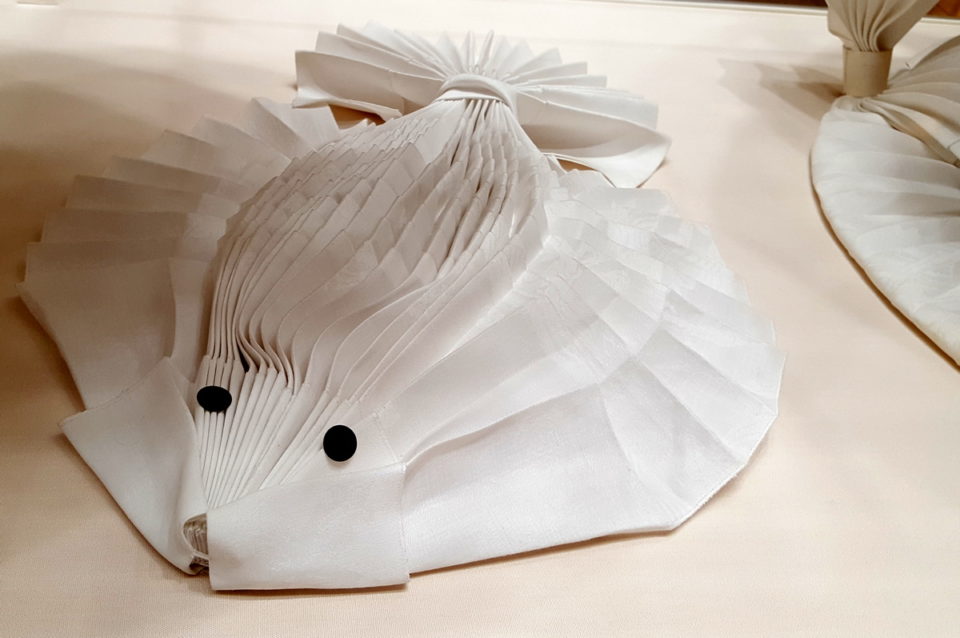 At banquets hosted by the Austrian emperor, the napkins were folded into the shape of a lying lily. Napkins made of the finest linen measuring 1 x 1 meter were used. A croissant and a bun were inserted into the open flower, which ensured better stability of the napkin. Just like these napkins were folded 200 years ago, they are still folded today – at state banquets, especially if a royal visit comes to Austria. The method of folding is recorded nowhere in writing, it has always been passed on only orally from generation to generation. And like before, to this today only two people master this art of imperial folding. At present, they are two employees of the Silver Collection Museum (Silberkammer) in the Hofburg, which is actually a museum where kitchen utensils and dining tableware which have been used by the Habsburgs and their guests for centuries are on display. It takes them 3-4 minutes to fold one napkin.
Since it is difficult to keep anything secret in today's Internet world if you search you may find instructions on how to fold the napkin in the imperial way. I did so as well, but I think that folding a totally crouched and not very clean napkin directly on the floor is quite distasteful… So let's talk about what we should do and not do with a napkin if we get to a table with some high society.
First of all, it should be noted that napkins are used to wipe your lips or fingers and to protect your clothing from filth. At an official feast, we will take the cloth napkin from the table only after the host does so. We then place the napkin on our knees. We don't use it often – only when we are going to take the glass for a drink and, actually, we don't wipe our mouths, we just gently put the napkin to our lips. If we need to leave the table, we place the folded napkin to the left of the plate.
Imaginatively folded napkins, whether paper or cloth ones give the laid table a special touch. Today, such complicated creations are no longer folded like in the Baroque, in restaurants we can mainly see napkins in the shape of fans, obelisks, various rolls, etc. However, there are no limits to your imagination even just for ordinary dining…
You can see the imperial napkin "live" in Vienna in:
Silberkammer, Hofburg – Opening hours and other information: here

Schönbrunn Palace, Mary Antoinette Room – Opening hours and more information: here

Text: © Copyright Ingrid, Travelpotpourri
Fotos: © Copyright Ingrid, Travelpotpourri