For today, I chose a recipe that can lighten both your soul and your eye. The small cakes shine with their bright, yellow colour like little suns. And they are easy to prepare.
Recently, I read that the yellow colour behaves like a capricious princess – it is mysterious, often misunderstood, jealous, warning, happy and holy as well… Do you like yellow?
Orange Sunny Cakes
We need:
200 g flour
100 g crystal sugar
pinch of salt
2 yolks
140 g butter
4 smaller oranges
2 eggs
110 g powdered sugar
125 ml crème fraîche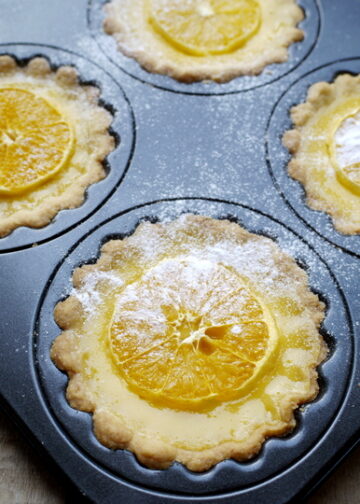 Method:
Make a crisp dough from flour, crystal sugar, salt, butter and 1 egg yolk, wrap it in food foil and leave to rest for 1 hour in the cold. Cut 8 slices from the oranges that are 5 mm thick. Squeeze out 100 ml of juice from the remaining oranges. Mix eggs, 1 egg yolk and powdered sugar with a whisk add the orange juice and cream. Roll out the dough and fill it into small cups of a cake tin, cutting off the remaining edges. Bake the empty cakes in the oven preheated to 200°C for 15 minutes, then reduce the temperature to 150°C. Fill the cakes with the filling, place an orange slice on the top of each cake and bake for another 25 minutes. Let them cool. Serve sprinkled with powdered sugar.
Text: © Copyright Ingrid, Travelpotpourri
Fotos: © Copyright Ingrid, Travelpotpourri