Have you ever thought about what stories you could hear if museum displays could talk? Some of them have witnessed very interesting events.
For example this ornamental suit of armour consisting of around 40 pieces. It was made in Milan for the Salzburg Prince-Archbishop Wolf Dietrich von Raitenau (1559 – 1617).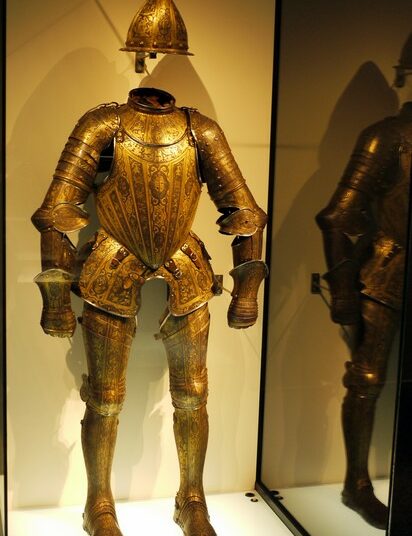 The suit of armour shows how wealthy the seat of the archbishop was at that time. Salzburg belonged to the Holy Roman Empire, its archbishops had both religious and secular power. Thanks to salt extraction it became one of the richest regions in Europe. Because at those times salt was used not only for giving taste to dishes but first of all for preserving them. In addition, there was also gold, silver, copper and rock crystal mining. Thanks to its profits the city was greatly expanding. Several churches, a fortress and a university were built. The wealth and prosperity culminated under the Prince-Archbishop Wolf Dietrich von Raitenau. As he was obsessed with Italian architectural art he engaged Italian architect Vincenzo Scamozzi to rebuilt the city center in the Baroque style.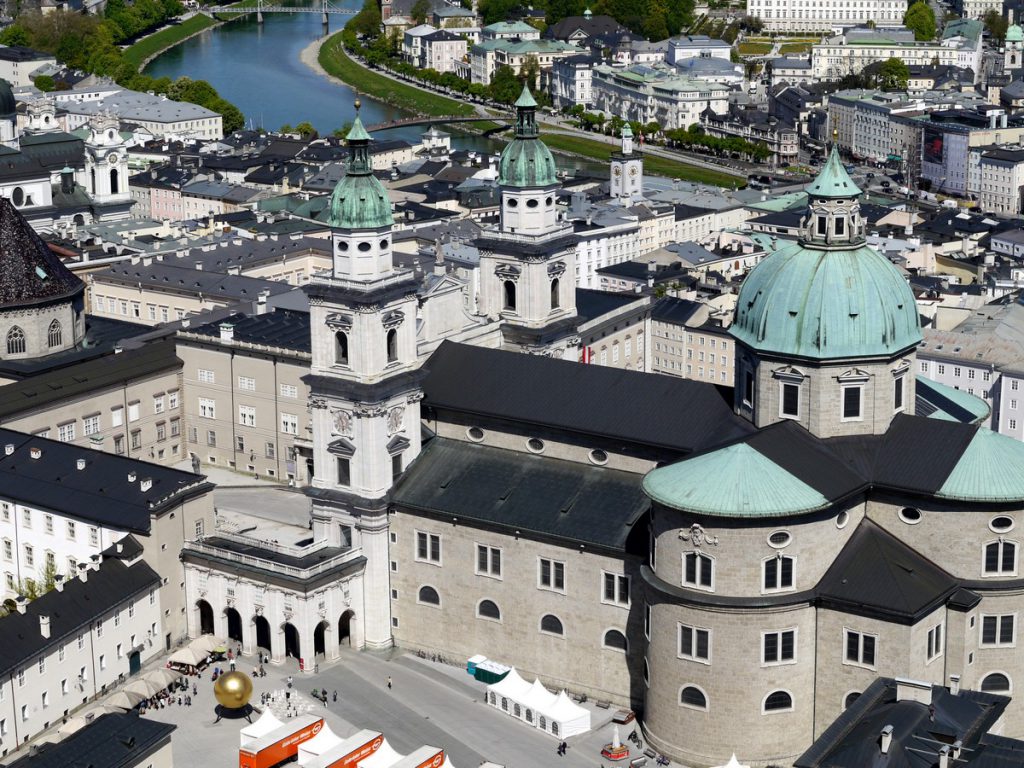 The over centuries accumulated wealth of the powerful archiepiscopate became a big lure. Since the end of the 18th century, Europe suffered from several war conflicts between France and its rivals. Napoleon gained control over most parts of Western Europe. The French troops swept over Salzburg three times. Because some guidebooks already existed at that time, even with detailed descriptions of the rich belongings of archbishops in Salzburg, the French army had precise lists of art objects which were worthy to take with. More than 10,000 objects including paintings, manuscripts, maps, books, archaeological finds, weapons and other objects from the archepiscopal treasure chamber were lost during that period. It is said that the only thing which was left by the French troops was the numbering of houses in the city. The rest was taken.
A historical battle took place near Salzburg at Walserfeld, more than 20,000 people lost their lives. The last archbishop of Salzburg fled to Vienna in panic and the French army took over the city. In 1803 the archiepiscopate of Salzburg was dissolved. After more than 1,000 years Salzburg lost its religious power. The political wrangles of power between Vienna and Munich started immediately after the secularization of Salzburg. In 1810 the city was included in the new Bavarian kingdom but the chaos and uncertainty continued. The city was devastated, poverty increased while the population declined. Almost half of them belonged to the lowest social class. Hardly anyone thought that it could get even worse…
The Year 1816
Do you complain during hot summer days that it is too hot? Or are you unhappy when it rains in summer for several days? Then try to feel like being suddenly in summer 1816: snowing in July (!), heavy rains and storms, floods, frosts, hunger… Our ancestors must have felt like the end of the world had just arrived. The year 1816 is known as the "Year Without a Summer". But only 100 years later the American physicist and atmospheric researcher William J. Humphreys discovered what was responsible for this disaster: there was an eruption of the volcano Tambora (still active!) on the small island of Sumbawa (Indonesia) in April 1815. The explosion was so powerful that Mount Tambora, which with 4,300 m was one of the tallest peaks in the Indonesian archipelago, measured only 2,850 m after the explosion. The volcano spewed an enormous amount of dust, ash and sulphur. It was the beginning of spring in Central Europe and Northern America. Suddenly the snow returned and continued or changed in incessant rains which caused floods. There were neither any summer nor harvest. The worst famine of the 19th century began. There are records of "children grazing grass like sheep". People killed their livestock or dug out sown potatoes just to have something to eat. They baked bread from flour which was mixed with sawdust, gypsum, ground acorns or bark. This was also the situation in Salzburg. As if it was not enough that the city was destroyed and plundered after the Napoleonic Wars.
Silent Night
The rainy and cold summer inspired Lord Byron to write his poem Darkness and 18-year-old Mary Shelley, who was also kept indoors for days because of the strange weather, wrote her scary story about Frankenstein. Not even before Christmas, the mood was better. Joseph Mohr, a young parish priest in Mariapharr near Salzburg started to write lyrics for a new Christmas carol. He wrote six strophes. If we realize today under which circumstances and in which difficult political and economic times he wrote the lyrics then we can feel even more not only his strong belief but also his hope for a better future which comes from this belief. The name of the song is Silent Night, Holy Night. It is sung on Christmas all around the world, in small chapels and huge cathedrals as well, although in a shorter form, just with three strophes. The music to this famous carol was composed by Franz Xaver Gruber, a primary school teacher and church organist. They both performed the carol for the first time during the mass on the night of 24th December 1818 accompanied by guitar in the St. Nicholas' Church in Oberndorf near Salzburg. The original church exists no longer but on its site, there was built a chapel named after the song Silent Night Chapel (Stille-Nacht-Gedächtniskapelle). On the 24th of December, every year a mass is held and the carol is sung with all six strophes.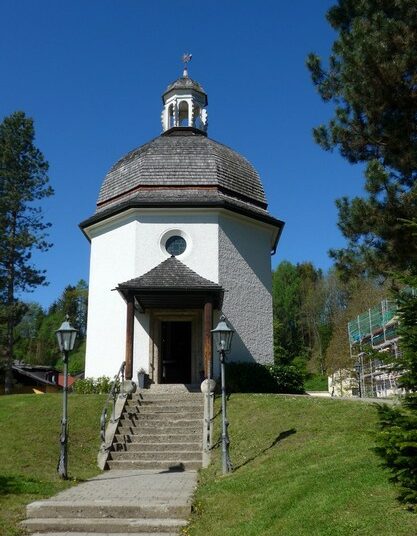 The carol was declared an intangible cultural heritage by UNESCO in 2011. Next time you will hear or sing it just remember the dark and poor year 1816 when the lyrics were written. Read also: Silent Night

A Part of Austria
Another significant event happened in 1816 which was very important for Salzburg. Two years before, when Silent Night, Holy Night was sung for the first time in Oberndorf, the river Salzach which flowed here and was important for the transport of salt became a state border.
The town was divided into two parts: Oberndorf passed to the monarchy and Laufen to the Bavarian kingdom. There is a historic bridge between the two parts where even today you can see an Austrian double eagle on one side and the Bavarian gold and blue lions on the other end of the bridge.
This decision was made by the Congress of Vienna in 1815. The long-time autonomy and extraordinary position of Salzburg were over. On May 1st, 1816 in the White Hall of the former archepiscopal residence the agreement between Austria and Bavaria was signed by their royal commissioners – Bernhard Gottlieb Freiherr Hingenau and Johann Carl Graf von Preysing.
Since then Salzburg belongs to Austria. Since then its citizens can say: "Welcome to Salzburg!" and add immediately: "Welcome to Austria!" Since then it is easier for them to find their own identity.
Signing the agreement Bavaria gave up Salzburg with a heavy heart, but half of its territory – Rupertigau and Berchtesgaden – remained with Bavaria. Salzburg, once an important city with salt and gold mines, was degraded to a provincial city. It was integrated into the Salzach province and ruled from Linz. Its population decreased and poverty increased. The situation started to improve in 1849 when Salzburg became one of the crown lands of the Austrian Empire.
The Year 2016
To mark the 200th anniversary of this historical moment, the Salzburg Museum, located in the New Residence, was staging a special exhibition trilogy: Bishop – Emperor – Everyman. I found the part of Salzburg's Treasure Chamber very interesting. As I mentioned before, at the beginning of the 19th century the city was plundered, thousands of precious goods were lost. Can you imagine that even the Austrian president looking at the clock in his office actually looks at one of those objects which originally have belonged to Salzburg? But these precious historical objects did not come to Vienna only, but also to Paris, Munich, Florence and other European cities.
The entrance room surprised us with its plainness. Its walls were covered with boards that symbolize a wood case in which the objects had been carried away.
In the next room, we could find this eloquent drawing from the popular caricaturist Thomas Wizany, a native of Salzburg.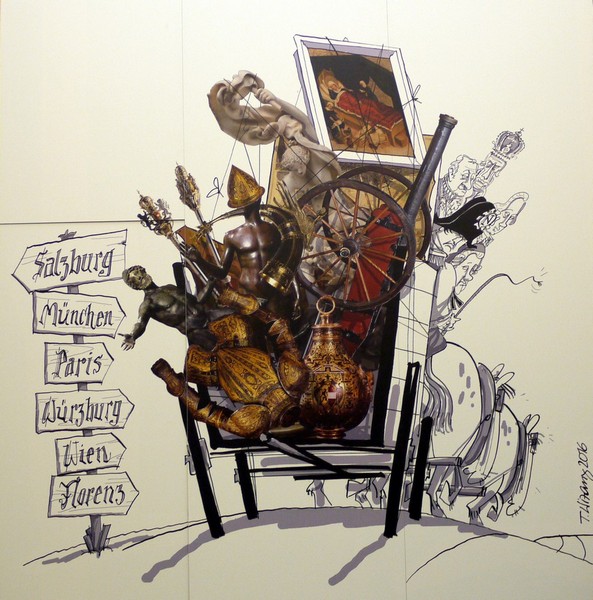 After that, we entered the treasury. There was a selection of 39 objects – those ones who because of the Napoleonic Wars and frequent changes of rulers had left Salzburg and ended up in different European museums where they are kept now. Some of them came back to "their" town for the first time since they have been snatched.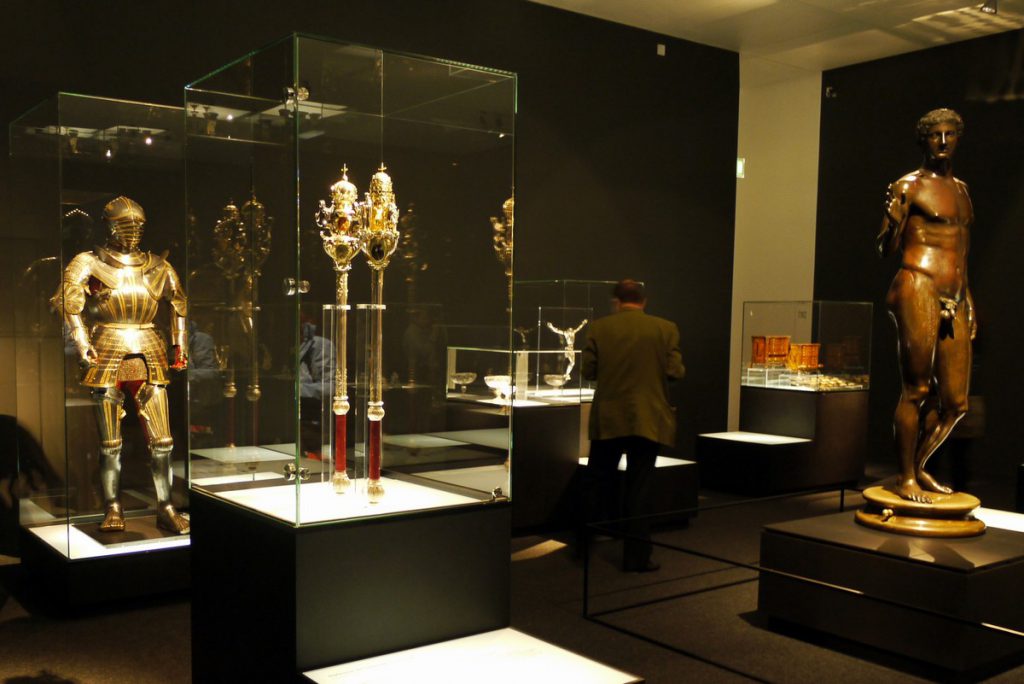 This is also the case of this suit of armour. Parts of it were already listed in 1815 in an art dealer's catalogue in England, the others were mentioned in an inventory of the Bavarian National Museum in Munich while one helmet can be seen today in the Hermitage in St. Peterburg.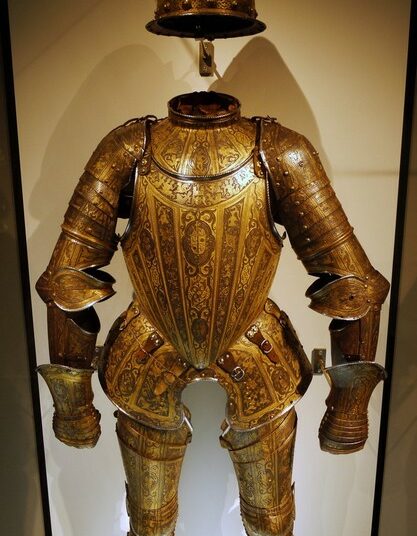 DISCOVER SALZBURG:
How to Get There: Airlines flying to Salzburg are listed here. By train from Vienna: This is by far the easiest and most convenient way to travel to Salzburg (or the other way round). Public buses go at regular intervals (10-20 min.) between Salzburg Airport, the Salzburg main railway station and the city centre. By car: Driving from Vienna to Salzburg takes about 3,5 hours. The highway follows almost the same route as the Westbahn railway. Major international car rental companies can be found both in Salzburg and Vienna.
Where to Stay: There are a lot of different types of accommodation. We stayed at Altstadthotel Weisse Taube (Kaigasse 9) which is located in a historic building dating from 1365 in the heart of Salzburg's Old Town. All major sights are only a few steps away. If you have a car you have to park in a public garage available only a short walk away.
Where to Eat: Many great choices. I can recommend all the restaurants where we have eaten during our visit: K+K Restaurant am Waagplatz (Waagplatz 2) – traditional Austrian cuisine in the Old Town.
Panoramarestaurant zur Festung Hohensalzburg (Mönchsberg 34) – Salzburg's unique location high above the rooftops of the city with a magnificent view of the old town and the surrounding areas, Restaurant M32 (Mönchsberg 32) – first-class cuisine and spectacular panoramic views. Access: on foot or you can take the lift (Mönchsbergaufzug).
If you want to try something new, something you have probably never eaten before, visit the restaurant at the hotel Ammerhauser in Anthering near Salzburg. You will find dishes with a unique ingredient – the (very healthy) liquid sediment from near moorlands.
General Tips:
You can receive detailed info about Salzburg, its sights and current events on Tourismus Salzburg. More about the Salzburg land on SalzburgerLand Tourismus.
Our thanks to SalzburgerLand Tourismus and Tourismus Salzburg for organizing this trip.
Text: © Copyright Ingrid, Travelpotpourri
Fotos: © Copyright Ingrid, Travelpotpourri
Related posts:
Salzbuger Nockerl – A Culinary Specialty from Salzburg
Save