Did you know that the Alps also have their BIG FIVE from the animal kingdom? They are: chamois, ibex, eagle, marmot and bearded vulture. If you visit the Hohe Tauern National Park, the largest protected area not only in the Alps but throughout Central Europe, the best way to observe and learn more about (not only) these animals is to book a mountain ranger.
Mountain enthusiasts have two choices – either their goal is to reach a mountain peak or they prefer to walk, breathe in the fresh air and enjoy the beauty that nature offers at every step. I belong to this group who enjoys. That is why I was very happy to get the opportunity to explore the Ködnitz Valley in East Tyrol – right at the foot of the majestic Grossglockner this way.
We started our hike at the Glockerwinkel parking near the typical mountain inn Lucknerhouse (1.920 m above sea level). There is also an information center and a souvenir shop.
There are 12 rangers in the Hohe Tauern National Park, each of them is an expert in a different natural field. Our ranger was Emanuel who specializes in glaciers. The advantage of a trip with a ranger is that he brings also the special technical equipment to observe the inhabitants of alpine nature.
Of course, Emanuel focused his spotting scope first at the Grossglockner. It was a beautiful morning of June, no clouds in the sky, the Austrians call it Kaiserwetter (weather worthy of the Emperor). In the Alps, maybe too warm – 31°C. At the top of the Grossglockner, several figures had already been moving – fortunately, not as many as in recent pictures from Mount Everest…
Grossglockner (3.798 m) is the highest peak in Austria. Its cone is said to emit strong energy. According to a legend, there is a black crystal pulsating in its heart which directs this energy.
If you would like to climb the mountain, it is recommended to take 2 days: on the first day, to pass the Lucknerhütte hut to the Stüdlhütte (2.802 m) – it takes about 2.5 hours – and then continue on to the Erzherzog-Johann Hütte (3.454 m), which takes you another 2.5 hours. The next morning, you first climb to the Little-Kleinglockner and then to the Great-Grossglockner (1.5 hours). But don't worry, you don't have to climb to the top to draw on that magical energy…
You will find more information about climbing: here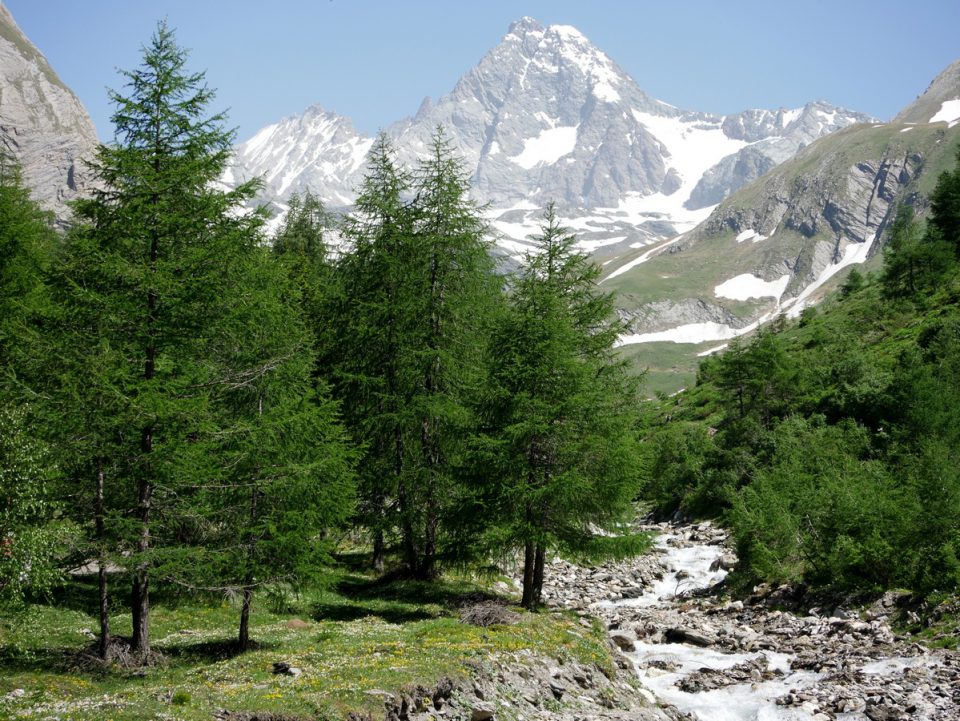 As I mentioned, the primary task of the local rangers is not to hike with tourists on the mountain peaks but to show them the most beautiful corners where you can admire nature, take pictures of stunning natural scenery and learn all sorts of interesting things.
At a mountain river, people build "stone men" to mark their own routes.
Meadows are dotted with many flowers, as our ranger told us, you could find here, for example, more than 20 types of mountain gentians. Although the traditional Austrian liqueur is made of the root of the yellow-flower-gentian, the label on the bottles usually shows blue gentian because it is simply beautiful – just have a look at them:
We were amazed at how much snow there was and were happy like little children to be able to make snowballs in June. However, Emanuel told us that three weeks ago there had been much, much more snow. On hot days like ours, up to 30 cm of snow would be lost in one day.
At one moment, Emanuel dropped his rucksack and began to pull out his treasures – a small chamois horn, an impressive horn of an ibex and a marmot's skull. Based on the colour and lines, he calculated how old these horned animals had been. He also explained to us how the marmots make whistling noises.
If you are wondering if we were able to see some of the Big Five animals live, then I'm not going to keep you in suspense anymore. Right at the beginning of our hike, we spotted a chamois enjoying the green vegetation. But only that one. It was probably too warm for the others. Apparently, because I was so excited, all my pictures are blurred, so Zuzka lent me one of her shots – thank you!
We saw a few of marmots as well. Emanuel told us that if a marmot whistles once, he warns his friends that some danger is coming from above, from the sky. However, if the marmot whistles more than once, then an enemy is on the ground. At one place, there were marmots whistling like that because tourists with dogs appeared and they look like a fox to the marmots.
At the end of our hike, our ranger shouted: "Eagle!" and quickly tried to focus the binoculars while we tried to catch at least some flying dot in the sky with our eyes. But we couldn't see the eagle. And how is it possible that Emanuel knew exactly when to reach for the binocular and in which direction to look? Very simply. His acute ear heard a marmot as it emitted one warning signal. Next time, we have to pay more attention to the sounds!
And what about cows? They continued to lie still on the pasture, not disturbed by tourists or the marmot's Morse Code.
If you would like to book a mountain ranger, you can find more information: here
And do not forget that similar expeditions can be undertaken not only in summer but also in winter!
And where to stay?
If you prefer a simple accommodation in a hut, then you don't need to read on. However, if you want to enjoy luxury and wellness in addition to a beautiful view, then Gradonna****s Mountain Resort Châlets & Hotel is the right address for you. After all, why not be pampered at least once?
The resort is located on a slope above the village of Kals, sensitively built within natural surroundings. Wood from local spruce trees was used for its construction. The interior decoration is also made of natural materials. In 2014, the resort was nominated for the State Award for Architecture for Tourism and Leisure and was ranked among the top 1.000 hotels worldwide.
The resort has a modern spa area but during our visit in the hot June days, we preferred to swim in the natural pond which you can also find in the area. The water was quite refreshing, it took a bit of time to dive into it. The reward for that was the beautiful scenery of the majestic mountains. But even from the pools, there was a lot to observe.
A similar view can be enjoyed during breakfast at the hotel's terrace. Since most guests go hiking in summer and skiing in winter during the day, smaller snacks (salads, one simple hot meal, sweet pastries) are served in the afternoon, while dinner is for real gourmets.
For those who prefer their own privacy, 42 châlets are available. I was staying in a hotel room. I really liked how they thought of everything here. In addition to the balcony, the room also had a relax zone – a niche where one could lie or sit while observing the alpine landscape. There was also a snack for tourists – pastries, nuts, fresh and dried fruit. If you did not take a suitable hiking bag, a rucksack was available in the room (to be returned after use!). And if you return from the hike with tired legs, you already have an arnica cream ready.
More information about the hotel can be found: here
So just put on your hiking shoes, take something to bite and drink, in any case also a raincoat (fortunately we didn't need one at all) and set out to explore the amazing surroundings, maybe even with a mountain ranger!
Text: © Copyright Ingrid, Travelpotpourri
Fotos: © Copyright Ingrid, Travelpotpourri
Thank you Österreich Werbung for organizing this trip.